Warbirds | Fishtail Exhausts for the Spitfire Mk I, II and V in 1/32nd scale
Reviewed by Mark Proulx
Warbirds Productions has recently released a set of fishtail exhausts for the Supermarine Spitfire. These resin items are to be used in conjunction with the Hasegawa and reboxed Revell kits in 1/32nd scale.
Originally, the Spitfire drew heat for the guns from the starboard radiator. This was found to be insufficient to keep the guns from freezing. Intensifier tubes were added to the exhausts in an effort to supply additional heat. Unfortunately, Hasegawa poorly depicted this option when designing their kit.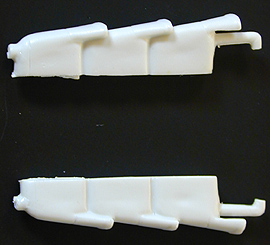 Vasko Barbic of Warbirds Productions has rectified this by supplying a set of superbly cast resin items. The exhausts are single piece items designed to be direct replacements for the kit exhausts. Cast in light gray resin, no assembly is required. In comparison to the kits exhaust stacks; a quick examination of the surfaces reveals additional weld seams and some minor reshaping. A light sanding is required at the base of each stack to ensure proper fit into the fuselage, as small remnants of the casting block remains. It would appear that Hasegawa poorly represents these intensifier tubes on the fuselage halves. The modeler will have to remove these raised items before applying the replacement stacks as seen in the accompanying photograph.
These exhaust stacks were retrofitted to some Mk Is, many Mk IIs and Vs, so references should be consulted to see if they would apply to the aircraft that is being replicated. Warbirds Productions has gained a solid reputation as a supplier of accurate aftermarket resin items for the Spitfire in 1/32nd scale, so I recommend them without hesitation.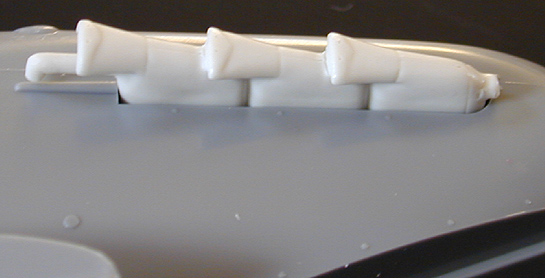 Review sample compliments of Warbirds Productions.
© Mark Proulx 2002
This review was published on Saturday, July 02 2011; Last modified on Thursday, January 04 2018