Zotz Decals | ZTZ32/038: P-51D in WWII
Reviewed by Ray Peterson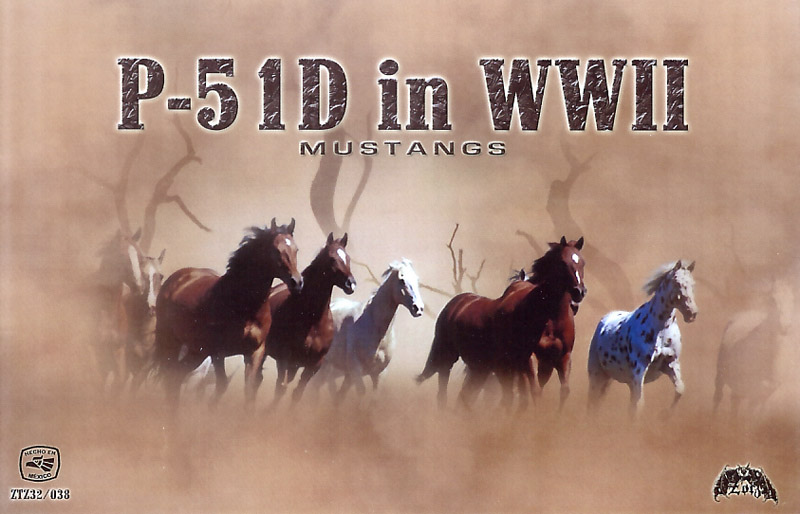 A recent release from Zotz Decals is this sheet for the P-51D Mustang. Included are markings for three different colorful aircraft.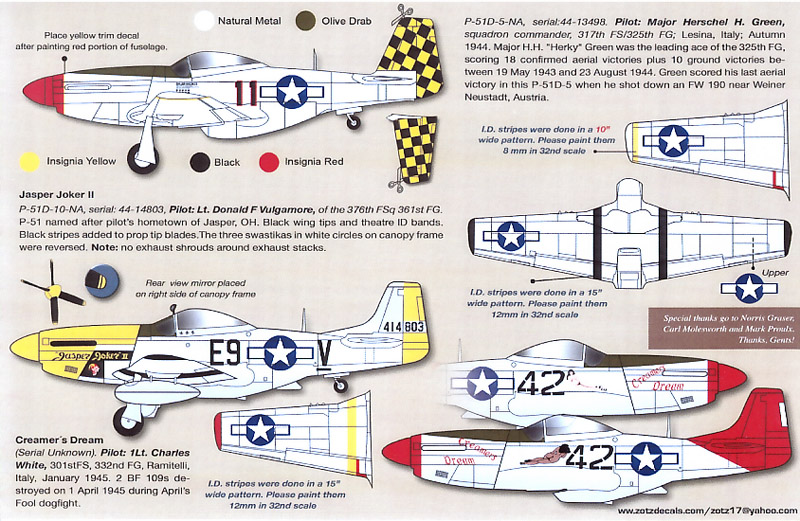 The markings are for:
"Red 11," a P-51-D-5-NA, serial #44-13498, flown by Maj. Herschel Green, squadron commander, 317th FS, 325th FG; Italy, Autumn 1944. Maj. H.H. "Herky" Green was the leading ace of the 325th, scoring 18 confirmed aerial victories plus 10 ground victories between May 19, 1943 and Aug. 23, 1944. The aircraft carries a red nose and yellow and black checkerboard tail, and yellow ID bands.
"Jasper Joker II," a P-51-D-10-NA, serial #44-14803, flown by Lt. Donald F Vulgamore of the 376th FS, 361st FG. It is named after the pilot's hometown; Jasper, Ohio. The plane has a yellow nose and rudder, and black wing tips and theater ID bands.
"Creamer's Dream," a P-51-D flown by Lt. Charles White, 301st FS, 332nd FG; Ramitelli, Italy, January 1945. On April's Fool day, 1945, Lt. White destroyed two Bf109s. This is one of the famous "Red Tails" and therefore carries a red tail along with yellow ID stripes and an interesting nose art, with the front of the girl on the port side and the back of the girl on the starboard side.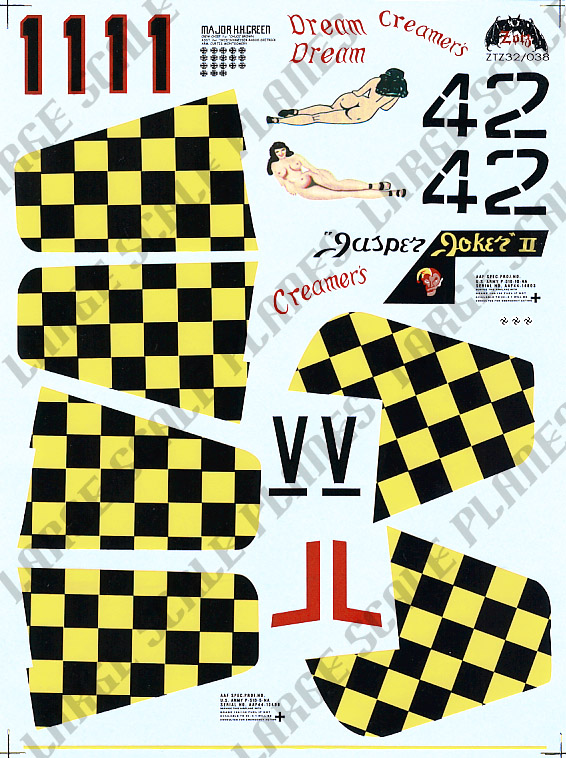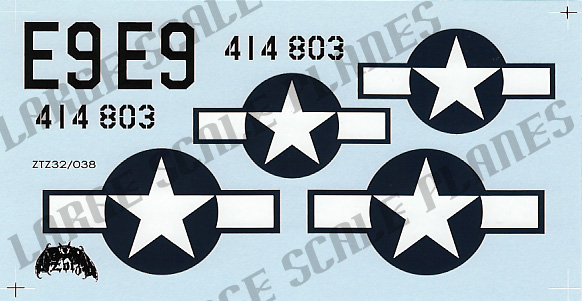 These decals, as usual for Zotz, are in very good register, with the clear carrier film looking quite thin. The colors look good, the yellow looking very striking. The female nose art is very well done, and stenciling clear and readable. The only caveat is whether the checkers will fit the new Tamiya kit as these decals were released before the Tamiya kit and there may be some fit issues. They do appear to be slightly oversized for the Dragon kit, so Zotz may have intentionally made them that way to cover all available kits. I am sure a little touch up with paint would take care of any problems.
Definitely a good and varied set of markings for the any of the P-51D kits!!! Highly Recommended.
© Ray Peterson 2011
This product is available from the following LSP sponsors

This review was published on Sunday, July 24 2011; Last modified on Wednesday, May 18 2016