Hasegawa 1/32 Messerschmitt Bf 109G-6 "Yellow 5"
By Tolga Ulgur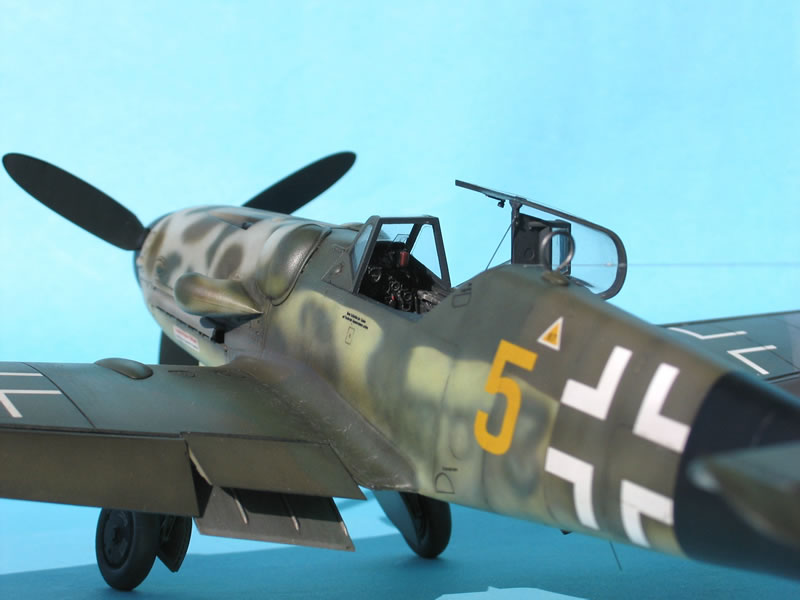 Here is the last part of my 1/32 Bf 109 Gustav Trilogy.
The first part was 1/32 Bf 109G-6 Red 8 "Mosquito chaser".
The second one was 1/32 Bf 109G-10 "Black 12".
And this is 1/32 Hasegawa Bf 109G-6 with the markings of "Yellow 5". This Gustav was found by US troops in May 1945 at Henschel Aero Engine Works in Kassel.
The base kit is Hasegawa's Bf 109G-14 due to later style rudder and Erla Haube canopy.
Cockpit modified by using MDC resin cockpit set
Horizontal stabilizators replaced by Master Details resin set
Exhausts are from Quickboost
Main wheels, spinner and propellers are from BarracudaCast
Construction Photos
---
Painting was done with Gunze Sangyo acrylics. Upper surfaces are painted to RLM81 and RLM 83 except for the right wing. It seems that right wing was replaced with a wing painted in regular greys (RLM 75 / 74). Left wing upper surfaces colour is RLM81/83, lower surfaces is RLM76 with some natural metal panels.
Decals are from EagleCals EC80.
Outside Photos
---
Inside Photos
---
Thanks to Anders Hjortsberg for his help during this project.
Happy modelling.
© Tolga Ulgur 2016
This article was published on Wednesday, June 29 2016; Last modified on Wednesday, June 29 2016