Tamiya 1/32 Mitsubishi A6M3 Model 32 "Hamp"
By Olivier Barles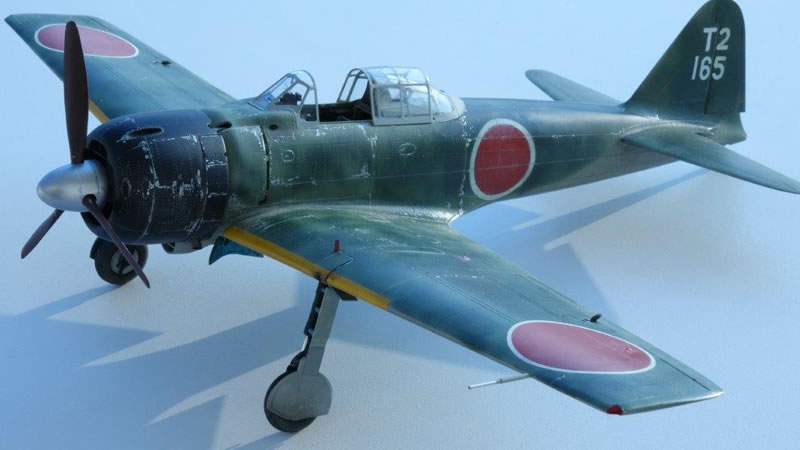 Some pictures of my "Hamp" in 1/32 scale.
This is based on the Tamiya A6M5 Model 52 kit.
As I already built the A6M5 and the A6M2 (in LSP galleries), I wanted to go for a change by doing an A6M3.
Work mainly consisted in creating the "clipped wings" (the A6M5 wings were basically the A6M3 ones but with a rounded wing tip design) and to make cowling flaps without any aperture ( that were present for the multiple exhaust pipes of the A6M5) - the A6M3 engine was similar to the A6M-5 one but still using the 2 A6M2 exhaust pipes...
Fun to do. I could have used the kit of the A6M2 as well, making it easier to create the A6M3 wings but then I still would have needed a A6M5 engine cowling...and bigger problems to address.
Well...here is the result.
Markings represent one machine of the 204 Kokutai, all of its planes being over painted in green on the field to make them less visible on the ground. Planes of this Kokutai also escorted the Betty of the Admiral Yamamoto during in his round trip over the Solomons, with the poor success we know.
---
© Olivier Barles 2017
This article was published on Tuesday, March 14 2017; Last modified on Tuesday, March 14 2017