Contact Resine | 24009: 1/24 Bf 109G-10 Wheels
Reviewed by Mark Proulx
This is the third, and final installment reviewing the new 1/24th scale Bf 109 wheels from Contact Resine. These resin wheels are to be used in conjunction with the Trumpeter Bf 109 G-10.
The set consists of two replacement mains and a single tail wheel. They are cast in cream-colored resin. A very small casting block should be easy to remove from each wheel. Like the other 109 wheels, they are flattened and bulged though this appears overstated in my opinion. As Trumpeter accomplished, these resin wheels also accurately capture the increased width of the Bf 109 G-10 wheels.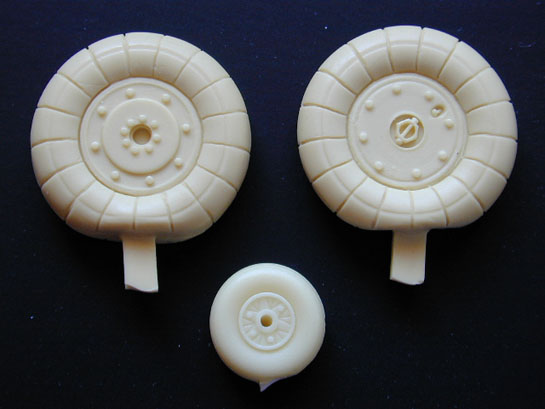 The main wheel hubs are a considerable improvement to those from Trumpeter. Additional details are quite evident in the attached photos as compared to the kit items. The tire tread pattern appears to be a little oversized and suffers from grooves that are not straight in some instances. A comparison was made to photos in Aero Detail 5 on page 31.

The tail wheel depicts a small tread pattern, different than that included with the Bf 109 G-6 reviewed here. Some light sanding will be required around the outer edges to remove a very small casting line.
These new products from Contact Resine are a welcome addition. A quick look at their web site shows products are also available for the Trumpeter Spitfire, Mustang and Zero in 1/24th scale. In my opinion, the resin Bf 109 series of wheels is a marked improvement to those included by Trumpeter. I recommend them without hesitation to anyone wishing to enhance their large scale 109.
Review Sample Compliments of Contact Resine
© Mark Proulx 2004
This product is available from the following LSP sponsors
This review was published on Saturday, July 02 2011; Last modified on Wednesday, May 18 2016