Contact Resine | 24007: 1/24 Bf 109G-6 Wheels
Reviewed by Mark Proulx
This is the second review in a three part series examining the new 1/24th scale Bf 109 G wheels from Contact Resine. This review focuses on the Bf 109 G-6 set designed for use with the Trumpeter kit in the same scale.
The 109 wheel sets are shipped in a small sturdy plastic container void of instructions. It includes two main wheels and a treaded tail wheel. A small casting block can be easily removed from each wheel. The hole to accept the axle of the Trumpeter gear legs will likely need to be lengthened.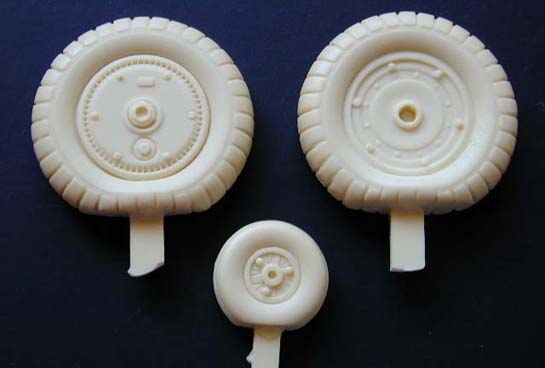 Like the Bf 109 G-2 wheels, the main wheels are bulged and flattened. The correct stance of the wheel is incorporated. It appears that the Trumpeter hub was used as a master, with pertinent details added. In my opinion the tread pattern appears to be a little deep. This could disappear under paint or be sanded down if so inclined.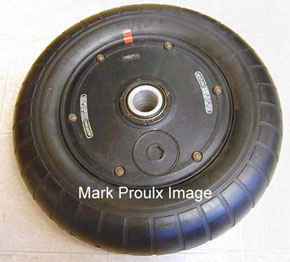 I have included a photo of an actual Bf 109 G-6 wheel for comparison. Modelers should note that the wheel from Contact Resine includes numerous fins around the circumference of the hub. These items were later discarded to ease the manufacturing process. This would indicate that the resin set replicates the earlier style of hub, which is also supplied by Trumpeter. Modelers striving for 100% accuracy should check references carefully for the style of hub required. At the time of this review, the later style of hub is not available.
The tail wheel is also correctly modified for the Bf 109 G-6. It's diameter and width is increased. A tread pattern is also included though not visible in the photos accompanying this review. Like the main wheels, the Trumpeter parts are used as a master. A photo of a Bf 109 G tail wheel can be found in the Bf 109 G-2 review here.
I consider these wheels to be superior to those supplied by the manufacturer. Most modelers prefer resin or plastic to vinyl given the gloss finish and painting difficulties. Vinyl has also been known to react to plastic in some circumstances. It is for these reasons that I recommend the new Bf 109 wheels from Contact Resine without hesitation.
Review Sample Compliments of Contact Resine
© Mark Proulx 2004
This product is available from the following LSP sponsors
This review was published on Saturday, July 02 2011; Last modified on Wednesday, May 18 2016