Wingnut Wings | #32027: 1/32 Fokker D.VII (Alb)
Reviewed by Kevin Futter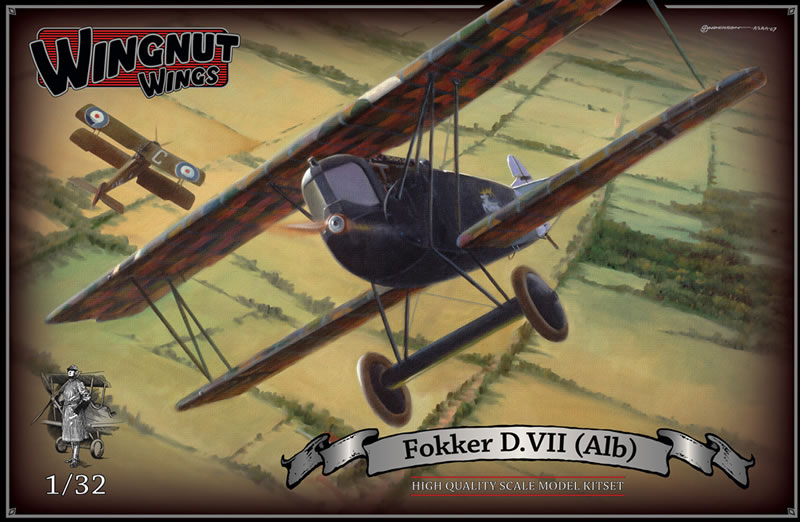 Ron Patterson recently reviewed the Fokker-built version of this kit, and since most of the contents are the same, I'll just focus on the differences in this review. Please check out Ron's review for an overview of the general contents of the box. I can only echo Ron's sentiments: the moulding is first-class, the instructions are without peer and the decals are magnificent.
This particular release depicts the version built under license by Albatros at their Johannisthal factory. Wingnut Wings itself provides an excellent potted history of the aircraft on its webpage for this kit, and is well-worth reading if, like me, you're unfamiliar with the type (this information is also found on the front page of the instruction booklet).
The primary difference between the three releases of this kit ('Fok', 'Alb' & 'OAW') is the sprue depicted in the photo below: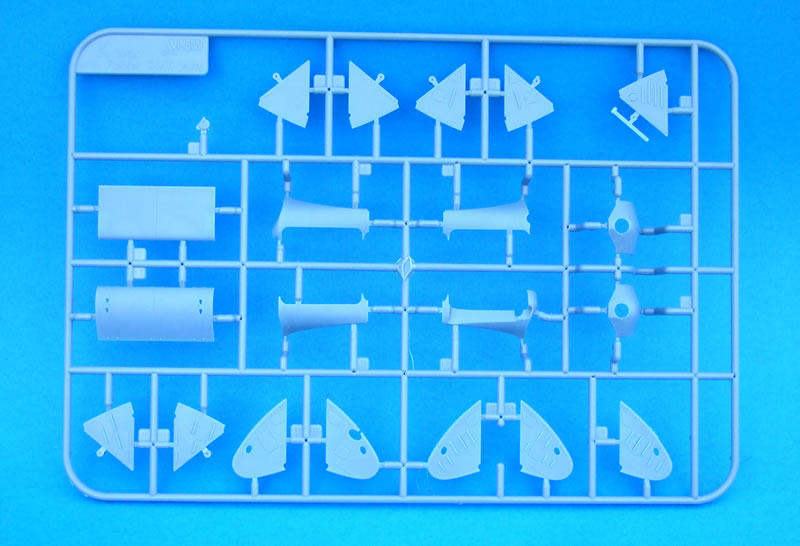 The close-up below of the sprue identification tab shows it as sprue 'K'. The equivalent sprue in the 'AOW' kit (#32030) is marked as 'J', while the one in the 'Fok' kit (#32011) is marked as 'I'. Curiously, all three sprues have a copyright date of 2008, as can be seen in the photo below.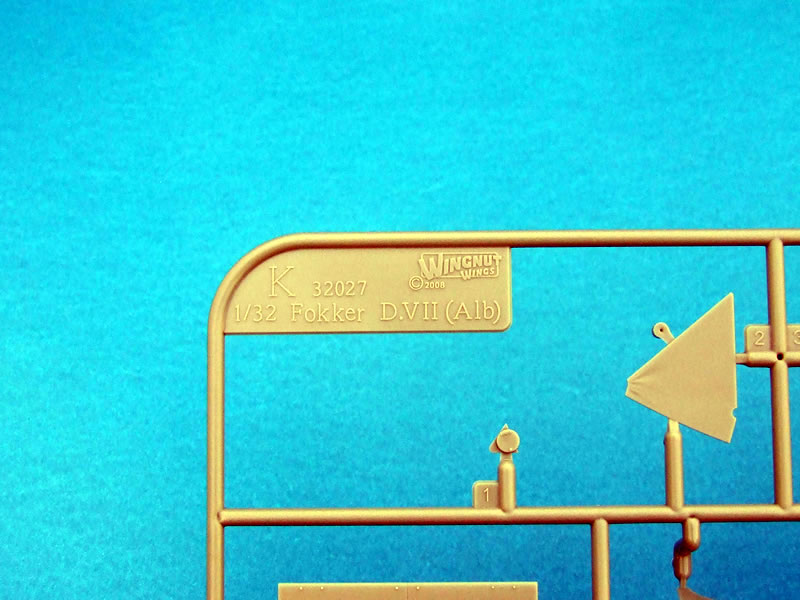 All the other sprues appear to be identical in each kit, and indeed, with the exception of the engine fret, are all marked as '32011'. The sprue containing all the engine parts ('E') appears to be designed for inclusion in any Wingnut Wings release for which the Mercedes D.III might be applicable, and comes complete with four different styles of propeller.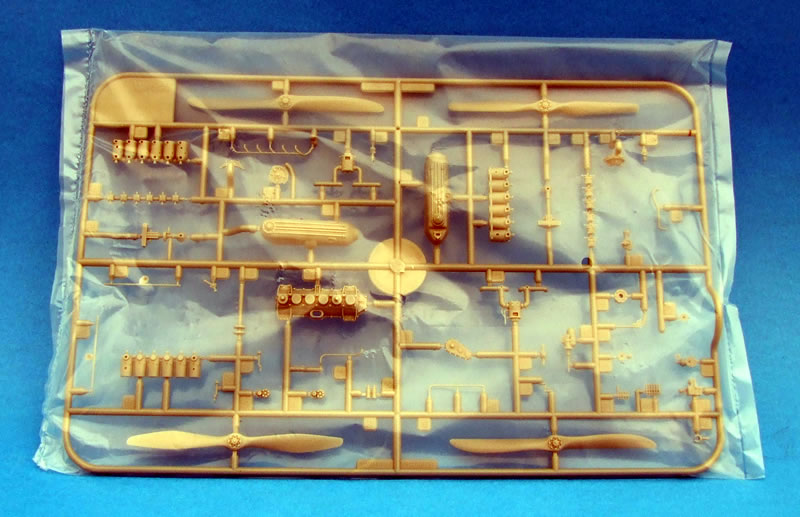 The second point of differentiation with this release is the instruction booklet. But to refer to it as merely an 'instruction booklet' is to do it a gross disservice; it's 34 pages of sumptuously illustrated building guidelines that blur the lines between kit instructions and type reference. Just be careful removing it from its sealed plastic sleeve, as there's a photo-etched fret of detail parts lurking in the same bag.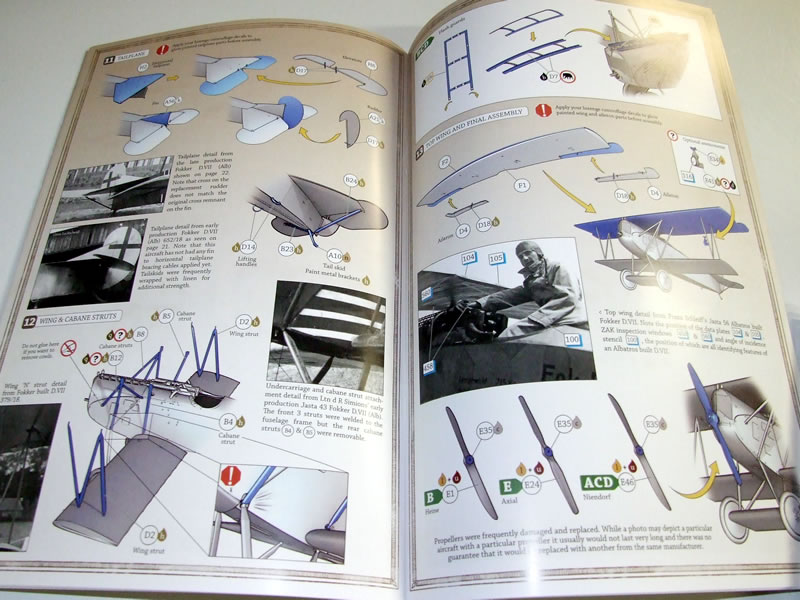 The photo above perfectly illustrates the impressive and seamless blend of CAD-generated construction sequences with period reference photos and historical explanation. Page 22 features a helpful rigging diagram, though no rigging material is supplied.
Towards the back of this amazing document are the painting and markings instructions for five example aircraft:
Fokker D.VII (Alb) 611/18, Uffz. Harbers, Jasta 73, mid 1918 (1 victory)
Fokker D.VII (Alb) 817/18 "Nickchen IV", Fritz Blumenthal, Jasta 53, August 1918
Fokker D.VII (Alb) 5324/18, Richard Kraut, Jasta 63, October-November 1918 (1 victory)
Fokker D.VII (Alb) "Bowke!", Hermann Pritsch, Jasta 17, mid 1918 (1 victory)
Fokker D.VII (Alb), Carl Degelow, Jasta 40, July-August 1918 (30 Victories)
Of course, when it comes to painting and markings, decals play a huge part, and the decals supplied with this kit are equally as impressive as the other elements. It features not so much a decal sheet as a decal package. There are 5 large main sheets and one smaller one. Yep, six sheets in all. The large sheets are made up of a single sheet of individual aircraft markings, and 4 sheets of 4- and 5-colour lozenge patterns. The smaller sheet features rib tapes in two colours.
---
Conclusion
All in all this is an amazing package. The Tamiya uber-kits probably match (or perhaps even exceed) this in terms of moulding finesse and kit engineering, but don't come close when it comes to the instruction booklet and decal package. It's a cliche, for sure, but I think it's fair to say that Wingnut Wings kits are designed by modellers, for modellers, and every single element has been well thought-out and executed to the brink of perfection.
I think the real testament to the quality of this kit (and its brethren) is the fact that many modellers, who previously had little-to-no interest in WW1 aviation or models, are flocking in droves to build them. I now count myself among their number, and I can't wait to check out some other Wingnut Wings kits.
Many thanks to Wingnut Wings for the review sample.
© Kevin Futter 2012
This review was published on Thursday, January 10 2013; Last modified on Wednesday, May 18 2016