HGW | #232001: Spitfire Mk.IX Stencils
Reviewed by Kevin Futter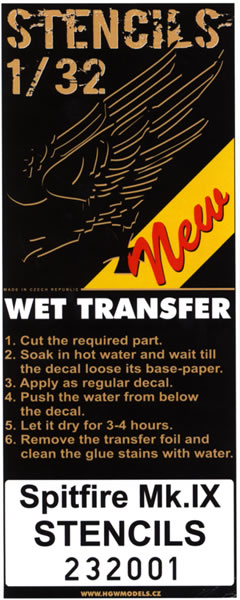 Czech firm HGW has developed a new approach to decal application that it has dubbed "wet transfer". This unique approach is a conceptual hybrid of traditional waterslide decal technology and the less-used dry transfer products. Essentially, these are waterslide decals whose carrier film is over the printed design, and is removed once the decal has dried on the model. This gives a result similar to that achieved by dry transfers, as there is no visible carrier film left on the model. Theoretically this gives the modeller the best of both worlds: the ease of application afforded by waterslide transfers, combined with the superior painted-on look of dry transfers.
Until recently, HGW's releases using this technology have been limited to rivet sets, but they have now expanded into stencils and markings. Here we examine their set of stencils for the Spitfire Mk IX.

This is a relatively modest set given that RAF aircraft of the period were not as heavily stencilled as their USAAF counterparts. In addition to a complete set of airframe stencils however, red patches for the gun ports are also provided.
The decals themselves are quite glossy, as is the sheet they're printed on. Registration and colour density appear to be excellent. Print resolution is also very good, as evidenced by the enlarged data stencil below: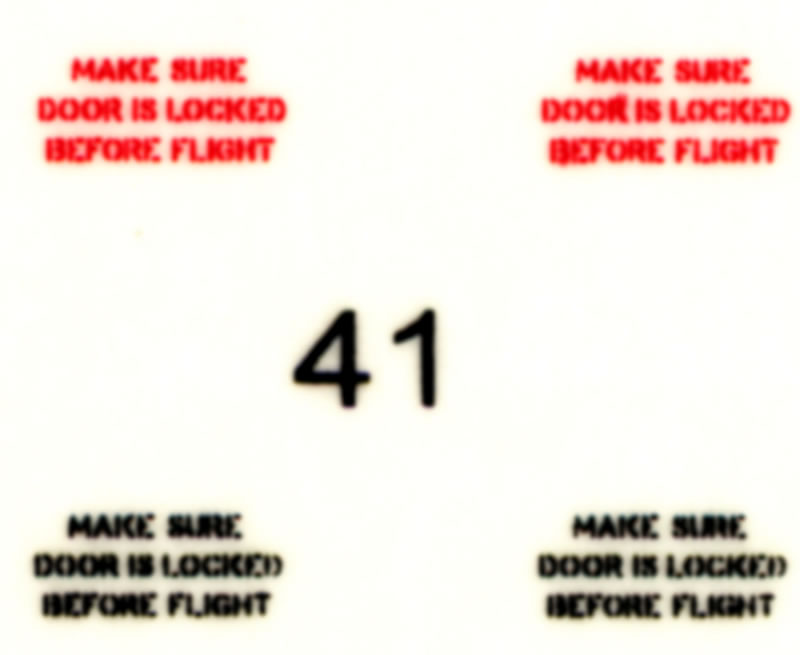 The slight fuzziness evident in the scan is an artefact of the scanning process, and not visible to the naked eye. The image shown is around 16x actual size.
As you'd expect with a product such as this, a comprehensive placement guide is included: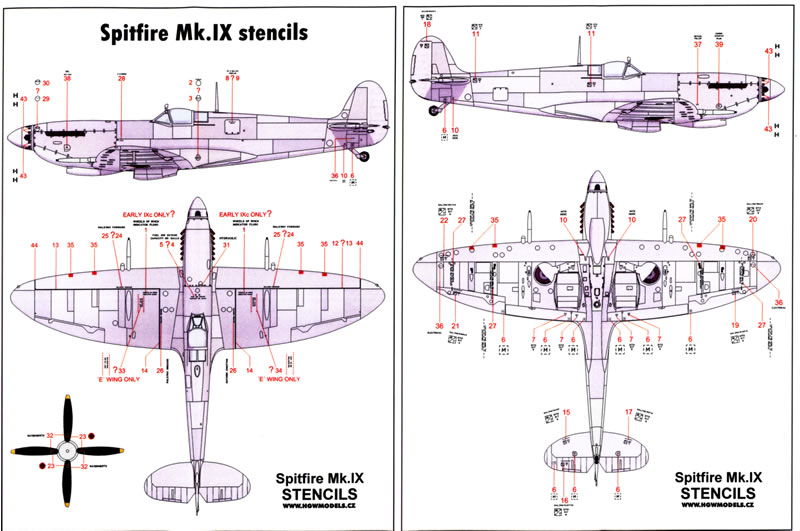 The garish purple hues in the scan above have also been introduced by the scanner, and are much less prevalent in actuality.
The application of a full set of stencils is likely to be a time-consuming process. This is, however, no different to the requirements for a full set of waterslide stencils. The caveat of course is that the "wet transfer" process requires all the carrier film to be removed in a subsequent step, which itself will be quite an undertaking if you've used all applicable stencils.
To see the "wet transfer" approach in action, see my review of the HGW Silver 1/32 Rivets set.
Conclusion
Hiding carrier film on small stencil decals can be difficult, if not impossible at times, and can make or break the result. This set promises to solve that problem, and provided the "wet transfer" process lives up to its promise, this will be an absolute must-have set for any 1/32 Spitfire IX build. Highly recommended!
Thanks to HGW for the review sample.
© Kevin Futter 2014
This review was published on Thursday, September 25 2014; Last modified on Thursday, September 25 2014