AK Interactive | Xtreme Metal Metallic Paints
Reviewed by Kevin Futter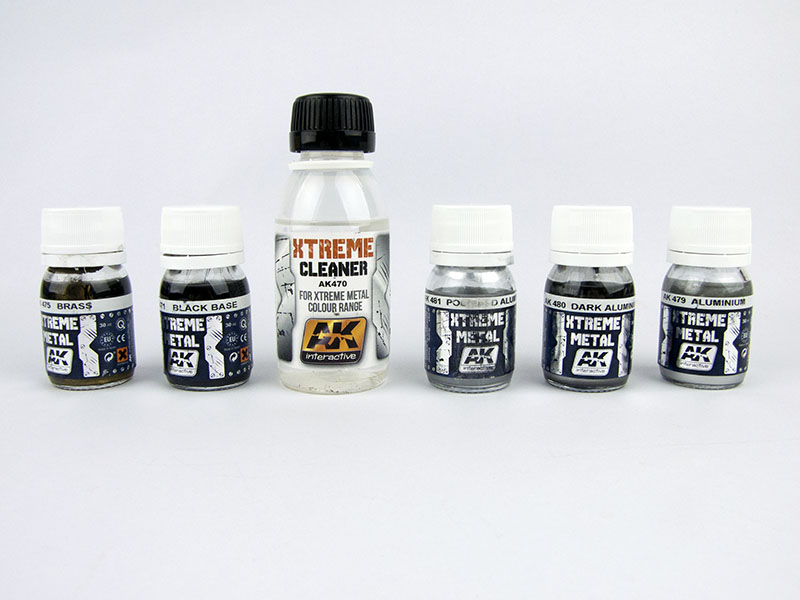 Spanish firm AK Interactive has, in a relatively short space of time, become quite well-known for its finishing and weathering products, of which it sports an extensive range. The company recently introduced a series of wax-based metallic pastes, dubbed True Metal (see our review), and has now complemented this approach with a full range of more traditional paint-based metallic finishes. The new range is called Xtreme Metal, and we've been sent the following examples for review:
AK 479 Aluminium
AK 480 Dark Aluminium
AK 481 Polished Aluminium
AK 475 Brass
AK 471 Black Base
AK 470 Xtreme Cleaner
The paints themselves come in 30ml glass bottles with a sealed, screw-top plastic lid, while the Xtreme Cleaner comes in a 100ml plastic bottle. I've not seen paint come in this style of container before, but they're robust and easy to work with. They're also more squat, and therefore less prone to tipping, than Alclad-style glass bottles.
Interestingly, I couldn't find any definitive information regarding the formulation of these paints; are they enamels, lacquers, or acrylics? They have a reasonably strong smell, but nothing that gives away the formulation.
Of course, a metallic paint is only as good as the results it gives, and the only way to assess that is to use it. I decided to constrain my testing around three main criteria:
Airbrush performance
Visual effect
Durability
On Test - Round One
Since I didn't have a current project suitable to test with, I had to dig around in my stash for something I could sacrifice to the cause. This proved more difficult than I thought, but eventually I settled on a Matchbox 1/32 Bf 109E kit that I had started some years ago, but never progressed beyond some basic surface preparation. I decided to use the two lower wing parts: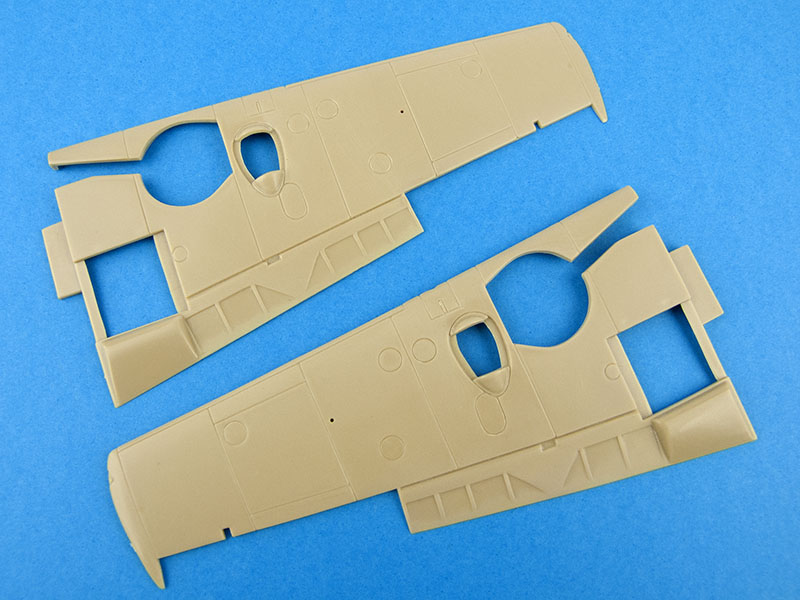 You can see from the photo that the surfaces had been sanded previously, which meant they required a bit more work to prepare them for the job. As we know, surface preparation is crucial when trying to achieve a convincing natural metal effect. After some work with a polishing stick, I laid down some Tamiya Fine Grey primer, straight out of the can. In order to test the paint's performance on bare plastic, I masked off the end portions of each part before priming: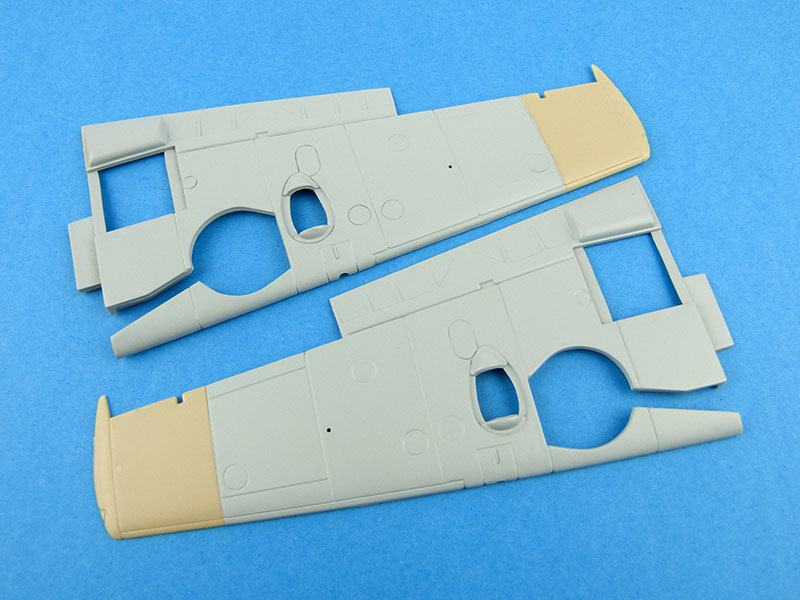 Since one of the supplied colours is Black Base, I decided to mask off a single panel on each wing and apply this colour to it. This way, I could test if varying the underlying colour had any effect on the metallic top coat: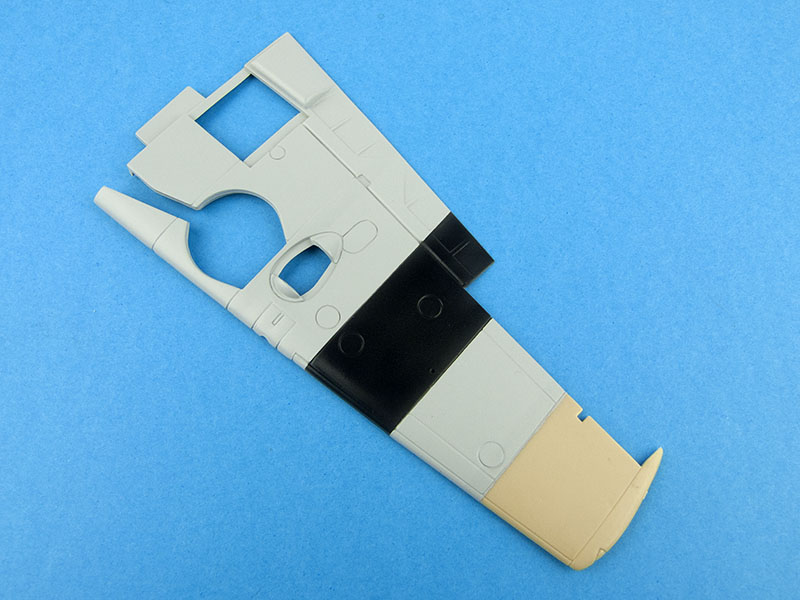 After giving this around 10 minutes to dry, I set the compressor to give a working pressure of around 10-12 PSI, and laid down some AK 479 Aluminium, using an Iwata HP-C Plus: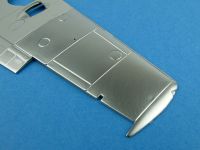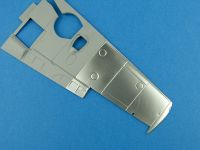 ---
As you can see, the results were disappointing. The effect over the Black Base is rough and patchy, while the result over the Tamiya primer reveals some underlying orange peel in the primer coat. And you can see that my preparation of the bare plastic was inadequate, with many scratches remaining highly visible. This is in fact a testament to how thin and precise these paints are, revealing every surface flaw, no matter how minor.
I persevered, and applied some AK 481 Polished Aluminium on the other wing: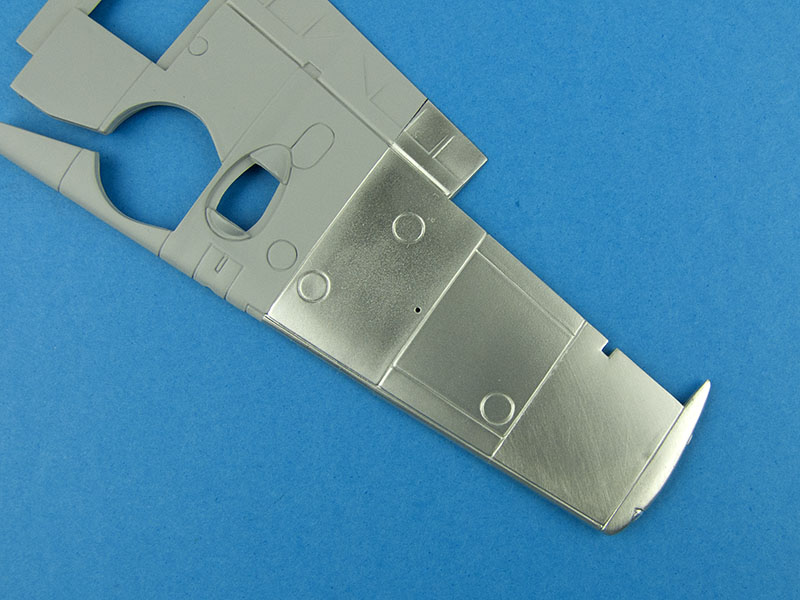 Not only were the results the same, but there was no discernible difference between the two shades: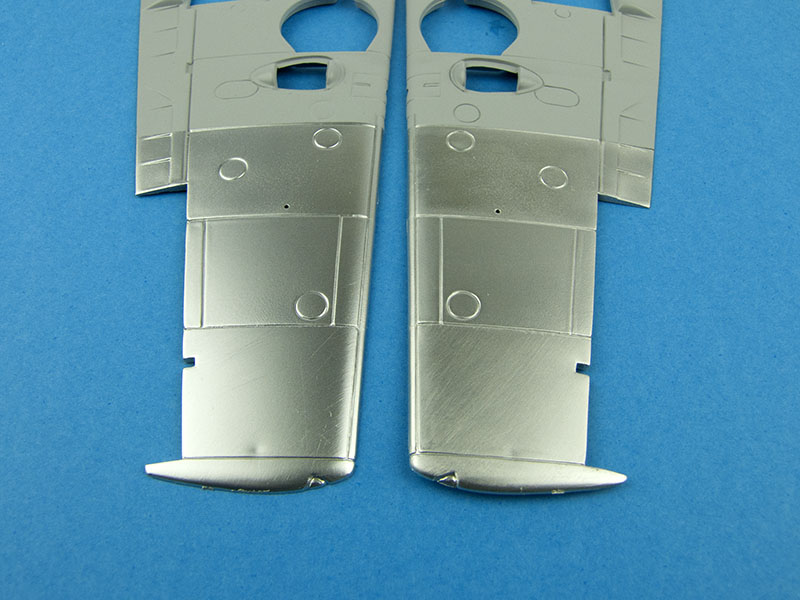 By this stage I had already determined that my methodology was not optimal. Ten minutes was clearly not an adequate amount of time to leave the Black Base to cure before over-coating with the metal colour. I had also realised that 10-12 PSI was insufficient pressure to atomise these paints effectively. And these paints were especially unforgiving of my inadequate surface preparation. Every new paint presents a new learning curve!
Before abandoning this round of testing, I decided to perform a 'tape test' to get an idea of the paint's durability. After a couple of hours' drying time, and using fresh Tamiya tape, I laid a segment down over each combination - Aluminium over primer and plastic; Polished Aluminium over primer and plastic: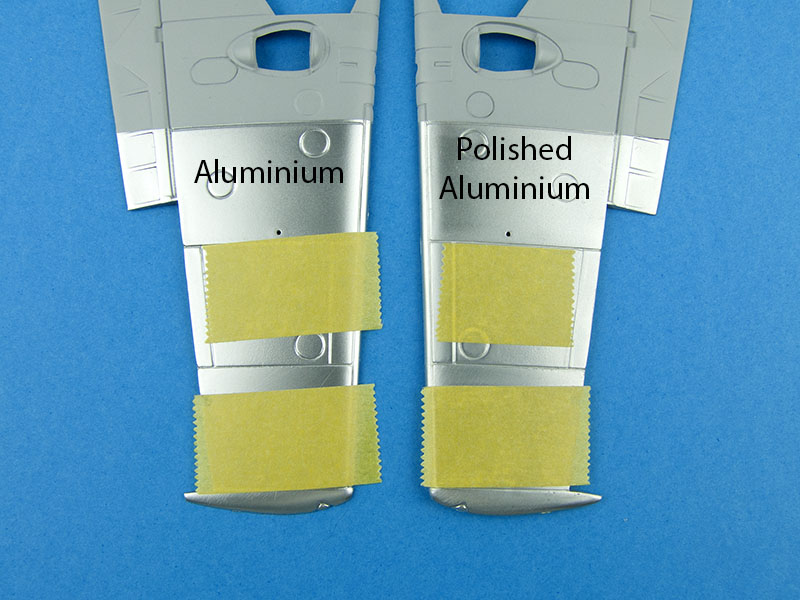 And the results: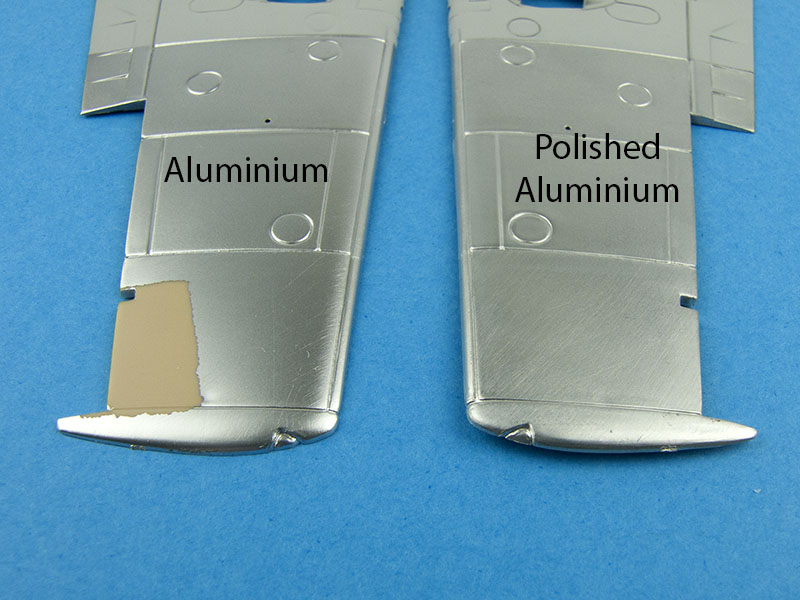 The Aluminium over bare plastic lifted easily, while neither paint was affected much where it was laid down over the primer. In each case, though, some very slight tape marks were visible, and there was some slight evidence of some silver pigment on the adhesive side of each piece of tape. I figured it was entirely possible that I had performed this test too soon, but it was clear that Xtreme Metal paints really require a primer.
All of this may seem like a very long-winded way of saying that my first round of testing was a failure, and a waste of time. While the former is certainly true, the latter is not, as I'd already learned some valuable lessons about using these paints:
Using a primer is essential!
Xtreme Metal is just as unforgiving about surface preparation as any other type of natural metal paint
Low air pressures don't work so well
Treat them like enamel paints when it comes to drying and curing times
Armed with this knowledge and experience, I set about conducting Round Two of my testing.
On Test - Round Two
For my second go, I pulled out a Revellogram 1/48 Bf 110G-2 kit and appropriated the upper wing halves. These were fresh out of the box, and only required some cleaning with methylated spirits. I decided to change tack slightly this time, and sprayed one wing half with Tamiya Fine Grey primer as before, but used Mr. Surfacer 1500 Black on the other wing half:
These were then both progressively polished using some Micromesh polishing pads, until they were gleaming, and free of any visible surface imperfections. They were now ready for paint.
I started with AK 475 Brass this time, but neglected to raise the output pressure of the compressor. The results were again disappointing: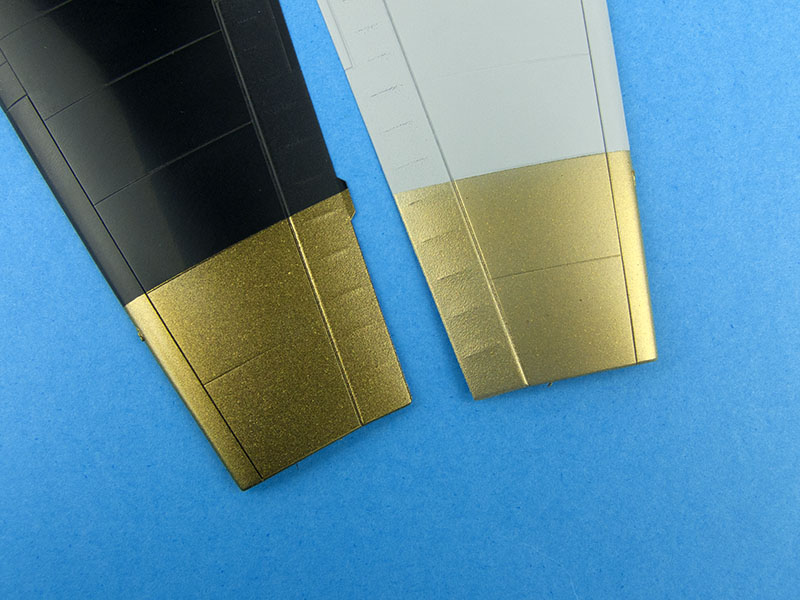 The effect is better over the grey primer, but in both cases the coverage is grainy and unconvincing - especially so over the black primer. I left this alone for 24 hours, and tried again on a new section, this time with output pressure raised to around 20 PSI. The result was much better this time, though it still looked better over the grey primer than the black.
So, having established a basic set of working parameters, I set about laying down each colour, leaving each panel to dry for 24 hours before masking it off and spraying the next one. I also sprayed one extra panel over the black primer, using Alclad Polishing Aluminium for comparison. Each panel was given a light polish with a soft cloth after curing. The results are shown in the two photos below, each from a slightly different angle: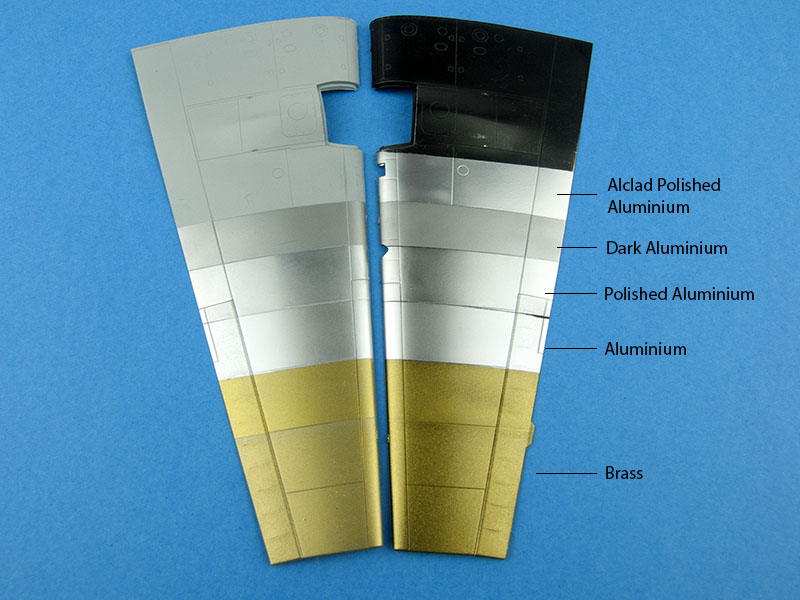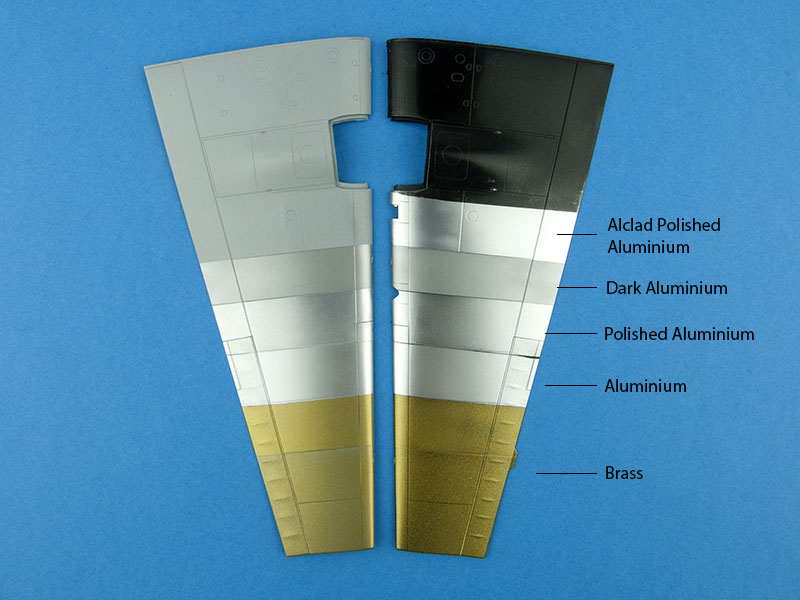 Comments
The first thing to note is that, apart from the Brass, the different primer colours had almost no discernible impact on the tone or reflectivity of the Xtreme Metal paint. And in the case of the Brass, it struggled to cover the black base effectively, and looked the worse for it. So, don't bother varying the base colour, but be sure to use the AK 475 Brass over light-coloured primers only.
The second thing to note is that the Dark Aluminium exhibits hardly any reflectivity, being almost flat. Its effect is almost that of a dark metallic grey. I think it would make an excellent oxidised aluminium finish, or for panel effects such as heat staining or other colour variations.
Note also that, once I'd taken to leaving each colour to cure for 24 hours, I had no issues whatsoever with paint peeling or the pigment lifting. It does seem to be pretty impervious to Tamiya masking tape at that point, and pretty close to what I consider the most robust of the natural metal finishes on the market: Tamiya's AS and TS range of rattle can silvers. It should come as no surprise to learn that polishing the cured surface with a soft cloth made no difference to the finish; in other words, these paints are not buffable.
Xtreme Metal appears to perform better at a slightly higher airbrushing pressure than is usually recommended for natural metal paints. They atomise better and provide a finer, more convincing finish. Any evidence of grain in the photos (apart from the Brass), is due to JPEG compression artefacts, rather than the paint finish itself. To the naked eye, the finish is smooth and even, with good coverage and nice depth.
I found it odd that the Polished Aluminium gave a darker, less shiny finish than the standard Aluminium colour. This is especially noticeable when compared to the Alclad Polished Aluminium. Having said that, it doesn't actually bother me greatly, as highly polished finishes are the exception rather than the norm, and having a selection of slightly contrasting tones is probably more useful. Taken as a trio, Aluminium, Polished Aluminium, and Dark Aluminium provide exactly that. Other colours are available from the range too, so some very nice natural metal effects should be possible, and without having to fret about the havoc all that masking might cause.
If you buy these paints, get the Xtreme Cleaner. During all of my testing, over the course of a week, I did no more than flush out the airbrush with this product, and it didn't skip a beat. It smells vaguely of acetone, but not so much that I can be sure about it. Whatever it's made of, it really works!
Lastly, you'll recall my earlier comment about these paints having a strong smell. I'm happy to report that this is not the case during airbrushing. You can hardly smell them at all while using an extractor, and I can't say that about too many other paints (besides perhaps Vallejo Model Air). My wife normally leaves the room while I'm airbrushing; not so with Xtreme Metal.
Conclusion
Every new product designed to emulate natural metal finishes comes with a set of claims about performance, durability and realism, and Xtreme Metal is no different. Most are temperamental to some degree, and I'm pleased to say that Xtreme Metal has fewer foibles than most. Airbrush it at around 20 PSI or so, over a smooth, blemish-free primer coat, and leave it for 24 hours. After this, masking over it should present no problems.
I don't think Xtreme Metal is in the same league as Alclad when it comes to providing a highly-polished aluminium finish, but I also don't think this is a major problem, since these types of finishes are less common anyway. The aluminium varieties in this range are highly complementary, and work really well when juxtaposed with each other.
I'll leave each of you to decide how realistic you feel these Xtreme Metal paints are, but bear in mind that natural metal finishes are notoriously difficult to capture in photographs, and I don't think my photos do these colours justice. I think they look great, however, and combined with superior durability (much more durable than Mr. Metal Color, for example), these paints offer a really great option for achieving natural metal effects and finishes. I can't wait to try them out on a full build!
Thanks to AK Interactive for the review samples.
© Kevin Futter 2015
This review was published on Saturday, May 30 2015; Last modified on Sunday, May 31 2015