Aeronaut Books | The Blue Max Airmen, Volume 3
Reviewed by Kevin Williams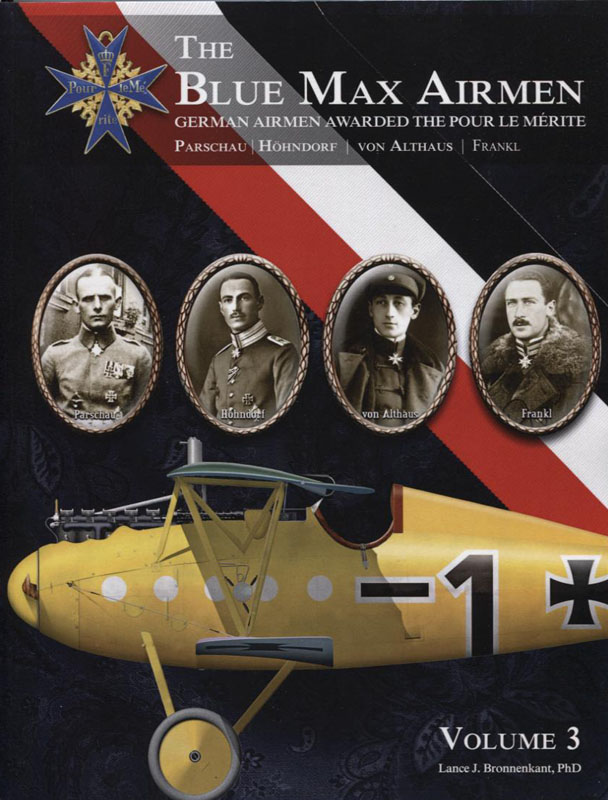 This rather ambitious series from Aeronaut (written by Lance Bronnenkant), attempts to document the history of all known WWI recipients of the Pour Le Mérite, otherwise known as "The Blue Max". Following in the footsteps of volumes 1 & 2, this volume explores four gents, Otto Eduard Parschau, Franz Walter Höhndorf, Ernst von Althaus & Wilhelm Frankl, all four of which were recipients of the Blue Max. It now seems very obvious that the series intends to proceed in a chronological fashion, highlighting each man as he was nominated and/or awarded the medal. So, the next four men in order of (in these cases), receipt of the award, are as listed above, and are the focus of this volume.
(Note: This particular volume, uses a noticeably lower quality paper than the previous two volumes, a cheaper bond type vs the gloss stock from before, yet the price remains the same. I find this a bit of a bitter pill to swallow, as I was already accustomed to the overall professionalism of the approach taken with the first two volumes. If volume four is not a serious improvement in this area, I suspect I'll be purchasing no more of them, unless of course there's a proportionate cost reduction on the volumes.)
Given that there are but four specific pilots featured in this volume, which we will apparently see as a trend moving forward, there are also but four major chapters, one for each gent, plus color profiles of select machines they flew (this time with a nice mix of some early machines), as well as a complete listing of Blue Max recipients, arranged both chronologically and alphabetically, a nice touch. While I originally thought duplicating this listing in every volume was a waste of paper, I can now see the wisdom of this approach, as some, perhaps many, will not desire the entire series, but may cherry pick volumes based on specific pilot interest. All in all, a well rounded presentation that's sure to please the hardcore WWI aviation enthusiast, of which I am one.
Again, there is no "about the author" section anywhere to be found in this publication, so I really still know nothing of the credentials of Bronnenkant, save for his apparent ability to compile gobs of period photos, and combine them with interesting anecdotes, combat reports, biographical data and the like, into a very enjoyable and presumably accurate account of the events surrounding these four pilots and the machines that they flew.
The book (as I'm now sure do all subsequent volumes) reads like a who's who of familiar WWI German pilots; Boelcke, Immelmann, Richthofen (both brothers), Berthold, Voss, Wüsthoff, Dostler, Strosser, etc., as all were Blue Max recipients.
According to this book, all 41 Blue Max medals were awarded between January 12, 1916, and December 23, 1917.
Note: Three of these four men did not survive the war; Otto Eduard Parschau: Died from combat wounds, Franz Walter Höhndorf: killed in flying accident, Ernst von Althaus: taken prisoner, later repatriated to Germany & Wilhelm Frankl: KiA.
Sample Color Profiles
---
Once again, the same crew is at work here, which is perfectly OK with me, as I really like what I see from them as a collaborative effort. The artwork/profiles that are included (14 in total) from Jim Miller (another unknown to me) is quite nice, capturing the look and feel of the subjects rather well. Color advice and markings particulars are provided by Greg Van Wyngarden, a very well known author and contributor to many WWI aviation publications, Osprey aviation books in particular.
Typical Photo Selection
---
The text is augmented with a very nice selection of period photos, each chosen to represent the four pilots, their machines and their flying mates (and sometimes their victims), as well as various crashes, and the ever somber funeral processions.
Rear Cover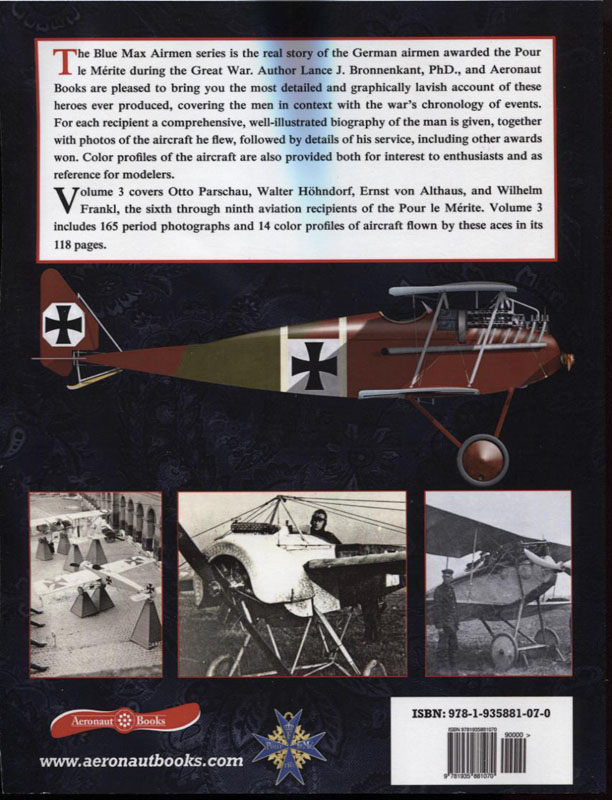 Nothing special here, just offered up as a complimentary parting shot, as it were.
Review copy compliments of my thinning wallet, but in this case, well worth it.
All in all, I'd recommend this book without much reservation. At a very healthy 118 pages, this book has a certain amount of heft to it that makes it feel worth the price. This fact, combined with the slick approach, decent (though certainly not great) paper stock and cool illustrations (though these are severely limited in scope, necessitated by the limited breadth of the subject matter), makes for a nice addition to the library, and may well prove invaluable while attempting to model a particular machine of any of these four pilots.
If you have but even a passing interest in WWI aviation, this series may just convert you into a fan.
For an additional look at this series, see my reviews of Volume 1 and Volume 2
Recommended additional WWI Aviation References
Squadron/Signal: Fokker Eindecker in Action
---
Albatros Productions: Fokker E.I/II
---
Albatros Productions: Albatros D.I/D.II
---
Osprey Publications: Albatros D.III
---
© Kevin Williams 2016
This review was published on Tuesday, August 09 2016; Last modified on Sunday, October 22 2017