Roden | 619: L-19/O-1 Bird Dog
Reviewed by Iain Ogilvie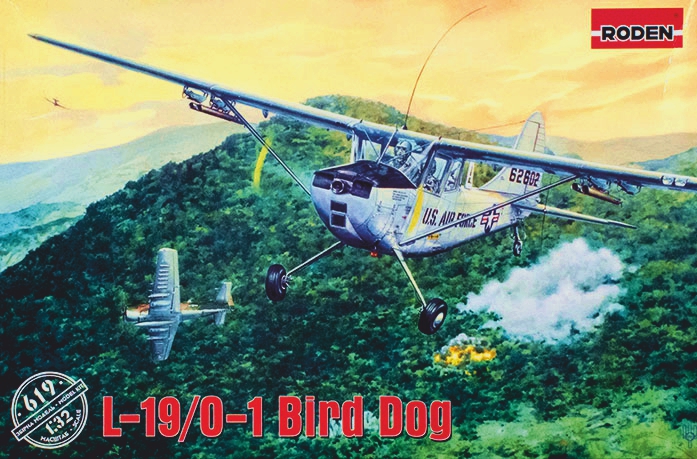 Released a while back now, this new kit from Roden was eagerly anticipated; the first time this important Vietnam era aeroplane has been kitted in 1:32 scale.
It has to be said that many of us had high expectations; let's take a look at what you get...
Main Sprues
First impressions are actually fairly good. All parts are relatively cleanly moulded in grey styrene, with only a tiny amount of flash. Panel lines are nicely restrained and the 'corrugated stiffeners on the control surfaces rendered neatly. The rest of the surface is smooth, with no attempt to portray the raised rivets that cover the Bird Dog airframe in real life.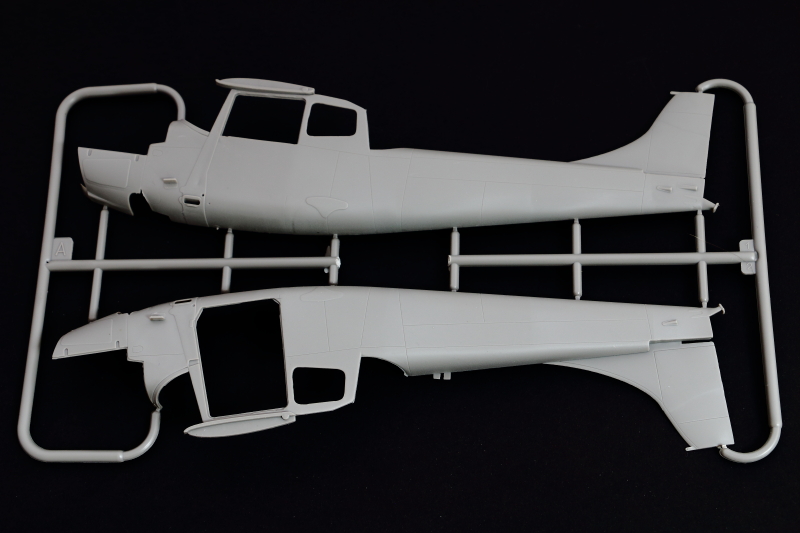 ---
The wings in my sample are warped and I've been told by others that have built the model that they've come across similar defects, including some on the fuselage mouldings. All fixable, but I do wonder if the mouldings are being ejected from the molds a little too quickly?
---
The interior and detail parts are nicely moulded, although I did have some minor breakages on some of the finer parts in mine. The kit includes a full (if slightly simplified) engine and separate cowl parts, so the builder can display this area if desired.
---
Transparencies
These are nice and clear with just a little flash - no big issue. Given the type of glazings, neat fitment may be challenging - but that's a by-product of the real aircraft design, rather than the kit.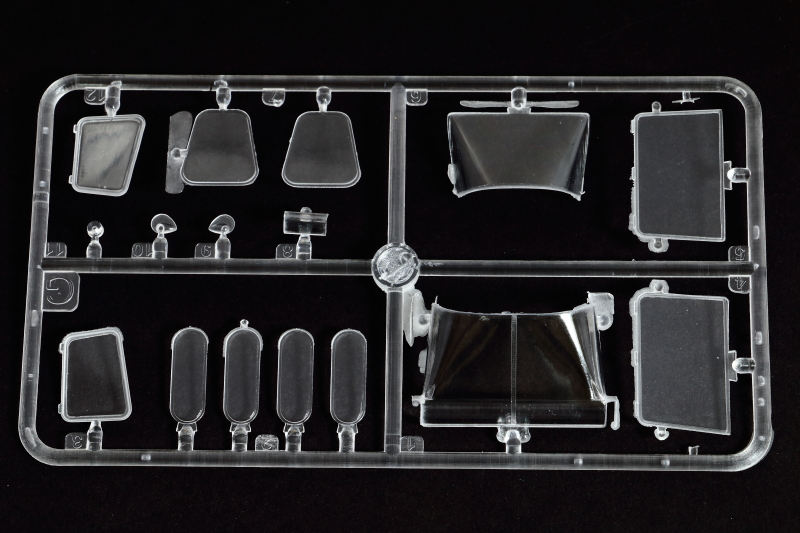 ---
Supplementary Parts
A small bag is supplied that includes material for the dorsal whip aerial and the tailplane mounted dipole aerials.
---
Markings Options
Two different colour schemes are offered in the box - as follows:
L-19/O-1E Bird Dog 56-2650 U.S. Army Training School, Fort Rucker, Alabama, 1965 in Olive Drab/International Orange.
L-19/O-1E Bird Dog 56-2602 U.S.A.F., Da Nang Air Base, Vietnam, 1966 in Grey/International Orange.
---
Decals look usable, if a little woolly in places - and difficult to tell how opaque the yellow markings will be.
---
The decals are probably best replaced with the superb sheets from AOA Decals:
32-019: Dogs of War 1 US Army/USAF O-1 Bird Dogs in the Vietnam War
32-020: DOGS OF WAR (2) US Army/USMC/VNAF O-1 Bird Dogs in the Vietnam War
Instructions
The black and white instructions are clear and concise - I don't anticipate any issues following them. Colour side views of the markings options are provided on the side of the box lid.
---
Conclusion
Bit of a mixed one this - highly recommended for subject matter, but quality of moulding and decal sheet are not up to what we now expect, especially with regard to the warpage.
That said, it's a fascinating project and the original was flown by some extremely brave crews who lived in the shadow of their 'jet jock' cousins, and yet had a far more exposed and dangerous role during the Vietnam war.
Thank you Roden for giving us a Bird Dog to play with!
To help with your Bird Dog build you can do no better than the KLP book Building Mac's Birddog in 1/32 Scale by our own Eric Galliers.
Review model courtesy of my wallet.
© Iain Ogilvie 2018
This review was published on Sunday, January 07 2018; Last modified on Sunday, January 07 2018