Jim Brown | 1/32 Spitfire Mk XIVe / Mk XVIIIe Conversion
Reviewed by Mike Swinburne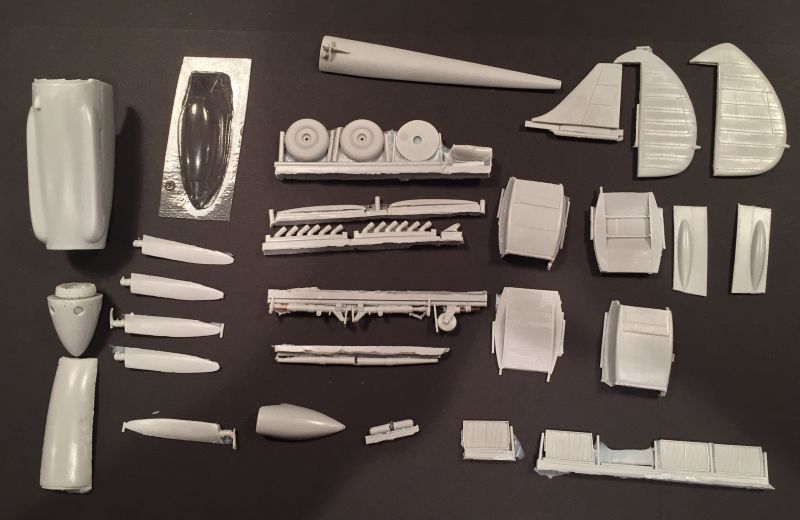 Jim Brown has been busy lately, working on several new sets for under-represented Spitfire variants in 1/32 scale. In addition to a new Seafire Mk XV conversion and a correction set for Revell's Spitfire Mk IIa, he has a Seafire Mk XVII coming soon and his Mk XIV conversion has been revised to include new parts to make the bubble canopy Mk XIVe and Mk XVIII (see the review for the original Mk XIV set here). Here we take a look at Jim's enhanced Spitfire Mk XIV/XVIII conversion.
By my count, the XIVe/XVIIIe conversion includes 39 resin pieces and a single vacuum-formed canopy. The builder is treated to a standard Mk XIV rudder as well as a larger piece for the later Mk XVIII. Landing gear legs and the tail wheel strut all feature metal rods for strength. The new cut down rear fuselage has been cast as a single piece with a small frame and fuel tank filler cap. I don't know how much detail there should or should not be under the sliding bubble canopy, but what detail is present on the resin looks good to my eyes.
The vac canopy is a bit disappointing, as a mold line from whatever was used as the master is visible in the light. The ridge of the mold line can be felt on the inside of the piece, meaning that correcting this will be rather difficult. Clipped wingtips, cannon bulge inserts, radiators, wheels and tail wheel doors all look well cast to me, and the remainder of the resin shows quite good casting throughout with just some flash to clean up. The wing cannon are usable and nice to have for those using a Revell Mk IIa for the conversion, although aftermarket resin or turned metal barrels will look sharper for the builders who want "the best". Carrying over from the original Mk XIV conversion, the tail panel lines are uneven from a scribing slip or two and will need a few minutes of TLC, nothing difficult at all to clean up.
Finally, the instructions are a one-page double-sided affair. The front is very wordy and lists the changes at each step of the way to create a nice looking Spitfire Mk XIVe / Mk XVIII. The reverse side has line drawings to assist with part placement and scribing of new panel lines that will be needed depending on what donor kit is being used.
The only real disappointment of this conversion set is the bubble canopy, and it's probably going to be smart to replace that with a Grey Matter vac canopy or buy an extra canopy sprue for a Tamya Spitfire Mk XVIe. The rest of the conversion work will be quite straightforward and should be able to be handed by most modellers with intermediate skill level. The overall quality of the set it not at the standard of the best resin manufacturers out there (Fisher Models, HpH, etc), but if you don't mind putting in a little extra work, this conversion set is a good option. Jim currently only sells his conversions through his eBay store. The Spitfire Mk XIVe / Mk XVIIIe conversion is available for £38. My thanks to Jim Brown for the review sample.
---
© Mike Swinburne 2017
This review was published on Tuesday, July 11 2017; Last modified on Tuesday, July 11 2017