Kitty Hawk Model | KH32014: 1/32 North American T-28C "Trojan"
Reviewed by Ernie Ling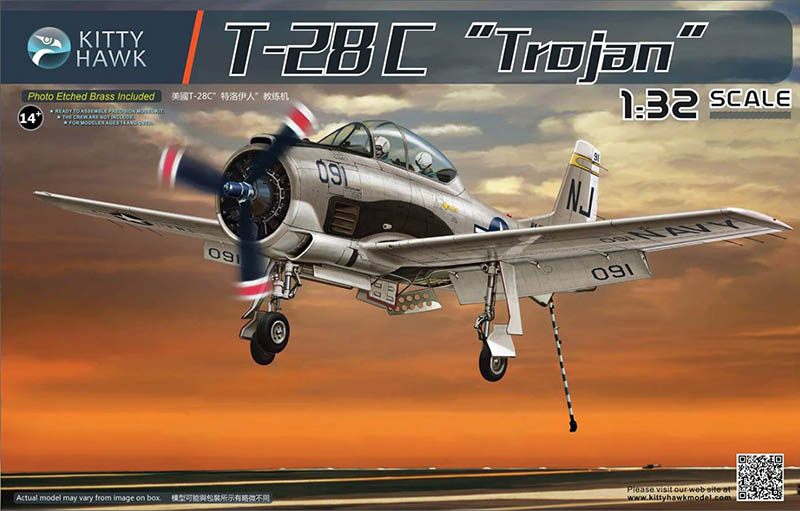 Last year, Kitty Hawk Model released the well received T-28B/D, which has now been followed by the carrier capable T-28C. This kit shares much with the previous release in many ways, having been previously reviewed by Brian Leitch.
The box art is typical of Kitty Hawk's latest releases and is a dramatic painting of a T-28C crossing the fantail of a carrier, with air brake, gear and hook all extended, looking to snag the #3 wire.
History
Compiled from Wikipedia and other sources:
The North American T-28 Trojan began its military service with the USAF in 1950 as the T-28A, which needed a modern trainer to replace the T-6 Texans then in service. The new trainer was to have all modern jet like features and offer similar takeoff and landing performance as the early jets then in service. As a result, the aircraft was a big, heavy machine on tall tricycle gear, hydraulic controls, and a sliding frameless blown bubble canopy and was fitted with a small 800hp Wright radial and two blade propeller that offered 'leisurely' takeoff performance similar to the early jets then in service.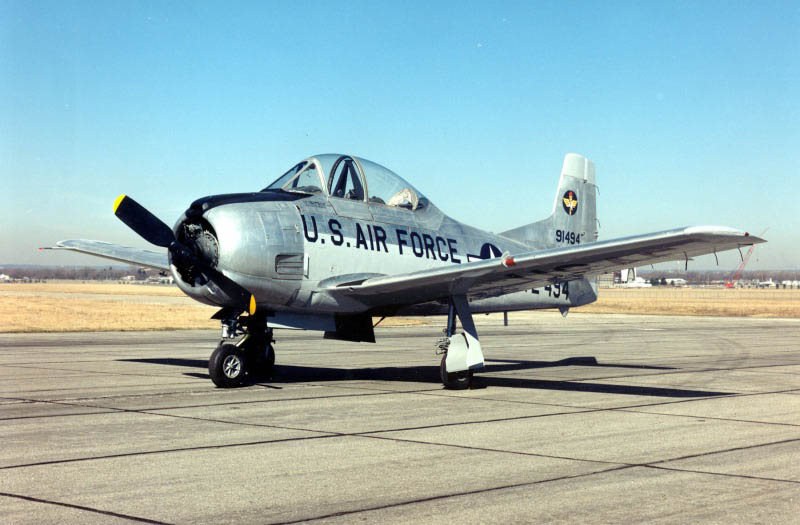 The US Navy and Marine Corps demanded something different, and adopted a much different T-28, the T-28B which was fitted with a 1425hp Wright 1830, three bladed prop and lowered canopy profile which turned the aircraft into a real performer. Also, 299 T-28Cs were produced for carrier operations with arrester gear fitted to a modified lower rear fuselage, strengthened airframe and gear, and a shortened prop to prevent prop strikes when the nose oleo was fully compressed.
---
In the late 1950s, the Sud Aviation of France modified over 240 ex USAF T-28As into the T-28S Fennec attack aircraft, by performing modifications including electric sliding canopies, side armor, underwing hardpoints, and a 1300hp Wright 1820.
Seeing the success France had with their Fennecs, Pacific Airmotive and Fairchild-Hiller converted 393 into the T-28D which featured the big engine and B prop, as well as underwing hardpoints. The T-28D-5 went a step further, featuring internal ammo pans for the hardpoint mounted guns. The Fairchild aircraft were known as the AT-28D-5 and often featured the Stanley Yankee ejection system, similar to what was used on USAF A-1 Skyraiders in Vietnam. These aircraft were modified from existing T-28 trainers, which could include either the A.B, or C models and were used by the USAF and most other friendly forces in Southeast Asia. When a Laotian T-28 pilot defected to North Vietnam in 1962, the aircraft was refurbished and pressed into service as North Vietnam's first fighter aircraft.
---
T-28s compiled an impressive combat record in Vietnam, often flying with covert units under the cover of darkness, performing anti truck and personnel operations all along the Ho Chi Minh Trail, until eventually being replaced in the late 1960s as A-1 Skyraiders and B-26 Invaders became widely available.
The T-28B and C continued as a trainer with the US Navy well into the 1980s, finally being phased out with the introduction of the T-34C turboprop in 1984.
The Kit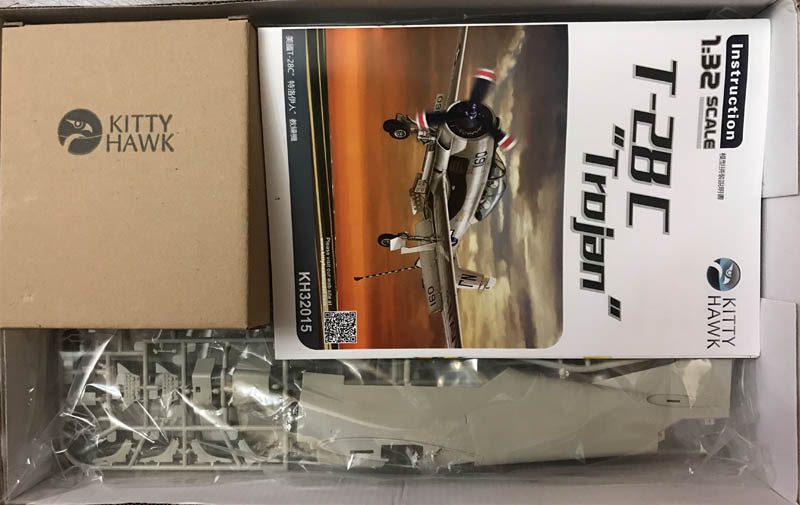 Inside the sturdy, well packed box, you find five individually wrapped sprues of light grey plastic, a small brown cardboard box containing the bagged clear sprue, and a thick glossy instruction booklet. Upon digging to the bottom of the box, you unearth two decal sheets, nicely sealed in a zip lock bag, and a small sprue of photo etch that includes seatbelts and intake screens. First impressions are of a well packaged product by people who care. Much care has been taken to ensure your kit arrives undamaged.
To those who've built Kitty Hawk's previous T-28B release, most of the sprues and parts breakdown will look familiar, and that's because it's almost all carried over from the previous boxing, which is a good thing, because the original T-28B kit built very well indeed.
As is with the previous release, the parts are very, very nice indeed, with restrained riveting and fine, even panel lines all around. I can say that with a light panel wash on the finished model, the rivets and panel lines really can be made to 'pop'. The plastic is the same light grey plastic used on the previous kit. To me, the plastic feels and performs similar to Trumpeter kits.
I actually like the Kitty Hawk plastic; softer than some of the rock hard stuff out there, yet not nearly as soft as some of the limited production stuff on the market. It trims very nicely indeed.
The C version sprue contains the C type fuselage inserts and the necessary tail hook. To illustrate, the T-28 kit sprue is shown on the left, with the new C sprue on right.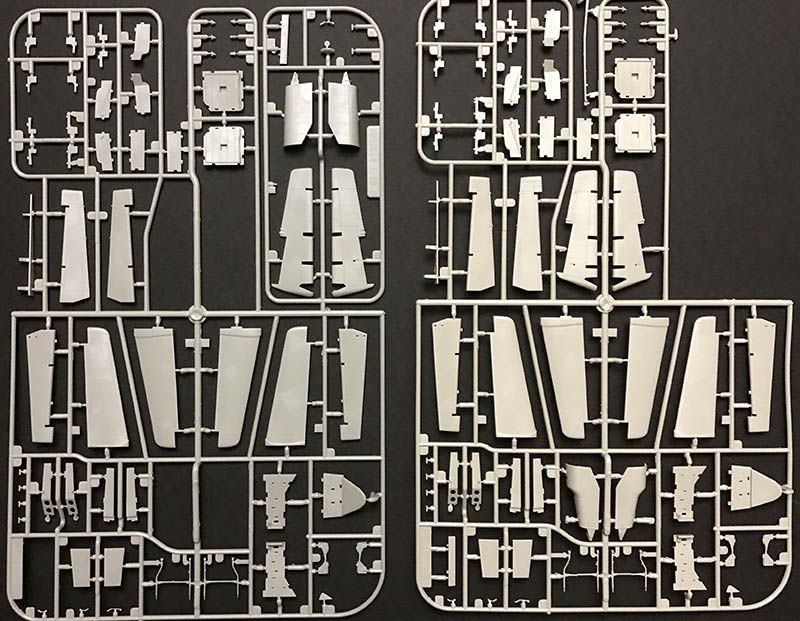 Like the previous release, this kit offers a really decent cockpit for an out-of-box build. Side panel and instrument panel details are very nice indeed. Decals are provided for the instrument panels and side panels, and with proper care, can be made to look extremely realistic. The cockpit sits under a huge bubble canopy and is in full view of anyone looking, so if a builder was to splurge on an aftermarket cockpit and fabric seatbelts, this model could well be made into a true masterpiece and show winner.
The engine is the same as the T-28B release, and with careful detailing, builds up into a very nice representation of a Wright 1820.
---
Now a word about Kitty Hawk's moldings themselves. Each new release from Kitty Hawk shows marked improvement in molding, and this kit is no exception. As with the previous T-28B release, the sprue attachment points have been greatly reduced and the locations very well thought out. With proper care and attention, small parts will separate cleanly from their sprues. Ejection towers are still present on a few spots, but they are very easily removed with sprue cutters. Some funky looking flow marks are apparent on large surfaces, but these are cosmetic only and disappear under the thinnest of primer coats.
---
Carried over from the previous release is a full suite of very nice weapons with pylons are included for those looking to model an attack aircraft.
The canopy is a true masterpiece in and of itself. It's molded crystal clear and is extremely thin, so builders need to exercise extreme care when handling and preparing the parts.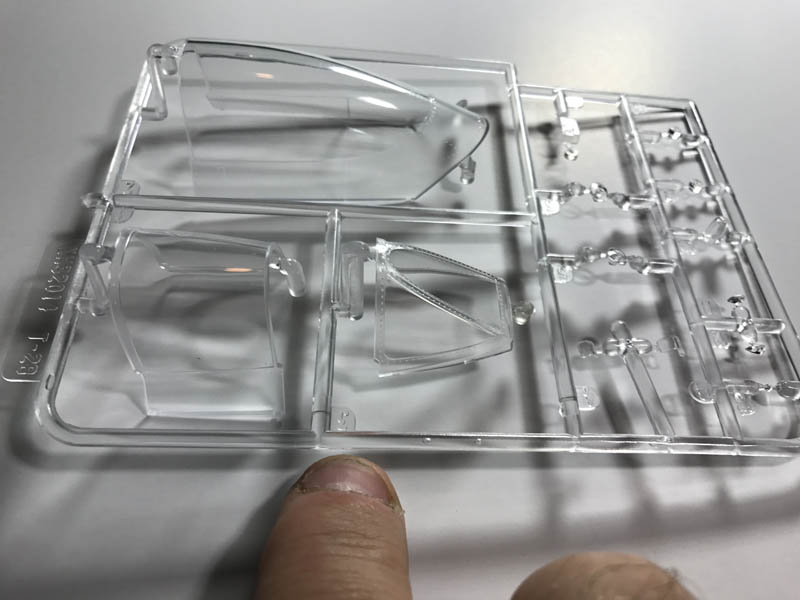 The photo-etch, to me is OK, with the intake screens being extremely nice indeed. I'm not a fan of PE seatbelts, so aftermarket belts are incorporated on my builds. Not that that there's any issue with PE belts, some builders love them, but I'm personally not a fan.
Decals and Instructions
The instruction booklet continues in the same vein as the previous release, with heavier stock paper than used on previous models, with clear line drawings showing what goes where. Gorgeous, full color three views of the various marking options are shown.
---
Decals are provided on two sheets, and are beautiful and in perfect register. If these decals repeat the quality of the previous T-28B release, and they look like they will, they will be extremely thin and respond very well to Micro Set and Sol as needed to get them to snuggle down nicely.
Five colorful marking options are included, at least two of which appear to be modern warbird schemes, one of which has VF-84 markings, so you Jolly Rogers fans aren't left out. There's also a very interesting blue/yellow/red target tug scheme that's way too cool for school. For my money, I love yellow.
---
Conclusions
Kitty Hawk appears to be listening to suggestions made by modelers who actually build their products. Open panels have been pretty much eliminated, which, to me, makes for a much more enjoyable build, and to my eye, a more realistic looking completed model. My personal preferences are for a buttoned up, ready for flight look, and this model doesn't disappoint.
Also, and this is very important, like the previously released T-28B, the attachment of small parts to the sprues seems to have been very well thought out and planned. This is an extremely welcome improvement to their products that will greatly increase the builder's enjoyment of the project. Kitty Hawk has gotten some bad press in the past for some issues, but if these T-28s are any indication, Kitty Hawk Models will now be giving the big manufacturers some very serious competition.
This kit just screams "Build Me!", and with the multitude of colorful schemes, plus for those who wish, there are many available aftermarket resin and photo etch bits and pieces to enhance the model to a level of detail unattainable through plastic alone. Also, there are aftermarket decal packages available that will allow a builder to recreate T-28s as deployed to fight in the Vietnam War.
This kit should be a huge hit for Kitty Hawk Model, and assuming you have a few kits under your belt, it builds easily. Best of all, with the help of the aftermarket, the build options here are almost unlimited.
VERY Highly Recommended!
Thank you to Kitty Hawk Model for the review sample.
© Ernie Ling 2017
This review was published on Wednesday, August 16 2017; Last modified on Wednesday, August 16 2017