AOA Decals | 32-022: Phantom Eagles and Knights: USMC F-4B Phantoms in the Vietnam War
Reviewed by Kevin Williams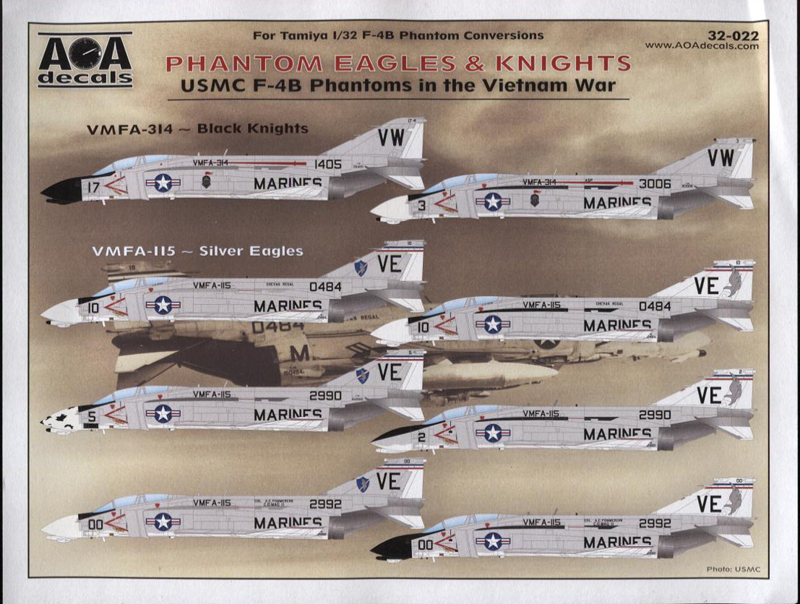 Introduction
A new release by AOA Decals is dedicated to the McDonnell Douglas F-4 Phantom II, specifically, in this case, the B model of Marine Fighter Attack squadrons VMFA-115 & VMFA-314, "Silver Eagles" & "Black Knights". The Phantom, certainly an iconic aircraft, here receives an expansive set of decals that represent several of many Phantoms that served in the Vietnam war, and should be well received by the many Phantom Phreaks out there.
---
Contents
This set includes markings for 8 aircraft, or more accurately, 5 aircraft, 3 of which are the same, but from different time-frames. Instructions imply that stencil decals should be sourced elsewhere, (if desired), I assume to help reduce the size (and cost) of the set, and I personally see that as no big issue.
---
As stated above, no less than 5 different air-frames are depicted on this set (3 of which are the same aircraft, but representing different time-frames, bringing the total to 8), and all depicting various VMFA (Marine Fighter Attack) squadrons, and all F-4B's, those being (in no particular order):
152990 VMFA-115, "Silver Eagles", 1968-69, nose number 5
152990 VMFA-115, "Silver Eagles", 1973, nose number 2
152992 VMFA-115, "Silver Eagles", 1970-71, nose number 00
152992 VMFA-115, "Silver Eagles", 1971, nose number 00
151405 VMFA-314, "Black Knights", 1968, nose number 17
153006 VMFA-314, "Black Knights", 1968-69?, nose number 3
150484 VMFA-115, "Silver Eagles", 1970-71, nose number 10
150484 VMFA-115, "Silver Eagles", 1971, nose number 10
The decals are printed by Microscale, so have their historically typical high quality, with excellent registration, opacity and vivid colors. Two separate sheets are provided, one with the majority of the aircraft specific unique markings, the other being national insignia (4 positions), as well as intake warning markings, and some smaller bits. This second sheet, is a duplicate of the sheet used in set #32-021, reviewed here. This of course, makes perfect sense, as it most certainly reduces the need for additional artwork, to essentially accomplish the same thing again, and is, in my opinion, a very wise approach. The main sheet, is really a sight to behold, being very busy, with all manner of interesting squadron insignia, etc. All aircraft are to be painted the typical Light Gull Gray (FS36440) over Gloss White (FS17925), so nothing really all that unusual there, save for the wavy demarcation line betwixt the two colors, on some air-frames, notably 152990, 152992, and 150484. Notes are thoughtfully provided that point out unique features of each machine/time-frame, and seem to quite comprehensibly address all pertinent visual differences.
Note: The decals have been designed specifically for the Tamiya F-4 (J?), the only really viable option we have available today, if we discount the antique and quite poor Revell kit, using whatever conversion set is necessary (if any) for the B model Phantom, perhaps the currently OOP Cutting Edge set?
Conclusion
In summation, I see these as a very worthwhile and impressive effort from the folks at AOA, and seems consistent with the overall quality and research that they have come to be known for.
Highly Recommended.
Review decals kindly provided by AOA Decals.
© Kevin Williams 2017
This review was published on Sunday, August 20 2017; Last modified on Monday, October 16 2017