AIMS | Bf 110 G-4 Conversion
Reviewed by Kevin Futter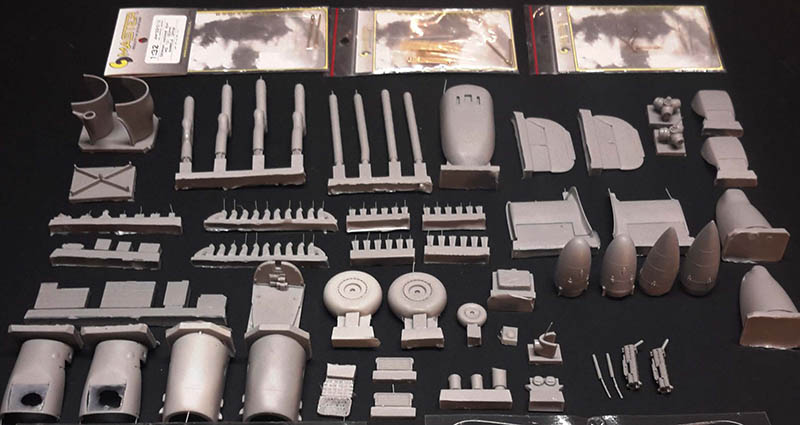 Large scale aircraft modellers have been clamouring for nightfighter versions of the iconic Bf 110 ever since Revell released its inadequate G-4 kit way back in the 1970s. When Dragon released its excellent range of C/D/E variant kits during the late 2000s, hopes were raised that F and G models were soon to follow, but nearly a decade on, there's still not even a hint of such kits.
Fast-forward to 2017, and AIMS has finally picked up the baton and produced a pair of conversion sets for the Dragon kits. The one we'll take a look at here is intended to convert any of the Dragon Bf 110 C/D/E kits to the popular G-4 configuration.
The Package
The two conversion sets appear to have no specific catalogue numbers, and this one arrived well-packed in a plain shipping box, with the annotation "G-4" scrawled in permanent marker on the box top. Inside, a surprisingly large number of resin and metal parts is protected by a generous serving of bubble wrap: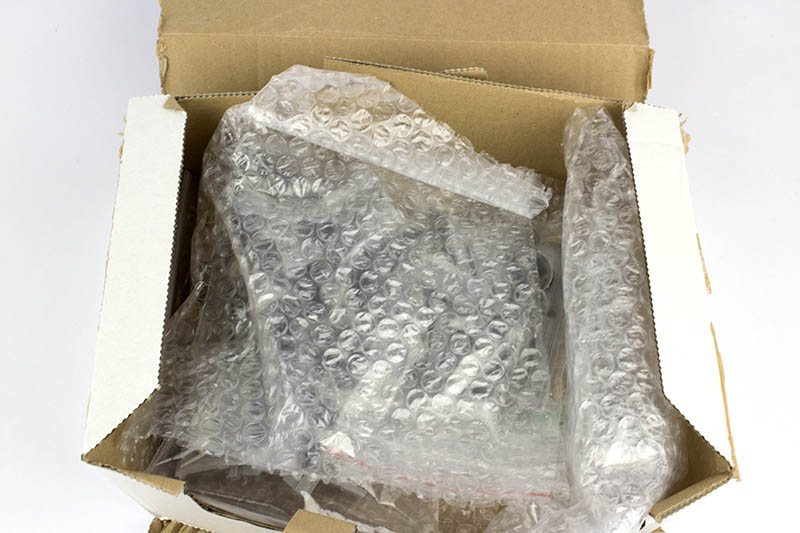 The parts breakdown is as follows:
Approx. 118 parts in grey resin
2 parts in clear resin
2 vacuform clear canopy parts
2 photo-etched sheets
2 turned-brass gun barrels
3 bags of brass radar antenna parts
3 decal sheets
1 CD-ROM containing instructions and reference images
Let's take a closer look.
The Resin Parts
What you actually get in the set is somewhat dependent on which Dragon kit you intend to use with the conversion, due to particular releases already containing certain required parts that others don't. If you let John McIllmurray of AIMS know which kit you have at the time of ordering, he will adjust the contents (and price) to suit. For the purposes of this review, John has supplied every possible part.
The resin parts are all contained within a pair of resealable plastic bags: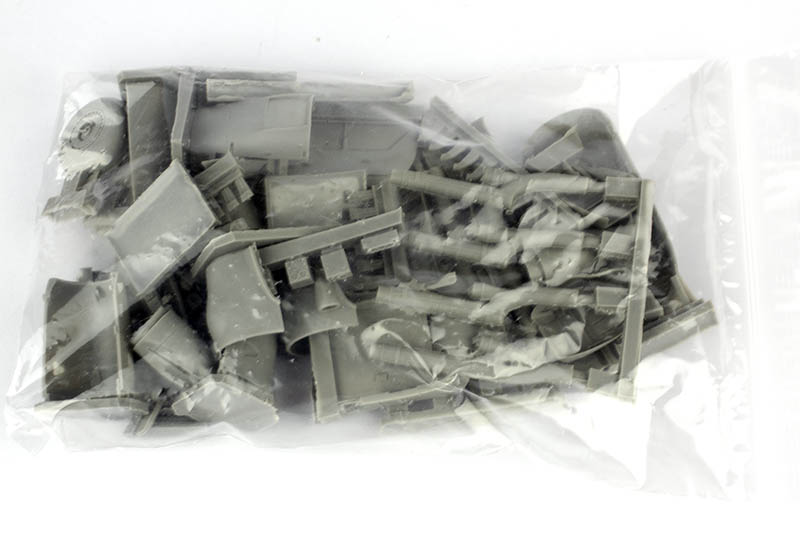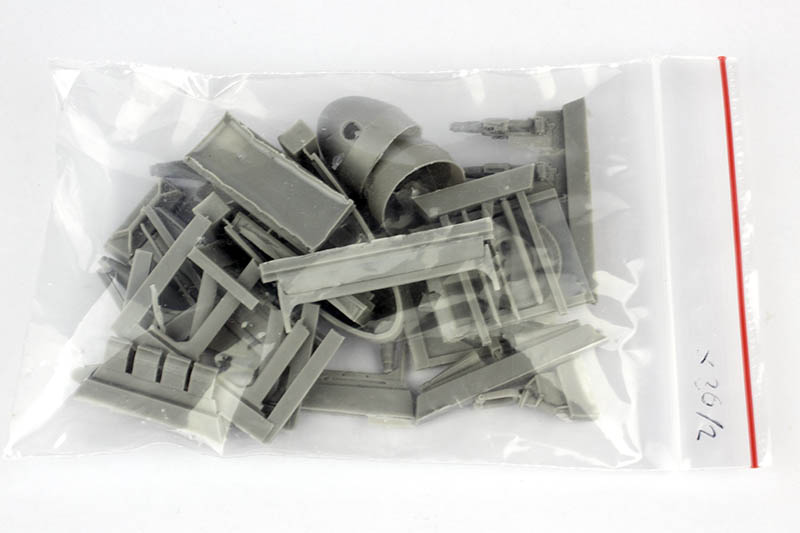 ---
The quality of the casting is largely excellent, with all the cowling and radiator parts hollow-cast. There is, however, a small damaged section on one of the radiators in my sample: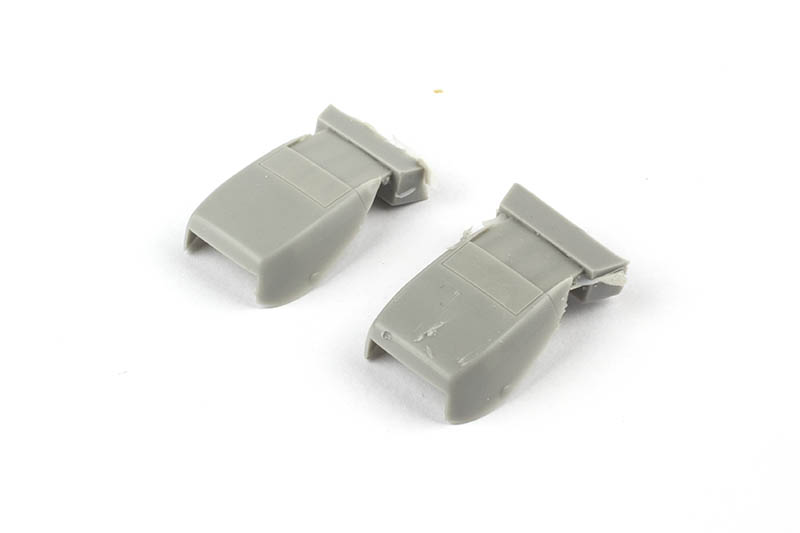 Also present is the expected resin casting flash, which is at its worst on the exhaust flame-dampers: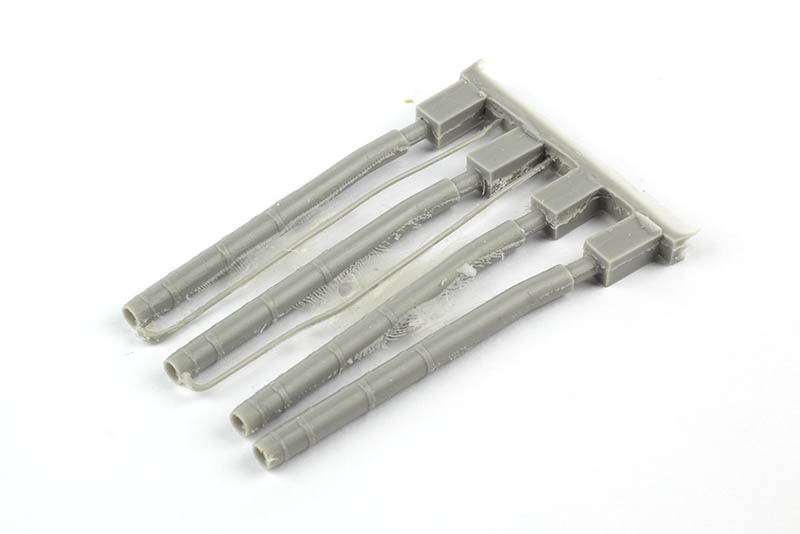 This is simply the nature of the medium, and given that this set is intended for experienced modellers, should present no problems.
The nacelle parts are intended to be direct replacement for the kit parts, meaning that surgery on the kit parts is kept to a minimum, and this will also minimise the potential for errors leading to fit problems.
A pair of clear resin parts is included, which replace the wing-tip parts (F19 & F44) in the kit, allowing for a seam-free representation of the clear landing lights: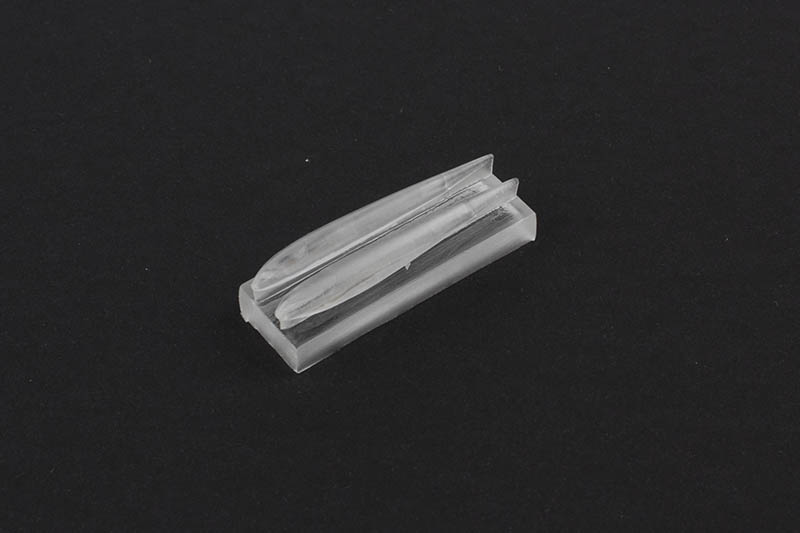 The Photo-etched Parts
The conversion set comes with two photo-etched frets: one containing detail parts, and the other housing the external nose armour panels.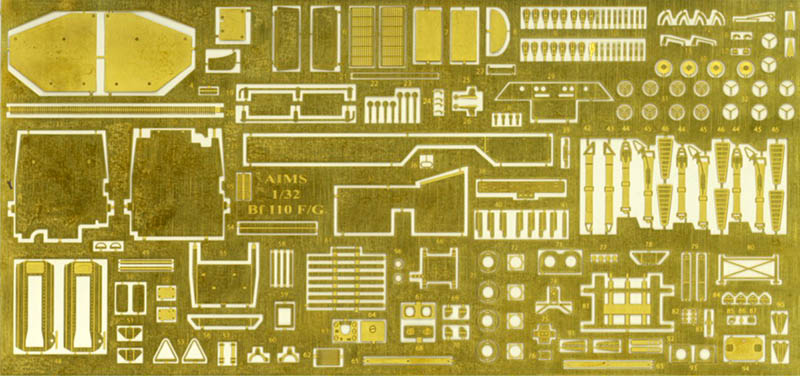 Note that the smaller sheet with the nose armour replaces the incorrectly shaped parts on the main sheet. John caught this error while test-building the set, and immediately acted to correct it, which is a terrific example of his dedication to quality and accuracy.
Also included is a pair of turned-brass MG 151 barrels from Master Model: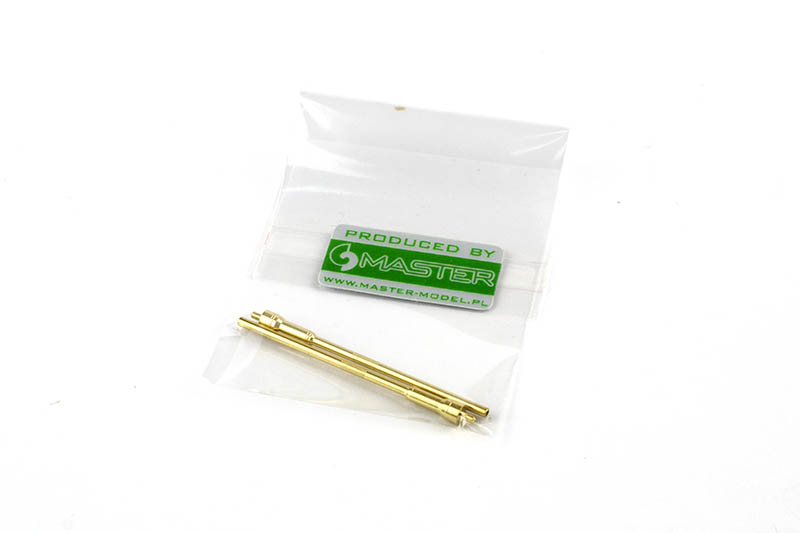 Brass Antenna Parts
Along with the photo-etched frets, AIMS has included three small sets of turned metal parts from Master Model, to represent the dipoles for the FuG 202 and FuG 220 radar antenna arrays.
---
Some of these brass parts are tiny, and this aspect of the conversion will require some decent references, and a modicum of experience with this kind of fiddly assembly. JPEG versions of the Master instruction cards are included on the CD-ROM, which give some clues about basic assembly of the sets. If given due care, the result should be far superior to an injection-moulded or all-resin alternative.
The Vacuform Canopy
AIMS provides the rear section of the canopy, which differs from the kit versions, as a vacuformed part. Thoughtfully, two are provided to insure against mistakes while cutting them out: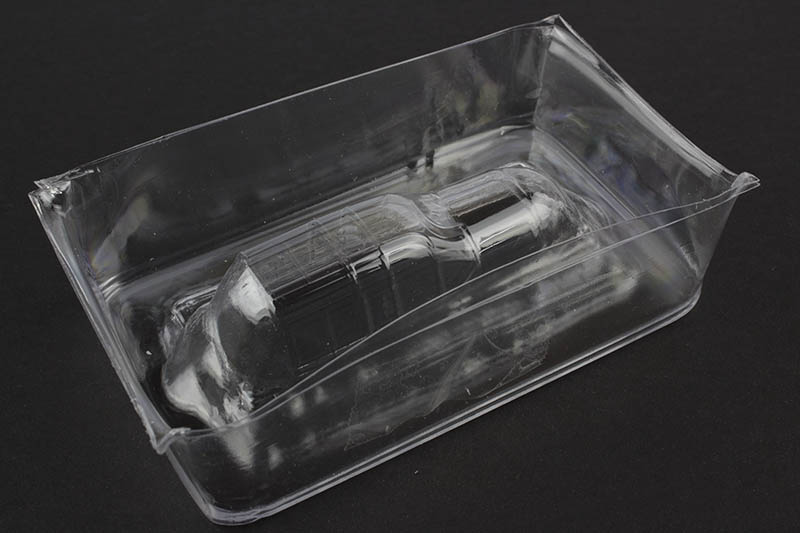 This is probably the most difficult element of the conversion, and will require some care and skill to make the best of it. Prior experience with vacuform canopies will be most beneficial! The instructions provide some tips for getting the best results.
Decals and Markings
Decals are included for no fewer than seven aircraft, with G9+AF given two possible configurations. The decals are impressively printed, and while the sheets aren't marked as such, they are presumably by Cartograf of Italy (as are the decals for the companion Bf 110 F/G2 conversion from AIMS, from which I suspect these sheets have been separated). The carrier film is thicker than you usually see from this printer, but they're perfectly in register and feature excellent colour density.
Three sheets are supplied: one for the the individual aircraft markings and stencils, one for the national markings, and one tiny sheet that contains a set of six additional stencils (seen at the top of the first image below).
---
In the forums, Heinz Erdner has pointed out that there are some minor spelling errors on the drop tank stencil decals, specifically Sofort, not Sofurt; bei, not hei; Polizeidienststelle; not Pulizeidienstelle; and Kraftstoffbehälter, not Kraftstuffhehältter. If this bothers you, replacements may be able to be found elsewhere.
The included schemes are as follows:
Bf 110G-4 G9+AF, IV./NJG 1's Gruppenkommandeur Helmut Lent's Bf 110 G-4 seen at their base at Leeuwarden in the Spring of 1943.
Bf 110G-4 2Z+GB of Stab 1./NJG 6 at Neubiberg, Germany, 18th July 1944.
Bf 110G-4 2Z+MF, Hauptmann Martin 'Tino' Beckers' Bf 110 G-4 found at Neubiberg with considerable collision or bomb damage after the war.
Bf 110G-4 3C+LB, an early example of a Bf 110 G-4 FuG 220c machine of Stab NJG 4.
Bf 110G-4 W Nr. 180560 Surrendered at Eggebek by NJG 4 Kommodore Major Heinz-Wolfgang Schnaufer.
Bf 110G-4/R3/R8/B2 M+107 flown by Hadnagy Gyula Nagy of 101. éjjeli vadászrepülő-század based at Wiener Neustad airfield, March 1945.
Bf 110G-4 W Nr. 160750 in final factory standard RLM 75/76 finish.
More details about each scheme can be found on the provided profile PDFs on the CD-ROM.
---
Instructions
The instructions for this conversion set are supplied on a CD-ROM, and consist of a series of PDF files representing the pages of the instruction booklet, along with a selection of reference photos and images.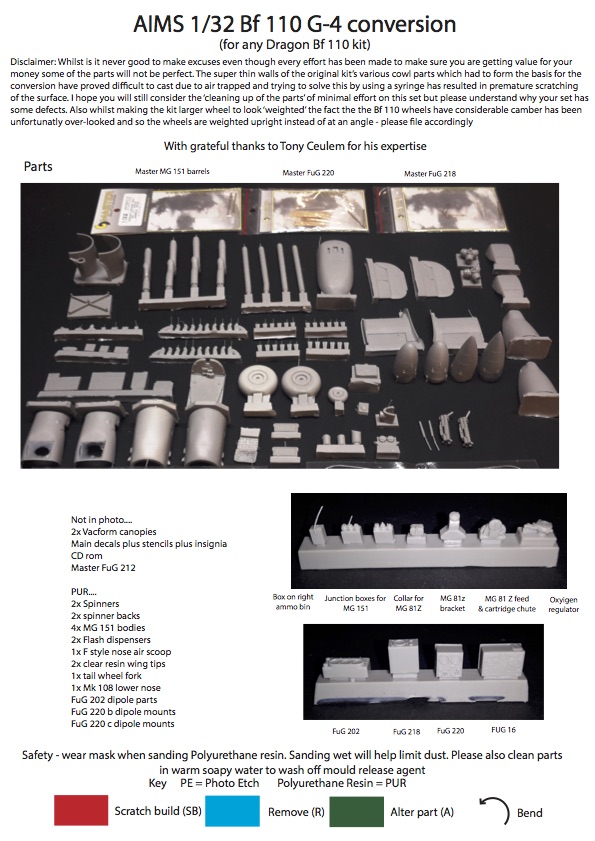 AIMS has since published two addendum PDFs available by email upon request, and perhaps these will make their way on to the CD-ROM for later packages.
Conclusion
This is an ambitious and comprehensive conversion set, and is necessarily complex as a result. It contains all the parts necessary to convert any of the Dragon Bf 110 C/D/E kits into the G-4 variant, including multiple radar antenna configurations. This set is a true mixed-media affair, combining resin, photo-etch, brass, aluminium, and vacuform parts, using each medium to its best advantage. Throw in the quality decals that provide some interesting schemes, and this really becomes the complete conversion solution.
And for that reason, while I heartily recommend this set, I would direct that recommendation to more experienced modellers - especially those modellers with previous experience working with vacuform canopies. Additionally, this set contains nearly 30 more resin parts than its F/G-2 counterpart set, along with a challenging set of brass radar dipoles.
If you have the requisite experience, then this set is a no-brainer for anyone wishing to model a Bf 110G-4 variant.
To purchase this set, send an email to aimsmodels1@gmail.com, specifying which Dragon kit you intend to use with the conversion (if you can).
© Kevin Futter 2018
This review was published on Tuesday, February 06 2018; Last modified on Tuesday, February 06 2018