AIMS | 32PE012: Gloster Gladiator Cockpit for 1:32 ICM Kit
Reviewed by Iain Ogilvie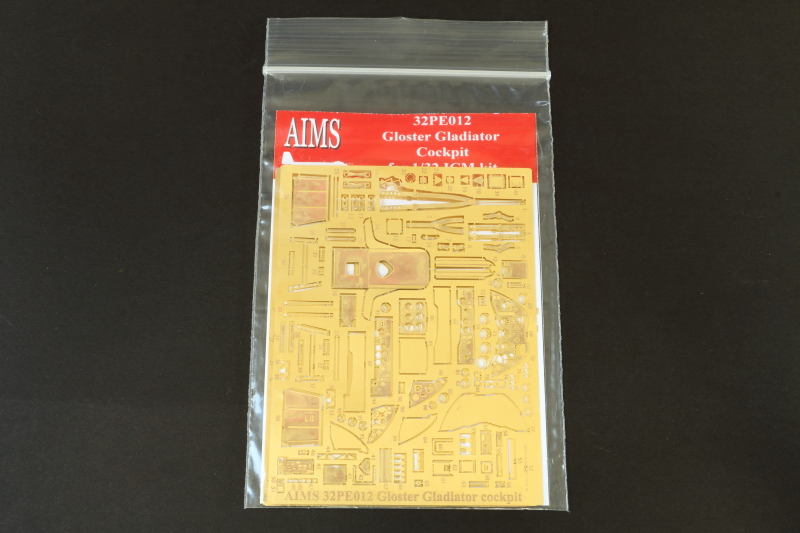 Hot on the heels of the superb ICM kit of the Gloster Gladiator Mk.I, John at AIMS has been very busy creating some really useful after-market sets/decals for the kit. From this reviewers perspective one of the most useful is the photo-etched brass detail set for the cockpit area as featured here.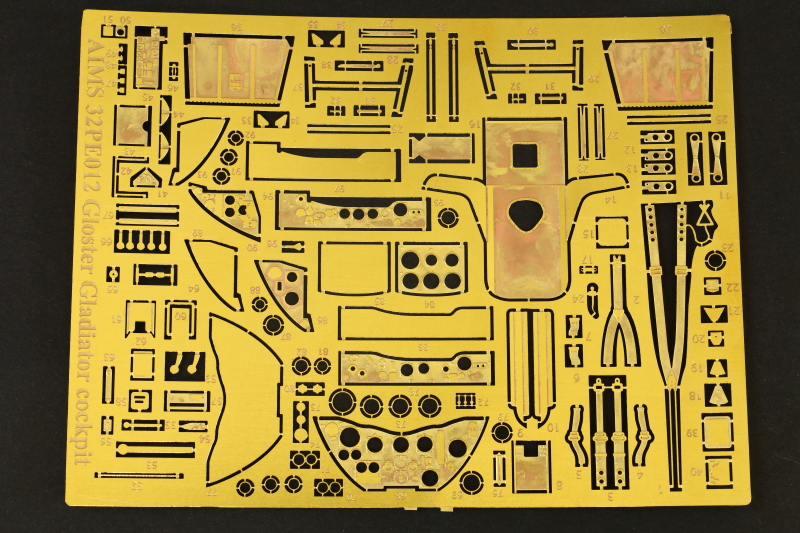 These beautifully done etched parts come on a single brass fret that provides parts for the instrument panels (alternative Mk.I and Mk.II versions), seat, throttles, door detail and other items. The items I'm really pleased to see are the parts for the Sutton Harness - other accessory manufacturers supply 'cockpit sets' that you then have to add a separately purchased seat strap set - here it's all included. That gets my vote!
---
Clear Instrument Films
Instruments - in Mk.I and Mk.II versions - are neatly printed on clear film and will provide a great effect with very minimal work - just cutting out and sandwiching behind the relevant panel.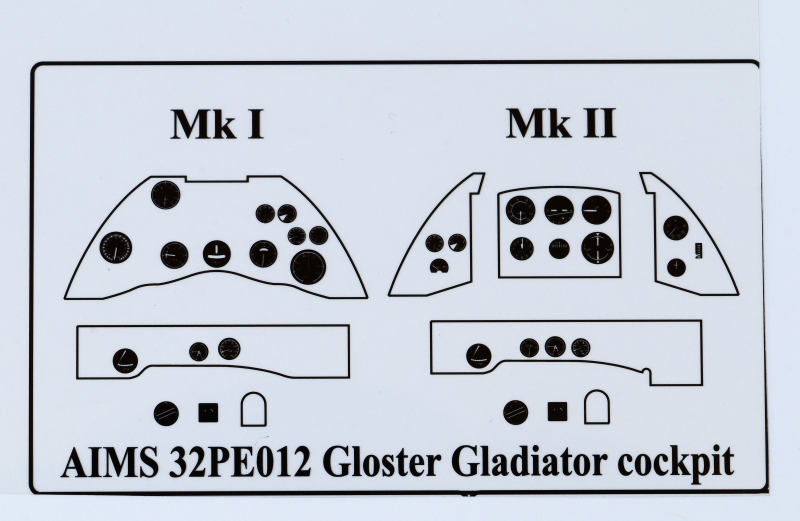 Instructions
These are different to those provide with most accessory sets and, although I haven't had to follow them yet, look like a very good idea. Rather than the usual diagrams showing assembly of details onto the kit parts, these instructions reverse that and work from photos of the real airframe, showing component positioning. A nice idea!
There is an error that's pointed out in the instructions - modellers will need to trim the lower panels - items 78 and 94 respectively - but this should be straightforward and is clearly shown on the instruction sheets. In addition there's a "No., sorry!" comment next to one of the bezels on the Mk.I panel - this caused a little head-scratching - but the part is on the fret, but un-numbered - hence the comment on the instructions I think.
---
Conclusion
One of the obvious gaps in the ICM kit is the seat straps: this set provides these - along with lots more useful detail for all marks of Gloster Gladiator.
Highly recommended and great value.
This new detail set is available directly from AIMS.
Review copy courtesy of my wallet.
© Iain Ogilvie 2020
This review was published on Sunday, February 23 2020; Last modified on Wednesday, February 26 2020