Fantasy Printshop | Euro Decals ED32-133 North American F-100D Super Sabre Collection Part 3
Reviewed by Iain Ogilvie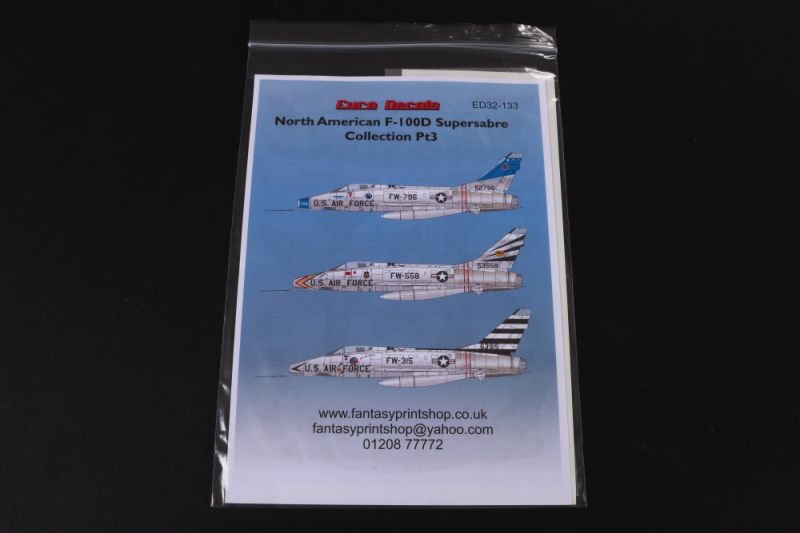 This is a follow-up set to 'Part 1' and 'Part 2' and provides another 3 really colourful natural metal options for the Trumpeter F-100D kit.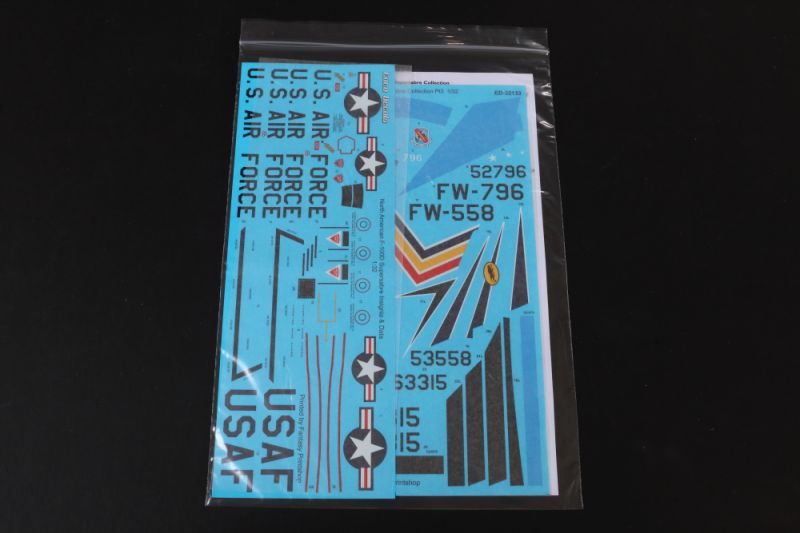 As with other Fantasy Printshop decals that we have reviewed, the print quality appears top notch, as we've come to expect from Fantasy Printshop, with good colour density and perfect register, along with a thin and absolutely minimal varnish layer.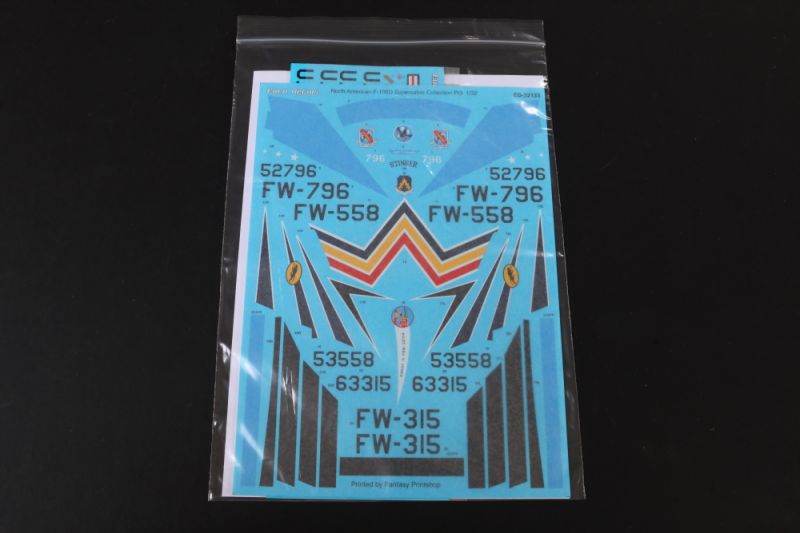 Two large sheets are provided, one for the individual aircraft designs, and one for the generic national markings and stencils.
The main sheet is roughly A4 in size - and very colourful: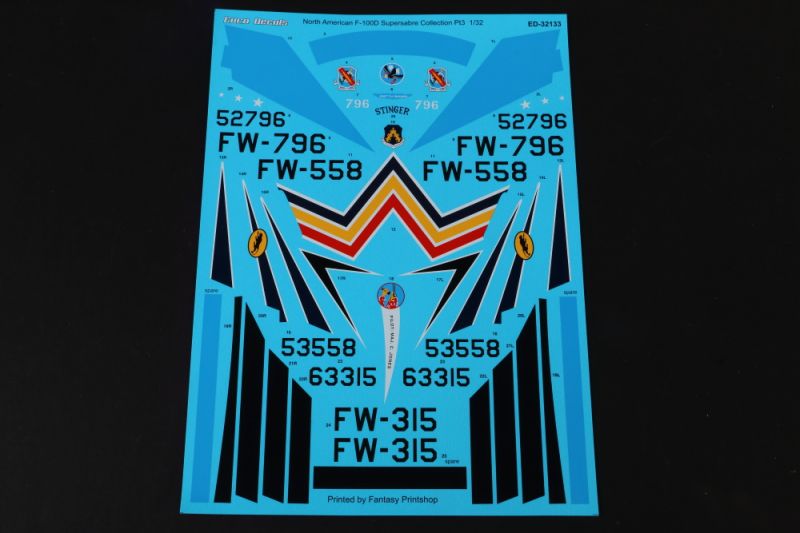 ---
The 'generic sheet:
One point I should mention, that cropped up from the reviews of the two earlier F-100D sheets, was that the USAF/U.S. AIR FORCE titling should be Insignia Blue, rather than plain black. This is according to Technical Orders of the day - but insignia blue is quite dark and, in most photos, you'd be hard pushed to see the difference.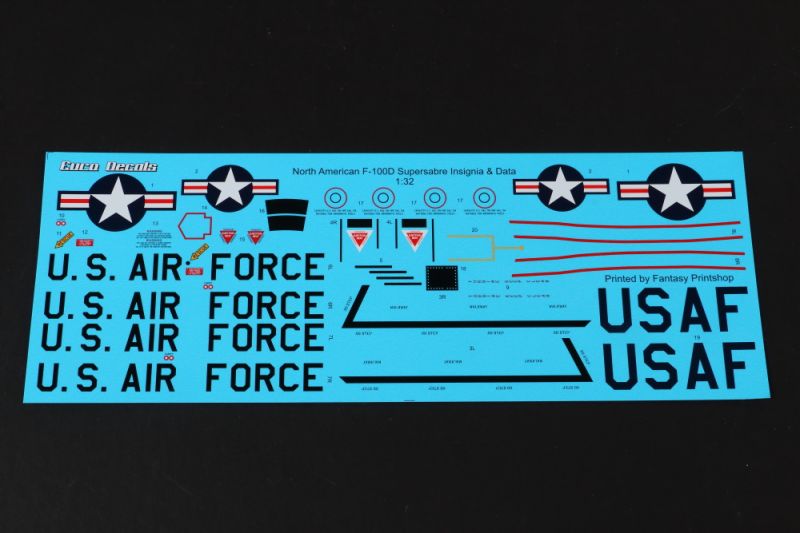 ---
As with other sheets in the range, printing is on a blue ground making it easier to see all the white printed areas.
Options
Three options are included:
F-100D 55-2796 flown by Captain Robert Maxwell of the 511th Tactical Fighter Squadron, 405th Fighter Bomber Wing, USAF, based at Langley AFB, Virginia 1959.
F-100D 55-3558 "Stinger" ot the 35th Tactical Fighter Squadron, 8th Tactical Fighter Wing, USAF, based at Itazuke AFB, Japan, 1960.
F-100D 56-3315 flown by Major C. Jones of the 492nd Tactical Fighter Squadron, 48th Tactical Fighter Wing, USAF, based at Chaumont AFB, France, 1959.
Placement Guide
Printed in colour, the set includes detailed placement instruction that include relevant Humbrol, Xtracolour, Xtracrylix and Lifecolour references where applicable.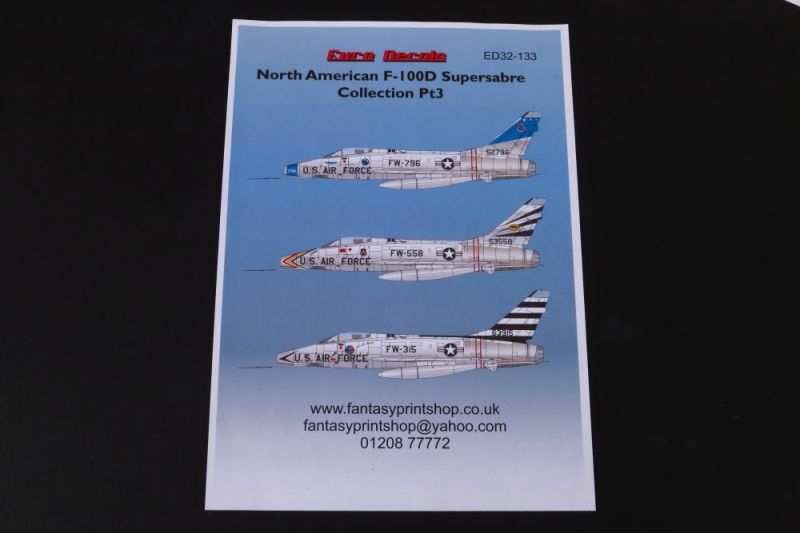 ---
Conclusion
Yet another really nice set of decals for the F-100D Super Sabre, with some really colourful examples featured.
Another Highly Recommended set!
Availability
This sheet is available directly from Fantasy Printshop.
Our thanks to Ray Horwell at Fantasy Printshop for the review sample.
Iain
© Iain Ogilvie 2023
This review was published on Sunday, January 29 2023; Last modified on Sunday, January 29 2023