Fantasy Printshop | No Carrier Film Decals - US 45 Degree ID Letters and Numbers
Reviewed by Iain Ogilvie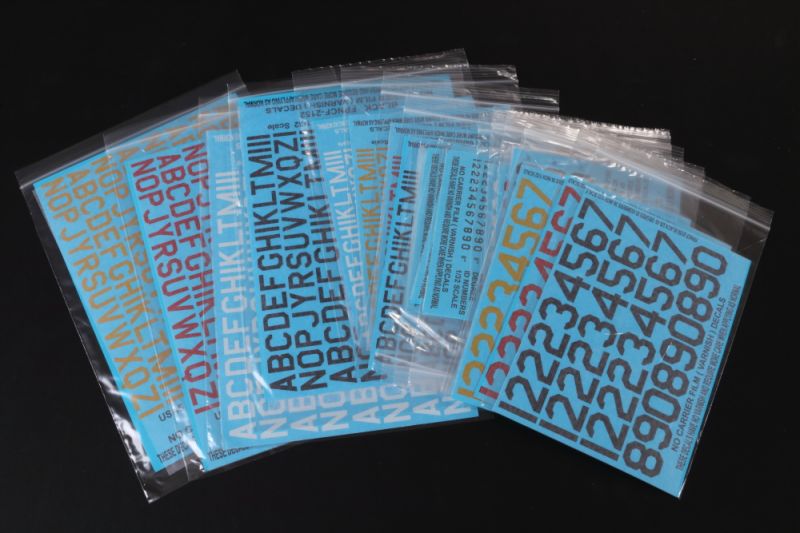 No Carrier Film Decals?
Fantasy Printshop have a reputation for producing some of the best decals in the business, often doing the printing for other decal brands. A short while ago Ray, the man behind Fantasy Printshop, announced they were going to be producing some decals that were free of the traditional carrier film needed to hold individual designs together - we've already taken a look at the RAF sets, but here we have a range of US 45 degree lettering and numbers in White, Yellow, Red and Black, suitable for 1:32 subjects. Scale sizes covered are 8", 12", 18", 24" and 36".
Whilst carrier film can usually be easy to blend in with the background finish, especially if you use the 'Microscale System', or versions thereof, there are times when this can be challenging - 'natural metal' finishes for example. Of course not having any silvering, or slight 'step' in the finish, to worry about, having carrier film free decals should make decalling a lot easier, whatever the desired final finish.
We've photographed a selection of the decals below so that you can see the quality. Printing is very sharp and, yes, there is no carrier film - the edge of each letter really is the edge of the decal. Apart from that, the only difference I can see is a slight surface texture to each design.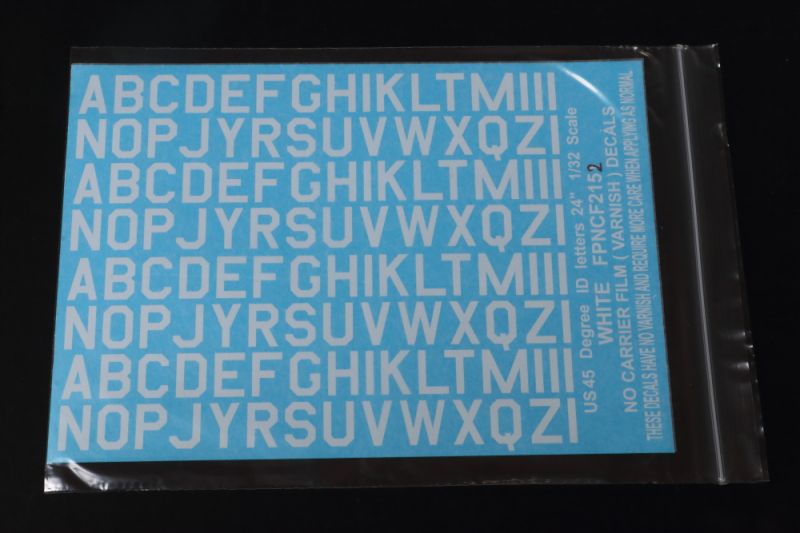 ---
Do they work?
Yes, as you'll see from our previous review of RAF codes in this format. Once cut from the sheet they were dipped in warm water and applied in exactly the same way as standard decals. There was no inclination to break up - and they appear reasonably tough.
Conclusion
As with the RAF sheets we looked at previously, I can see these been useful for a wide rage of applications - not least on Natural Metal finishes.
This range of decals is available direct from Fantasy Printshop.
Review samples courtesy of Ray Horwell at Fantasy Printshop.
© Iain Ogilvie 2023
This review was published on Sunday, January 29 2023; Last modified on Thursday, March 02 2023