Twobobs Aviation Graphics | US Air-to-Air Missile Markings in 1/32nd Scale AIM-7E-2/M Sparrow 32-028
Reviewed by Mark Proulx
Twobobs Aviation Graphics has released a comprehensive set of missile markings in 1/32nd scale for the AIM-7 Sparrow. A review of their previously released markings for the their AIM-9 Sidewinder can be found here.
The instructions include profile views of the AIM-7E and AIM-7M Sparrow. Each view depicts the missile, as it is rotated one-quarter turn. This feature clearly identifies the proper placement for each decal. No painting instructions or thumbnail photos are included. A brief history lesson is provided for each missile explaining their technical features and upgrades as well as comments about its effectiveness in combat.
The decals are printed in perfect register. Each sheets includes the required stencils to allow the modeler to build four AIM-7E-2 and four AIM-7M missiles. The carrier film is virtually invisible. As an added bonus, AN/ALE-39 and 47 dispensers are also included on the decal sheet, though no mention of this is made with the instructions.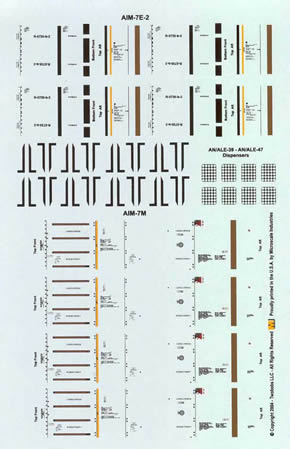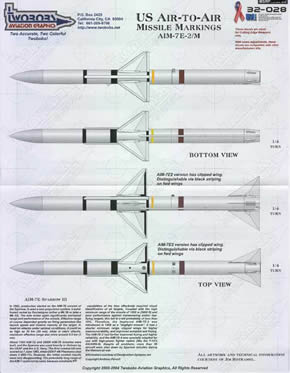 Jim Rotramel supplies the artwork and technical information. He was also involved with the research supplied to Cutting Edge when they created their resin missile sets in 1/32nd scale. Consequently, these decals are designed for use with the Cutting Edge items. However, I am sure that these decals can be adapted to various manufacturers kits.
Modelers and manufacturers often overlook the numerous stencils that are visible on today's missiles. That is unfortunate as the missiles can bring some interesting colors to your model as evident by this decal sheet. I recommend these new markings from Twobobs Aviation Graphics to anyone wishing to accurately display the air-to-air missiles on their jet fighter models.
Review sample compliments of Twobobs Aviation Graphics.
© Mark Proulx 2005
This review was published on Saturday, July 02 2011; Last modified on Wednesday, May 18 2016