Cutting Edge Decals | CED32058: F4U-4 Part 3 - Correction Sheet
Reviewed by Rato Marczak
We have reviewed Cutting Edge Decals sheet #32058 recently. In that review, a number of inaccuracies were pointed out, particularly regarding the F4U-4 from the Olathe Naval Reserve Training Unit. Well, I can't claim our share of responsibility on this, but I just received a correction sheet free of any charge from Meteor Productions (where I purchased mine) addressing many of the mentioned faults. Basically, the correction consists of a new painting/decal placement instructions and a small sheet with replacement decals.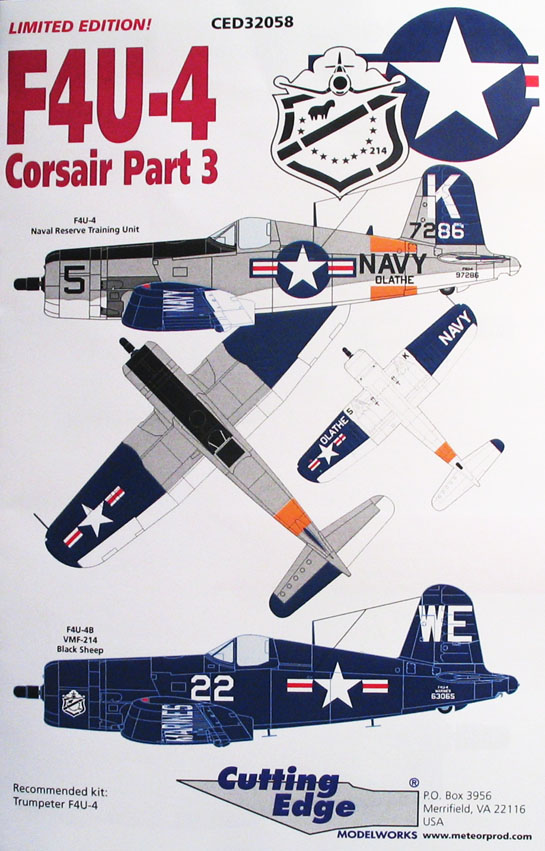 The instructions now call GSB for the outer flap of the right wing both upper outer wings. The horizontal stabilizer are also correctly shown and even the different wheel hubs colors are pointed out in the instructions. Another correction are the panels of the exhaust recesses areas, accurately showing the dark color (black?) on both sides of the aircraft.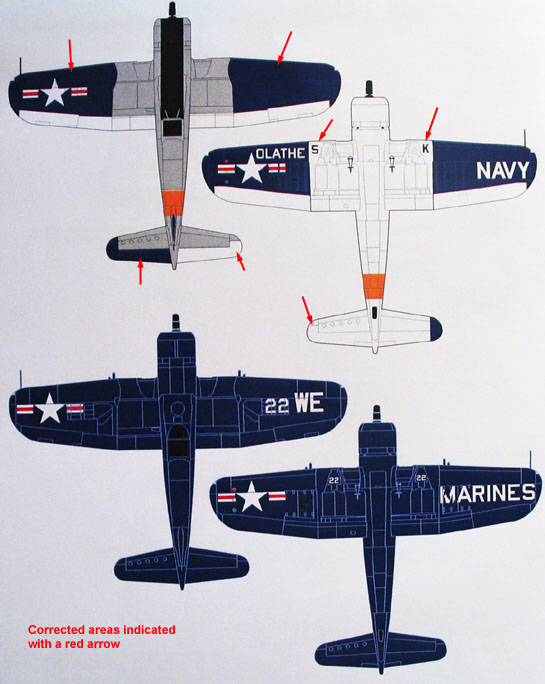 The only decal in the sheet brings the K 5 code letters to be applied on the inner bottom wings (instead on the landing gear door, as called in the original instructions). CED also corrected the size of the codes and replaced one of the black #5 by the code letter K.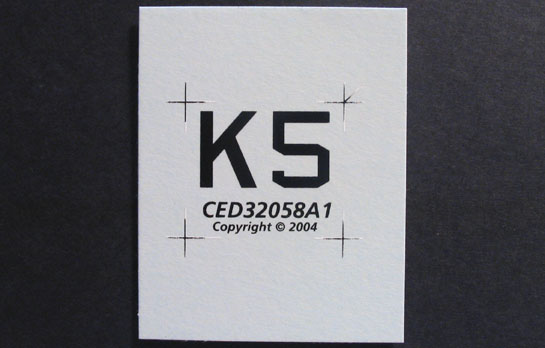 The only decals in the correction sheet. As for the Blacksheep Corsairs depicted in the sheet, no corrections were made, but I still haven´t found a photo of VMF-214 Corsairs wearing the squadron's logo on the cowling... No mention was made about the red trim on the propeller hub and the tail cone, neither. As I said in the review of the original issue, it is possible that CE has used photos of a different time to design this sheet.
I can only guess that the guys at CED have received some e-mails and photos about the faults in the original version, just as we at LSP after the original review was published. In any case, it is the type of action that will always make a customer satisfied. Well done Cutting Edge.
Recommended in the original issue, let alone now...
© Rato Marczak 2004
This review was published on Saturday, July 02 2011; Last modified on Thursday, December 29 2016