Eagle Editions | EC74: Bf 109 K-4s in 1/32nd Scale JG 3, JG 27, NJG 11
Reviewed by Mark Proulx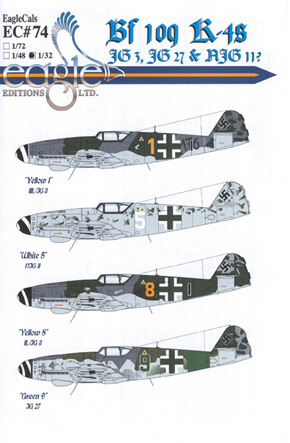 Jerry Crandall of Eagle Editions continues to release 1/32nd scale decals for Willi Messerschmitt's famous Second World War fighter. This, the first of two new decal sheets, is timed with the release of the Hasegawa Bf 109 K-4. Four new K-4 schemes are available with EC#74. Additional markings are also available with EC#75 reviewed here.
The first aircraft is Yellow 1, the well-known Bf 109 K-4 of Uffz. Martin Deskau. It is finished in a late war pattern of RLM 76/75/83. The large numeral 176 is applied to the side of the fuselage. On the actual aircraft, this marking was sprayed onto the fuselage. The resulting feathered edges are difficult to reproduce in decal form. Eagle Editions solves this dilemma by supplying templates enabling the modeler to spray on their own numerals.
The second aircraft is White 5. The unit to which it was assigned is unknown, but it was likely NJG 11. The scheme consists of RLM 76 overall with irregular mottling of RLM 83 and 65. Modifications to the Hasegawa kit are required by adding an enlarged exhaust shield. This is indicative of the nightfighting role assumed by NJG 11.
Yellow 8 was assigned to 11./JG 3 in March 1945. This 109, identified as Mary below the cockpit, was finished in a pattern of RLM 76/75/83.
The final option is Green 9 referenced to photos in Jerry Crandall's collection. This aircraft was assigned to JG 27 and displayed a pattern of RLM 76/75/83.
The instructions include left side profiles of each subject. Upper surface views detail the camouflage pattern applied to each aircraft. Scrap views of the lower wing depict proper placement of the underwing crosses. Two books printed by JaPo on the Bf 109 K are identified as references. I would urge modelers with an interest in late war German aircraft to purchase these books as they are well illustrated with text, photos and color side profiles. Tony Oliver reviewed one of the books elsewhere on LSP and my review of the subsequent book can also be found on LSP. Stencil placement is shown using a side profile of the Bf 109G-6 as a guide. Placards specific to the Bf 109K-4 are also identified.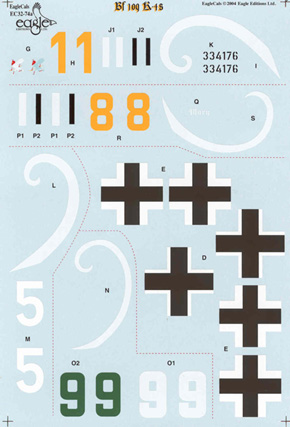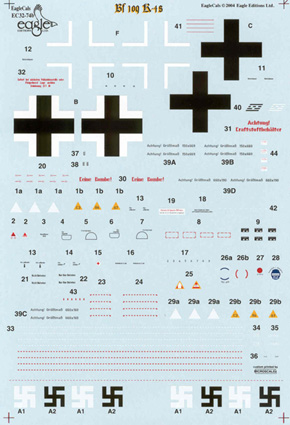 The Bf 109K-4 has proved to be an extremely popular subject among modelers and historians alike. This is due to the lack of available information and variations in paint schemes. As an example, three of the aircraft on this decal sheet are identified with unknown pilots and werk numbers. Many existing photos of this variant depict aircraft in scrap piles or as derelict airframes after the war. Consequently, many of the complete schemes are speculative at best. Given the years of experience that Jerry has detailing these aircraft, I am confident that these markings are as accurate as is currently known. I recommend these decals to anyone with an interest in late war German aircraft or the study of the Bf 109K-4.
Review Sample Compliments of Eagle Editions.
© Mark Proulx 2004
This review was published on Saturday, July 02 2011; Last modified on Wednesday, May 18 2016