MDC/RB Productions | 32001: Ki-61-1 'Hein' Stencils and National Insignia
Reviewed by Jay Laverty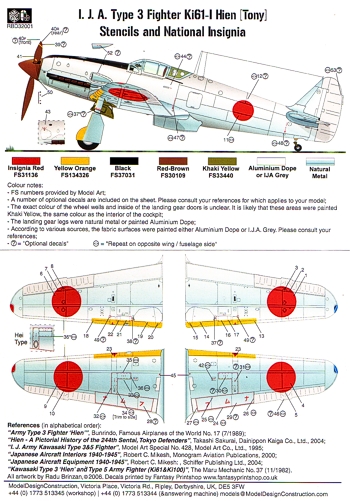 Not wanting to leave those out who are opting to stay with their older Revell Ki-61, Radu and MDC have decided to release several of the components of the recently released full resin Ki-61 as detail sets.
Chris Sherlands Review of the full resin kit.
The first I am going to take a look at is RBD32001 I.J.A. type 3 Fighter Ki61-1 Hein (Tony) Stencils and National Insignia decal sheet.
Comprising all of the thoroughness of the sheet that accompanied the resin kit, this sheet will no doubt be very welcome for those who will no longer have to rely on the aging and yellowing decals that will be slowly deteriorating inside that Revell box tucked away in that damp corner of the loft.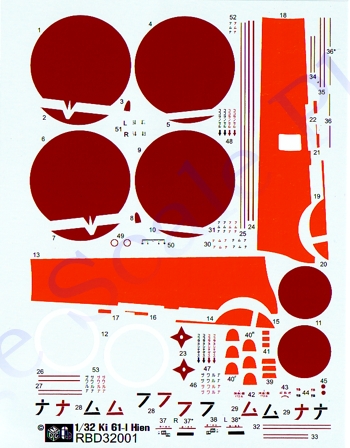 The instructions are thorough and straightforward, and leave no questions as to where stencil data should end up, however for those without the full resin kit, the painting and colour notes will prove to be very helpful. Complete descriptions of what parts of the aircraft were which colour and why will prove invaluable to those with the brief Revell instructions to go by.
The sheet does go well beyond the remit of Stencil and national insignia though, as it does include the leading edge ID strips as well as some other optional markings that will allow some broader scope of markings choices.
As is usual for an MDC release, this set at £6.50 is great value for money in my opinion, and will greatly enhance the overall appearance of the Revell kit, should you wish not to get the MDC/RBD full resin Tony.
Highly Recommended.
© Jay Laverty 2007
This product is available from the following LSP sponsors

This review was published on Saturday, July 02 2011; Last modified on Friday, June 03 2016