Jerry Rutman | P-47N Thunderbolt (Full Resin Kit)
Reviewed by Chris Sherland
Big scale Jugs have only been available from the old Revell molds, and up until recently out of print and getting harder to find. Jerry Rutman has been sneaking up on producing a full Thunderbolt kit for a while now...slowly creating detail and replacement sets for the Revell Thunderbolt(s) to bring those tired old molds some scale and accuracy.
The fact that he chose the late model N for the first (hopefully not the last) full T-bolt kit says a lot. First off it's a subject that has never been done in 1/32 and that alone is quite compelling. But it also sets the stage for an easy production lineage to fill out full kits for both Razorbacks and D/M model Bubbletops. I suppose I am assuming too much, but we can dream can't we?
The Instructions
There are full instructions for the included photo-etch set from that company. Jerry's instructions are sparse and utilize previous diagrams included in his Thunderbolt detail set as previously reviewed here on LSP.
There is one new sheet however, done in classic JR style..."Just the facts ma'am!"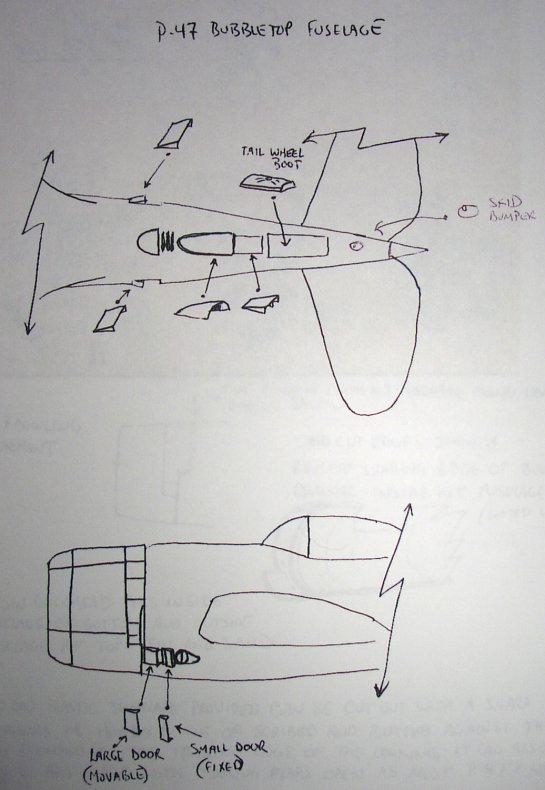 The Parts
The kit comes molded in tan-colored resin with two-piece fuselage and wing sections.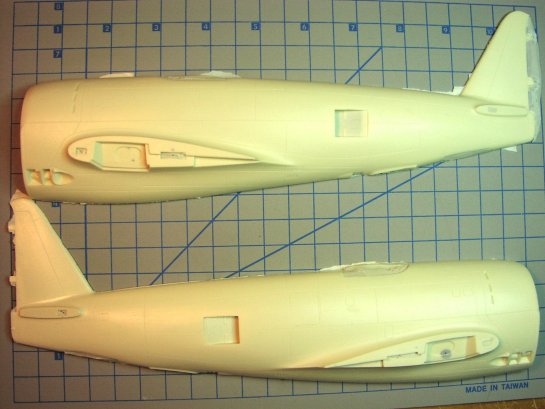 It's clear from the inboard gearbay walls molded into the fuselage (just like the Revell 'bolt) that the bubbletop fuselage supplied can stand as a D-25 all the way through an N. JR ingeniously crafted the bottom wing roots to "fill" the early-model gearbay openings on the fuselage.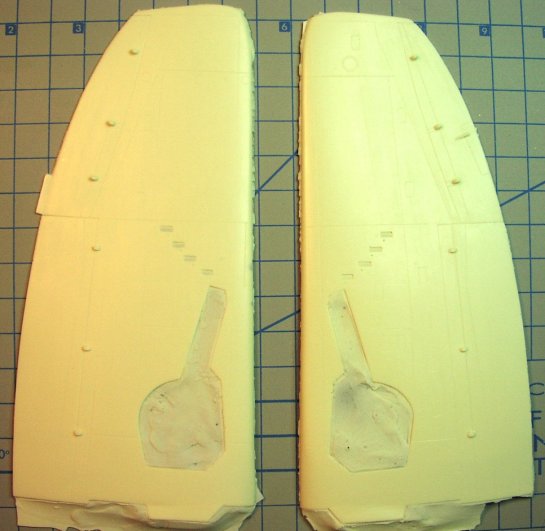 All flying surfaces are molded into the wings. Dropping the bolt's fowler-type flaps on this model would be no different from dropping them on the Revell...a royal pain in the a$$ :c)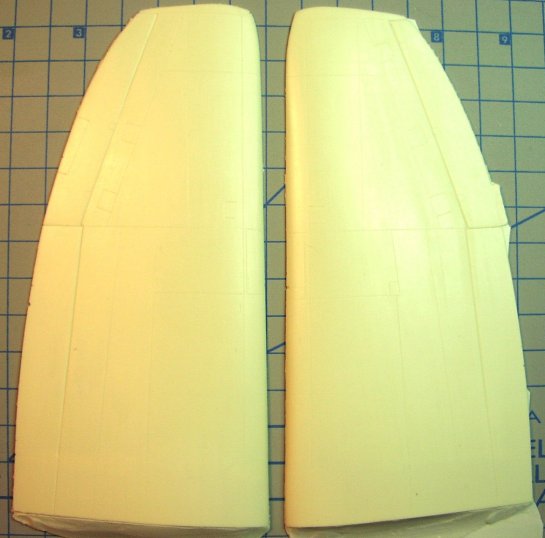 The large parts are well cast and finely detailed. The recessed panel lines are accurate and delicately scribed. No rivet detail exists.
The kit ships with a resin "Teknics" R-2800 engine. There is no need to argue this move on Jerry's part. While a better engine in resin is probably doable, the Teknics model is a gem.
The cowling is the last big piece. Rutman has improved on his older version of this piece by adding DSUS fasteners which were not present on his original P-47 replacement cowling. An accurate late-model Hamilton prop is included with separate blades, hub, and cone. White metal gear legs for main and tail wheels are included as is a well-shaped single VAC canopy.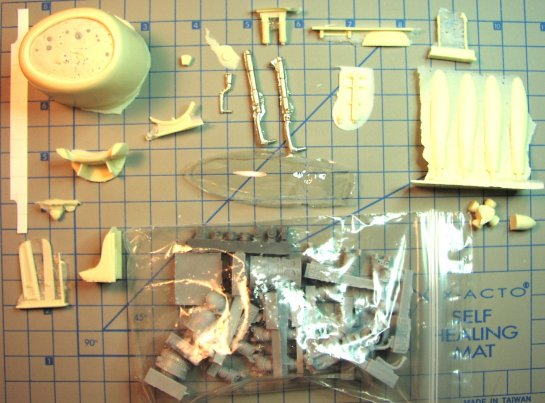 Accurate gearbays, gear doors, wheels, and a full cockpit set are very well done. The flying surfaces are also very impressive. The horizontal stabilizers and elevators are solid one-piece construction. To articulate these you'd need to remove the elevators. This doesn't look like a tremendous task, but care would certainly be recommended.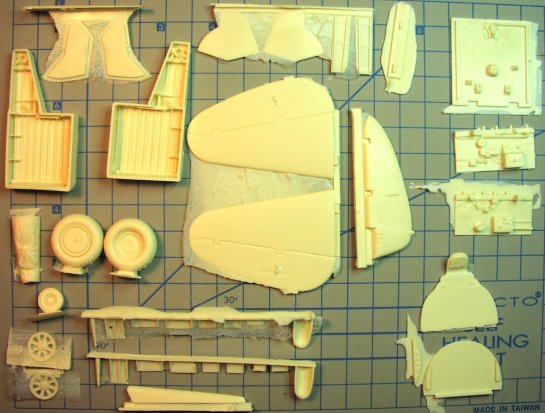 All vents and scoops are included on a single sprue, and the stabilizing fillet is a single solid cast.
Not shown here is the PE set that JR includes. It has been review before here on LSP and I thought I'd save the room for more detail on the new additions that make up the N.
Analysis (AKA "gripes and praise")
Overall this kit is high quality and very detailed, but it misses on a few marks. There is some fantastic work in this kit, but it has to share a plastic sac with some puzzling shortfalls and a couple of disappointing choices.
There are some casting problems that are not major, but with a fairly high price tag are a bit annoying. The venting and porting flaps had some severe bubbling. The kit I received had three trees of these (one tree having all needed parts) all with serious errors in one flap or another. The three trees make up a complete set when all errored parts are removed. I can only imagine that Jerry was going mach-3 to complete back orders and was casting into the wee hours :c)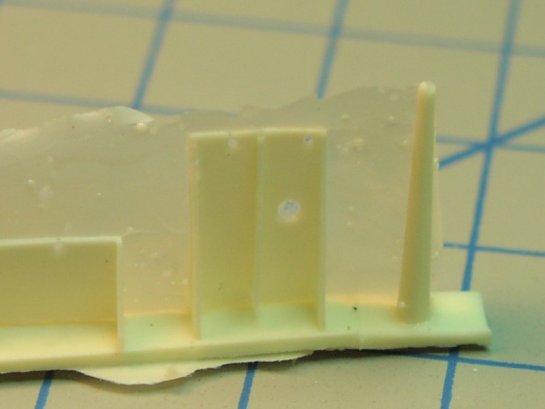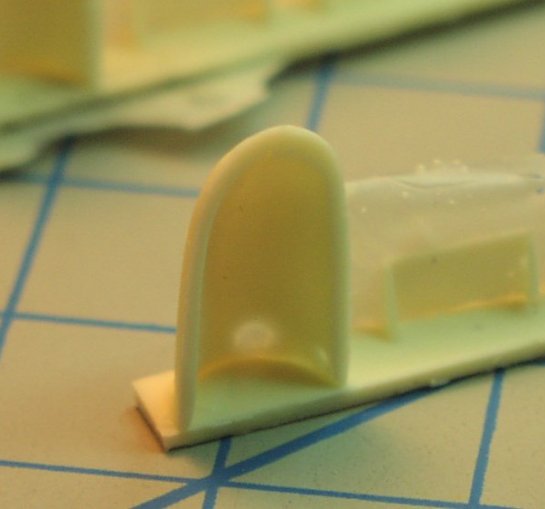 All told Jerry supplied the kit with enough examples of "problem parts" to deliver a complete and basically flaw-free whole kit. But there are some parts that are not well cast and look like they will need a lot of help to keep up with the detail level of the rest of the parts.
The main gear scissor links for example are rough blobs that will need a lot of patient detail work to bring into shape.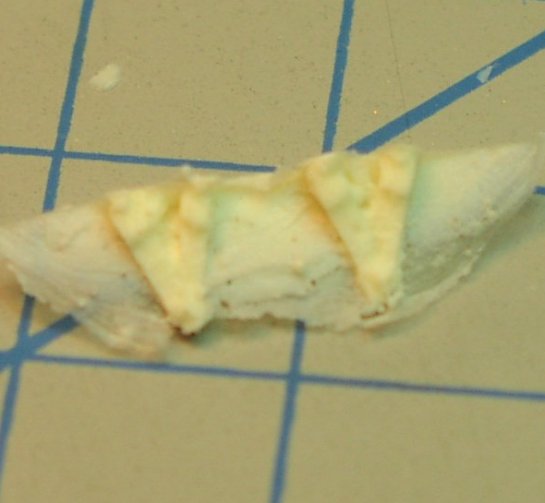 Very little resin inconsistencies were found, and luckily the ones that I did see were in spots that would not matter. This one here, the only major one, won't be seen when the N model wings seal up the D model gear bays.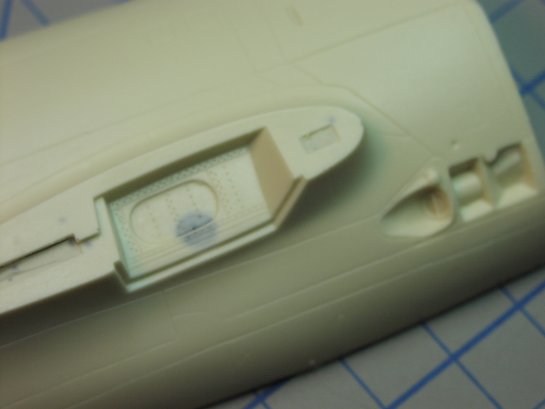 Some bubbling may need to be addressed in delicate areas as well. Under close inspection the trim tab actuators had some bubbles that will need delicate attention.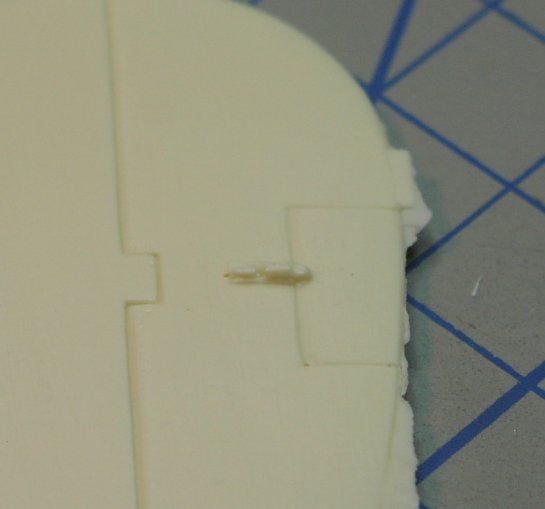 The overall quality of this kit is outstanding, and I would highly recommend it. The problems described above are all easily solved with some good old "modeling elbow." There are indeed some details that shine so brightly that it makes a objective review (from me, a known Thunderbolt freak) hard to insure.
Look at this beautifully crafted gunsight for example...It's touches like this that make the kit a real pleasure to unwrap.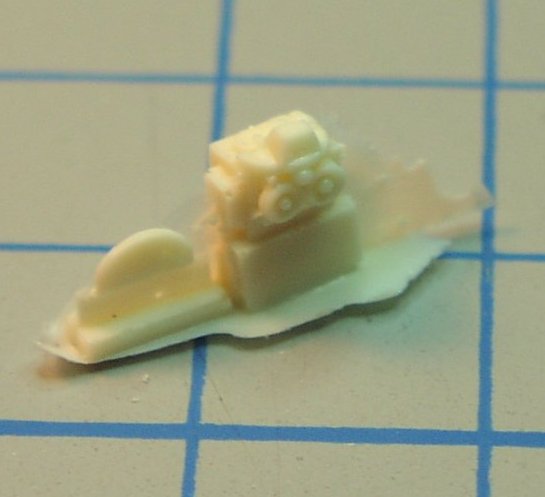 The general detail level of the kit is quite high. Even simply OOB this kit will build into an impressive model.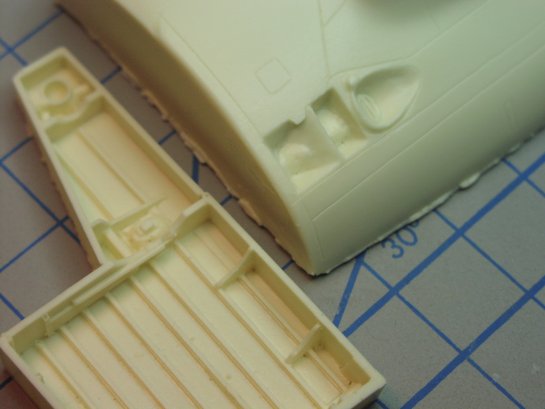 Final Words
It's cottage industries like Jerry's that make this scale a special thing. You can find just about anything you can think of in 1/48 or 1/72, but not in 1/32 and over. Rutman's kits give this scale adventure and depth. His contribution cannot be overestimated. This full P-47N kit brings his offerings new dimension and great hope for all large scale Thunderbolt fans out there.
The shortfalls of the kit are all surmountable, and as a first run I imagine that JR might address some of these issues as time permits. Undeniably this is the best Thunderbolt ever offered in 1/32 scale. While an old or even reissued Revell may cost a lot less, lot's of time and money on aftermarket stuff would need to be used to produce an N to these standards.
As stated in the intro we can only hope that JR treats his T-bolts lineage like his Fw 190 set. If one makes a few logical calculations a 2-piece Razorback fuselage, and a set of early Thunderbolt "short" wings would give Rutman all the parts needed to offer anything from a B all the way to the N.
© Chris Sherland
This review was published on Saturday, July 02 2011; Last modified on Wednesday, May 18 2016