MDC | CV32013 Luftwaffe 300L Drop Tank (Early Pattern)
Reviewed by Mark Proulx
This will be the first in a series of reviews concerning many of the resin aftermarket products available for Hasegawa's popular Bf 109 series of kits in 1/32nd scale. Since the release of the Bf 109G-6, products have become available from Aries, Cutting Edge, Eagle Editions, Jerry Rutman, and Model Design Construction.
Model Design Construction, or MDC, is a UK based resin aftermarket supplier. They have released a number of new products in 1/32nd scale. In this we review, we will have a closer look at their 1/32nd scale 300l Drop Tank.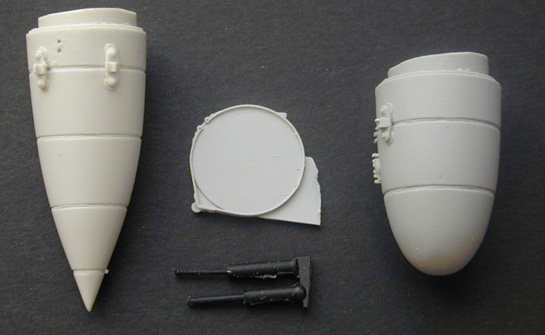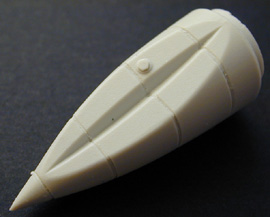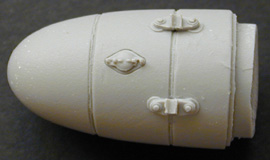 The resin pieces are shipped in a small plastic bag. Three grey resin pieces make up the drop tank. Two molded pieces of rubber rod, in different diameters, are to be used as air and fuel lines in the final assembly. Instructions complete the package.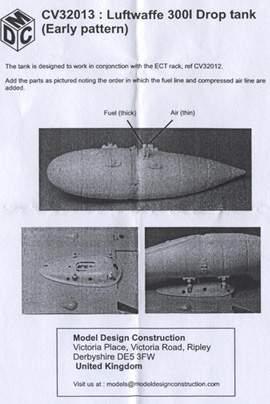 The resin casting of the drop tank is superb, as I am sure the attached photos portray. Fuel fill cap, drain plug and attachment points feature prominently and each is crisply molded. The tank is cast with separate front and rear sections, which have large casting blocks requiring removal. These two sections "sandwich" the prominent center strap of the drop tank during assembly. Completing the assembly are the air and fuel lines, as shown in the instructions.
MDC's instruction sheets do leave room for improvement. While not a serious issue with a resin set this simple, more complex sets could be difficult to understand. Photocopied photographs are used and they are not very clear. Do take note during assembly that the thicker line is the fuel line and it is mounted ahead of the air line. Also, do give careful consideration to the orientation of the strap so as ensure the proper location of the upper attachment.
Modelers should note that this drop tank is designed to work in conjunction with MDC's resin ETC rack, part number CV32012. I highly recommend this and other products from MDC as their resin casting is among the best in the market today. If you are dissatisfied with some areas of the Hasegawa Bf 109 out of the box, then I urge you to give MDC products a try.
© Mark Proulx 2002
This product is available from the following LSP sponsors

This review was published on Saturday, July 02 2011; Last modified on Wednesday, May 18 2016