MDC | CV32012 Messerschmitt Bf 109G ETC Drop Tank Rack
Reviewed by Mark Proulx
A number of Bf 109's were fitted with a fuselage mounted drop tank to extend operational range. This installation required that the drop tanks were mounted to an ETC rack. MDC has added a rack to their line of resin items for use with the 1/32nd scale Bf 109G kits.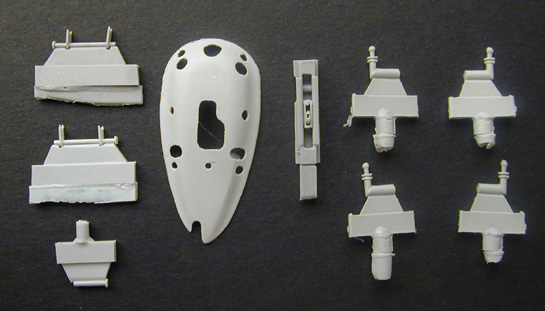 This aftermarket set consists of nine resin pieces with a small set of instructions. It represents a "tear drop" shaped rack, as there were many different variations. The components for the rack are cast in MDC's familiar grey resin. Surface detail is superb with many of the finer details clearly visible. The large fairing did have some flash evident but it is easily removed. Casting blocks will need to be removed from many of the resin items, many of which are quite small, so caution would be advised. Modelers should be aware that some accurate drilling is required to properly locate this rack onto the fuselage. In addition, it should be noted that the correct way to mount the ETC rack is slightly offset from the aircraft's centerline.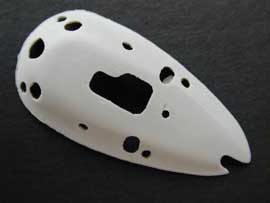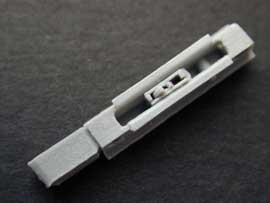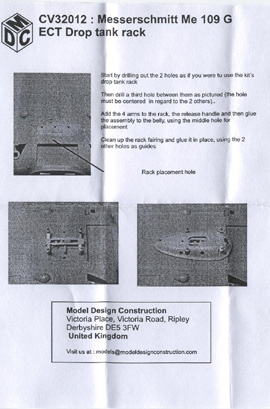 A small set of instructions is included with the resin pieces. The instructions consist of text and poorly photocopied pictures. Unfortunately, the instructions only show where seven of the nine resin pieces are installed. Two small, identical resin rods are not referenced. Additional sources would be needed to determine the exact location of all the parts. At the risk of sounding repetitive, MDC could offer better instructions.
The MDC ETC rack can be used in conjunction with their 1/32nd scale drop tank, item CV32013, reviewed earlier. The two items are a marked improvement over the items that Hasegawa offers in the kit. Modelers also have the option of only displaying the rack under their kits showing some of the very fine details that make up this resin set.
The use of additional resin items from MDC should make for a very accurate representation of this classic WW II aircraft. The resin sets are very well cast and easy to construct in most instances. For those modelers that are dis-satisfied with some of the softer details in the Hasegawa kit, I would suggest that you consider MDC products. Note: MDC incorrectly identifies this as an ECT rack in their instructions. In addition, they use Me instead of the more common Bf designation. I have chosen to amend the title of my review.
© Mark Proulx 2003
This product is available from the following LSP sponsors

This review was published on Saturday, July 02 2011; Last modified on Wednesday, May 18 2016