MDC | CV32011: 1/32 Bf 109 Late Tropical Filter
Reviewed by Mark Proulx
To operate effectively in some areas of the Mediterranean and North African theaters, the Bf 109 needed to be equipped with a dust filter. This was a simple installation requiring a filter to be placed over the air intake opening on the port side of the fuselage. Two types of filters have been identified, early or late models. MDC have just released both filters in their expanding line of 1/32nd scale resin aftermarket products for the Bf 109G.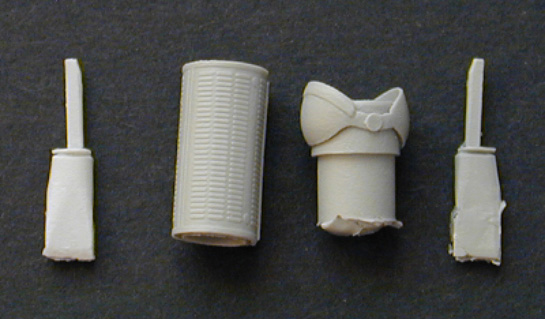 In this review, we will have a closer look at the late tropical filter installation. This MDC set is nearly identical to the early filter set I reviewed. It consists of one dust filter, two supports, an open clamshell door and instructions.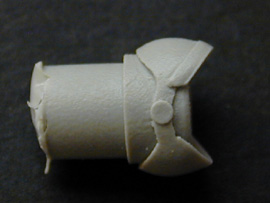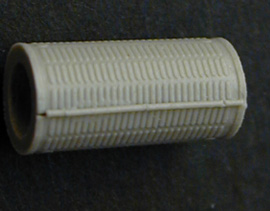 The late tropical filter differed from its predecessor in that a different type of filter was used. MDC is known for paying attention to detail and they captured this perfectly in the resin casting. The new filter is easily identified and the casting is excellent. Small casting blocks should be easy to remove from the aft portion of the clamshell door and supports. Though I have not tried this set, I am sure it will attach with little difficulty to the air intake.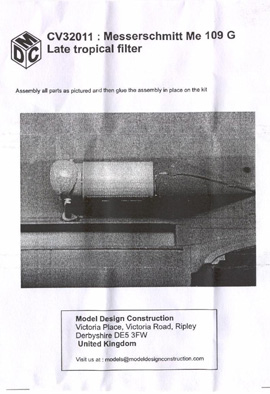 A small set of instructions is included. There is minimal text and a photo of the MDC installation mounted on the model. Modelers should take note of the proper orientation of the dust filter and supports as seen in the instructions. Additional references should be consulted when determining which filter installation you require on the aircraft you are trying to represent.
The late tropical filter is well cast and a welcome addition to MDC's line of resin products. A number of decal manufacturers have supplied markings for the Bf 109G-6 trop. As a dust filter wasn't included with the Hasegawa kit, this resin set enables some of those decal options to be used. I am sure modelers will be satisfied with this and other products from MDC.
Note: MDC uses Me instead of the more common Bf prefix on their instruction sheet. I have chosen to use the latter designation in the title of this review.
© Mark Proulx 2003
This product is available from the following LSP sponsors

This review was published on Saturday, July 02 2011; Last modified on Wednesday, May 18 2016