Expert Model Craft | Airbrush Painting Techniques
Reviewed by Kevin Futter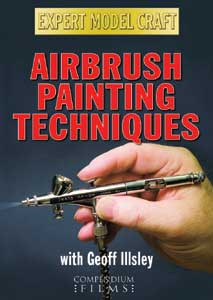 Airbrush Painting Techniques is one of an interesting array of DVD titles in the Expert Model Craft series by Compendium Films. Each title is hosted by a different modeller, and this one features Geoff Illsley, an award-winning British modeller and chief judge at Euro-Militaire, who seems amply qualified to fulfil the goals of this DVD.
The content is broken down into a number of broad topics, each addressing a different aspect of the airbrush's modelling repertoire, and Illsley proves to be an articulate and personable host. The topics covered in the main program, which runs 56 minutes, include:
Priming and Undercoating
Artists' Oilpaints and Fleshtones
Metallics and Gunmetal
Warrior Feathers
Aircraft Camouflage
Wood Textures
Illsley's skill with the airbrush is self-evident, but he really surprises in this DVD by choosing first up to airbrush a resin figure with artists' oil paints—yes, the stuff in the tubes! Traditional figure painters are probably reaching for their pitch forks already, but Illsley's careful and considered explanation of his approach, coupled with the inarguably excellent results, should really go a long way towards convincing the doubters.
As can be seen from the topic rundown above, there is very little focus on aircraft in this DVD, but this in no way diminishes the usefulness of the techniques discussed. I did find myself wishing for a slightly more nuts'n'bolts approach on ocassion though, but it's fair to say that this DVD really isn't aimed at the complete airbrush novice.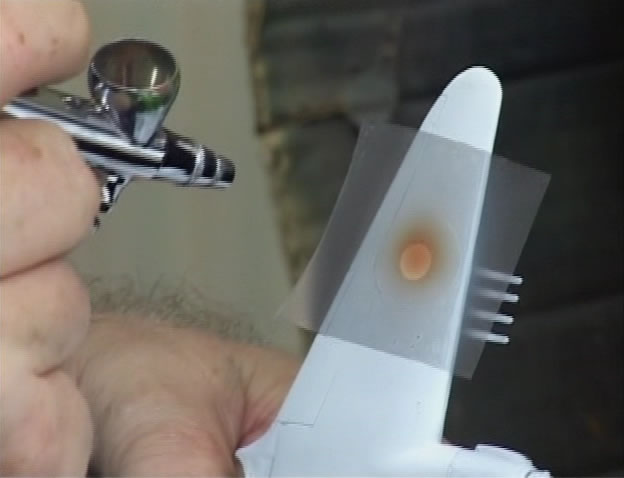 The remainder of the DVD is labelled as "Extras", and contains the following sections:
Choosing & Maintaining Airbrushes
Choosing Paints
Mixing Paints for Airbrusing
Correcting Common Mistakes
Geoff Illsley Profile
Model Panormama
Sources & References
Recommended Products
These sections are a little more hit-and-miss, but still useful nonetheless. Iwata and DeVilbiss owners will especially appreciate the section on airbrush maintenance, but the Aztek gets a mention too.
Random Screenshot #2: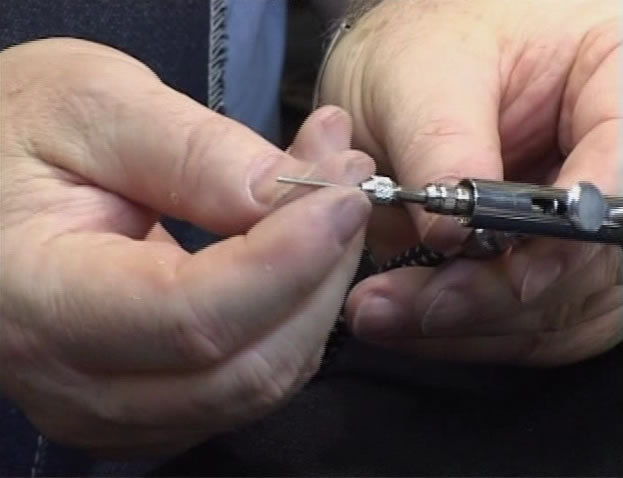 Overall I think this is an excellent DVD. It's not overly long, and the techniques discussed are not overly complicated. While on the surface there may seem to be little in this title for aircraft modellers, the techniques and approaches outlined within will be useful to anyone who uses an airbrush in their modelling. I do think it falls slightly short of their Realistic WWII Aircraft Finishing Techniques DVD, but a worthwhile disc nonetheless.
The DVD itself runs about 95 minutes (including extras), and is formatted as NTSC. Never fear PAL dudes, for most PAL DVD players will happily play NTSC discs on modern TVs. The DVD is also encoded to play in all regions, so there are no worries there either. The menu design and structure however is merely adequate; functional but uninspired. I tested this disc on my (PAL) DVD player and TV, as well as on my (Mac) computer.
The disc (along with their other titles) is available from the Compendium Films website, but is also being handled by various retailers around the globe (I bought mine from an eBay store). Each DVD retails at £14.99 (UK) and $24.95 (US).
I'll be looking out for more of these titles, with a special eye on a couple in the forthcoming list: Detailing & Upgrading Model Aircraft and Photographing & Presenting Your Models.
© Kevin Futter 2008
This review was published on Saturday, July 02 2011; Last modified on Wednesday, May 18 2016