Reheat | RH023 1/32 Vintage Instrument Bezels
Reviewed by Rato Marczak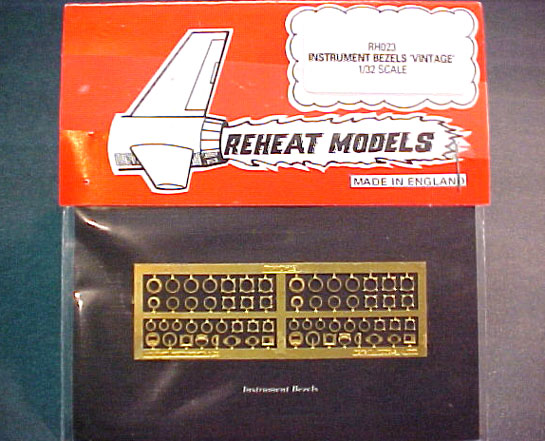 This is another valuable accessory from Reheat models. Released in 1989, this one is a photoetched set of vintage instrument bezels designed to be used with set RH010-instrument decals. The set comes with 31 bezels of different styles and sizes repeated in two rows (summing 62 instruments).
My set was in perfect register (yes, there are register problems with photetched parts too, but that´s another story). Those ring type bezels typical of WWII US and British aircraft instruments are there, but you will also find the Luftwaffe (square/bolted) type. The sizes match perfectly with the corresponding instrument decals. There are also some instrument faces for compasses, ammeters and switches. In my opinion the most common types are there.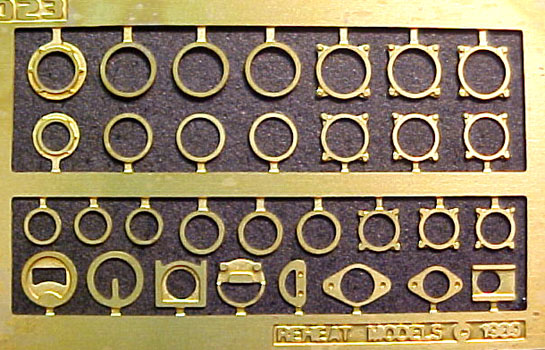 This accessory is perfect for using with the traditional sandwich method if you are scratchbuilding your own control panels. They will add some relief to your punched panels, and this is way more realistic than a flat panel. Of course they can also be added here and there on the kit´s part. However, I´m afraid the set will not cover all the instruments of your control panel, depending on the aircraft. There is a similar set in 1/48 scale (sorry for mentioning this scale here), and perhaps it can be used as a complement to the 1/32 one, particularly for smaller instruments. I didn´t check the diameters against the Waldron punch and die set. Some minor differences are expected, though.
SUMMARY
This is a well done product that will save you a lot of time when compared to the home-made wire bezels. If you are in the scratchbuilding road, there aren´t many alternatives to add some three-dimensionality to your control panels. Most cockpits will need at least a switch box, and they are ready to use in this set. My only complain is that there's not many variations of sizes. In addition, I´m afraid the fret brings too few of each type. I guess a set of these will last a couple of models (an allied and one of the Luftwaffe), at most.
This item is still easily found for around 7-9 USD in well stocked hobby shops.
© Rato Marczak 2003
This review was published on Saturday, July 02 2011; Last modified on Wednesday, May 18 2016