Trumpeter | MiG-3
Reviewed by Chris Sherland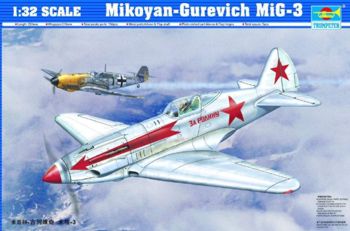 A Brief History of the MiG-3
The MiG-3 was developed as a high altitude interceptor in the late '30s. A direct descendant of both the "I-200" and MiG-1, the -3 saw extensive service in WWII starting in 1941 and continuing on through the end of the war. Initially poor fuel flow management limited the MiG-3's high altitude effectiveness. This combined with unrecoverable post departure spins gave the MiG a reputation for being a dangerous ship...to its own pilots! New fuel system improvements and leading edge slats fixed the MiG's performance and flight envelope problems to enough of a degree to allow pilots to master the MiG in combat with less risk of killing themselves in the process.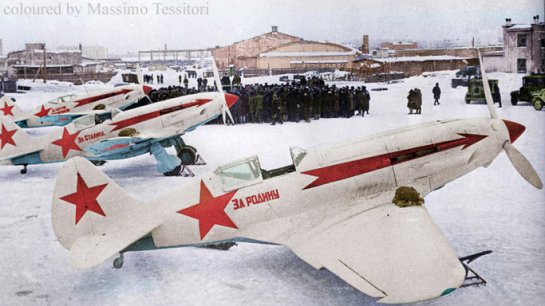 Image courtesy of Massimo Tessitori from
http://mig3.sovietwarplanes.com/mig3/mig3.php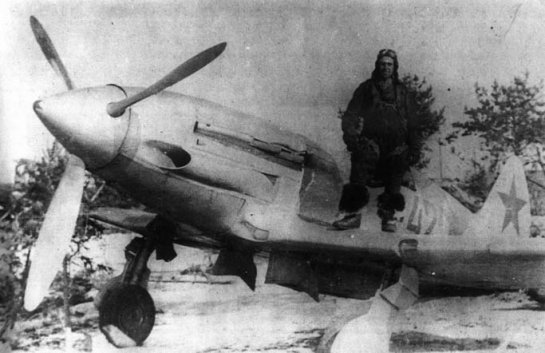 Image courtesy of Massimo Tessitori from
http://mig3.sovietwarplanes.com/mig3/mig3.php
Over 3,000 MiG-3s were built, and it's simple construction (much from wooden components) gave it an ease of maintenance that allowed MiG-3 units to keep aircraft serviceable through conditions that would ground their counterparts easily.
Until the development of the La-5 and the Yak-9, it was the MiG-3 that met the brunt of the Luftwaffe's force in the eastern front. As an interceptor the MiG-3's good acceleration and high top speed got it to it's targets quite well, however in many engagements the MiG was forced to fight at lower altitudes where it's advantages were limited against better performing German aircraft, and it's liquid-cooled engine left it vulnerable in a ground attack role. But these situations are were the MiG was called into action initially. Ultimately the MiG shined most brightly in the thin air of the high altitude interception mission.
The Kit
Trumpeter keeps adding to an impressive line of large scale kits, with a focus on WWII fighters. While the quality of their line has remained high, a certain "wobbliness" has permeated their series of 1/24 and 1/32 scale kits in regards to execution and accuracy. The 1/24 Mustang and the 1/32 Wildcat were both targets of serious accuracy critiques, so much so on the part of the F4F that the kit was recalled and reissued with corrected parts. And a wavering technology set seems to still change from kit to kit, with the only steadfast feature being the movable control system of pins and hinges. This alone seems to be the one thing Trumpeter can settle on.
While the 1/32 MiG-3 is no exception, it does seem to ring the best balance of the series so far. Gone are the rubber tires and instrument film, and, well, the entire engine! While I'm sure I'll ponder the logic of this set of features (or lack thereof) I must admit that it is refreshing to see a bit "less" from Trumpeter. On one hand there are less elements to "get wrong," but more importantly this simpler offering screams "build me now, and build me fast!"
The MiG-3 is a paltry 134 pieces on 5 sprues, a set of photo-etched hinges, steel pins for flight control articulation, and a single decal sheet that comes in a very sturdy box. Compare this with the 90+ pieces of Trumpeter's R2800engine alone offered in their F4U series and it's safe to say this kit is done with less. But each one of those 137 pieces is done quite well. I can only fault injector and sink markings in a few bad places, the rest of this kit looks beautiful. A full spread of the sprues can be seen at the Trumpeter website.
Delicate, accurate recessed detail is present throughout. And although some rivet detail seems to be a bit exaggerated (on the tail surfaces), it is all well-done and consistent.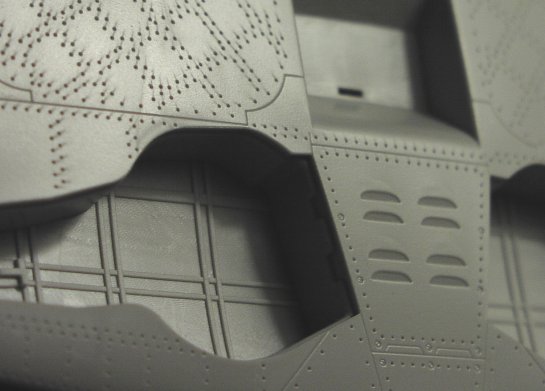 Some surface detail on the belly.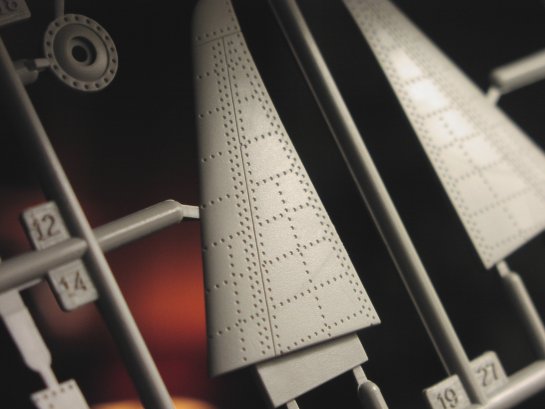 Tail feathers with "larger" rivet detail than the rest of the ship.
It's a relief to see the rubber tires gone, and while the hinge/pin system is a famous pain in the ass, it isn't beyond average modeling skill. Whether or not there is any value to posable surfaces I cannot answer, but they are engineered well, and if care is taken, assembly should not be too difficult.
The clear sprue is perfectly molded and very thin. The sliding canopy looks like it might not be moveable after assembly, but this is not a show stopper by any means. The absence of an engine does nothing but speed up assembly, and one must wonder if Trumpeter is either trying out a new format, or just did not have the resources to get a good Mikulin AM-37 made.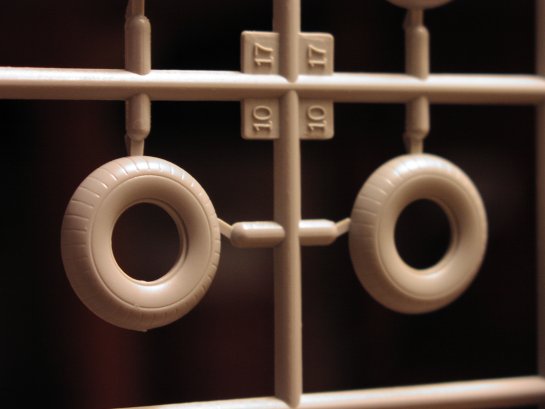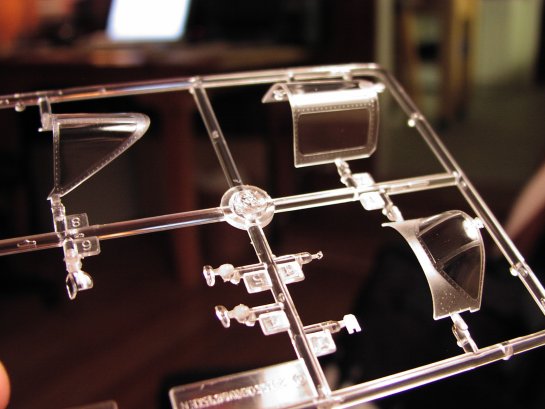 The Bad News
There are a few sink and injector marks that are in poor locations, both for display and for sanding/filling. While this has also been a Trumpeter calling card, it never leaves a good taste. In fact there is only a single sprue of the 5 engineered so that all sink marks are on the "backs" of parts and never to be seen. While I'm sure setting up sprues is quite possibly an art unto itself, it seems that Trumpeter can't quite get it right.
The MiG-3's flaps are clamshell style and drop from the bottom of the wing. Displaying them open will require facing some of the worst injector marring in the kit. Our next offenders are on the gear doors. While the gear struts and wheels will help cover these, some serious gymnastics will be needed to hide these marks on the inner doors which have no connection to the gear and lay open on display.
Finally a nasty shallow sink mark runs along the rear 1/4 of both the upper wing surfaces. This sink mark is the result of the station for the pin/hinge system allowing the ailerons to be assembled as moveable. While it seems fairly trivial to fix, or may be subtle enough to leave un-tended-to, this section of the MiG-3's wings were made of wood and the smooth finish that Trumpeter got for the wooden sections would be a shame to lose from sanding etc. Maybe this really is nit picking.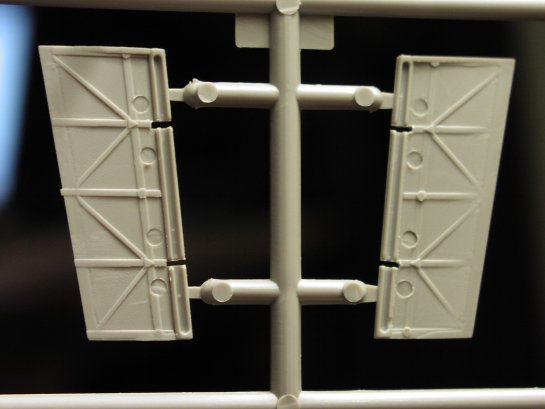 Injector marring on the flaps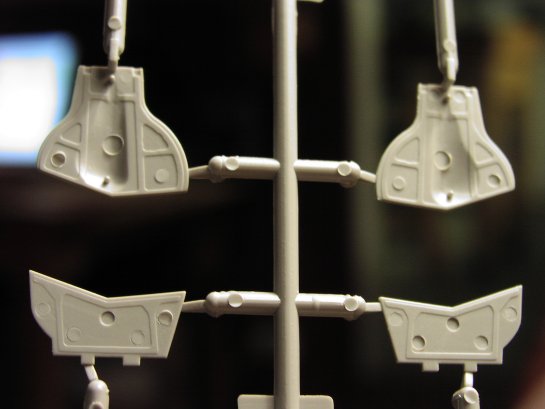 Gear door injector marks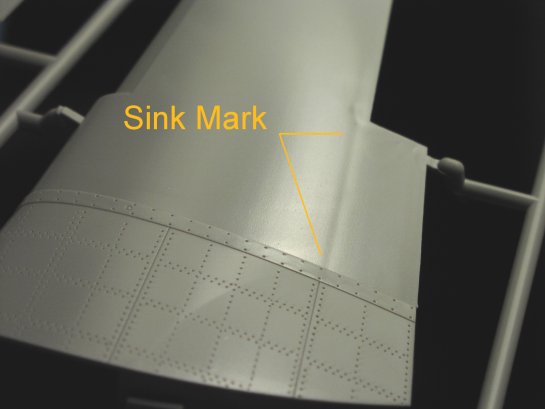 The cockpit parts are very well done, and free of any marring. The MiG-3 had a tubular construction and this is represented very well in the walls and structure of the "office." The panel is nicely detailed, but no decal or film is supplied, leaving the modeler to either paint the dials by hand, or find another solution. Again it strikes me as strange that the MiG-3 kit was not engineered with a film instrument panel. This seemed to be a feature that Trumpeter was doing well with in most cases.
The stick, rudder pedals and 5-piece gunsight are all very nicely done and round out the cockpit well enough.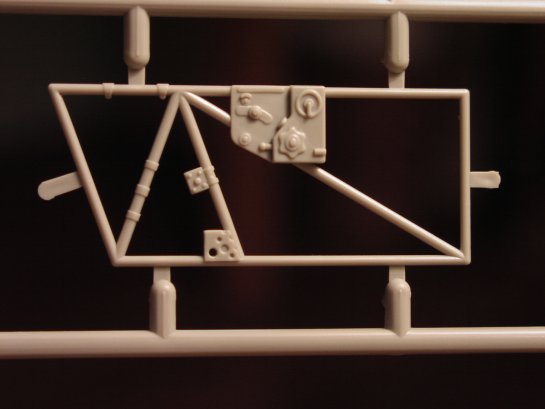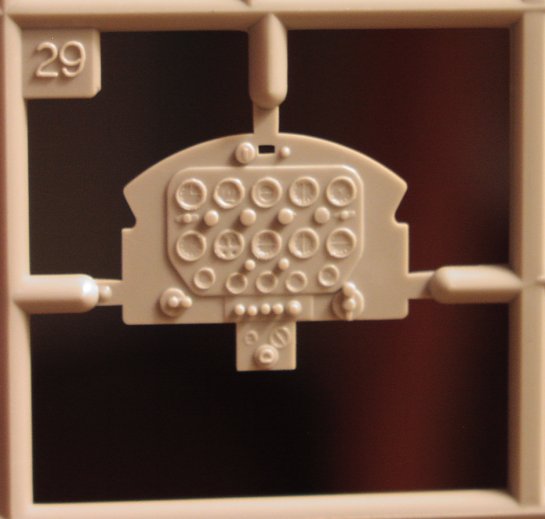 Shape and Accuracy
While this reviewer doesn't count rivets, I do appreciate decent shape. The hardest things to "fix" on a kit are bad general shape problems. Again (as in my review of Trumpeter's Wildcat) the following images are not included to prove or disprove anything, I have included them here to give a feel for the basic shape. I leave you to make your own conclusions.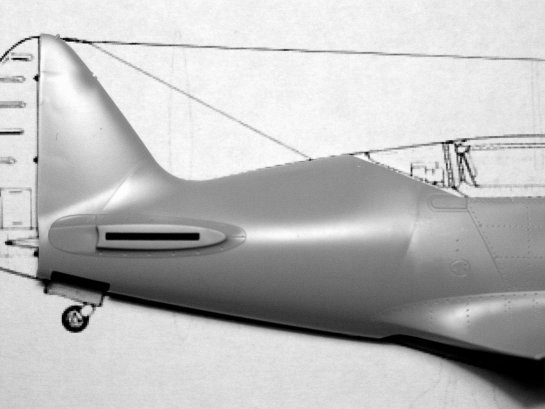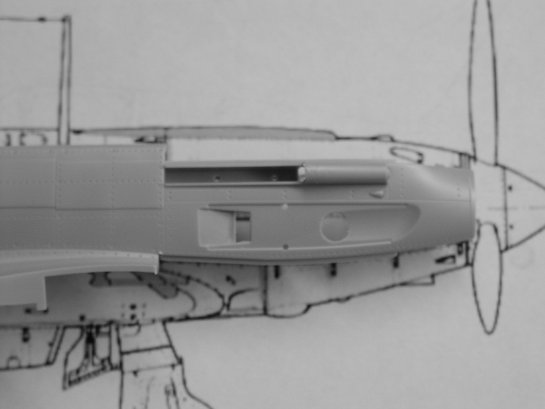 In Conclusion
The MiG-3 may be Trumpeter's most "no frills" release yet, but it is a high quality kit with few bad points. The unique subject matter and general quality are a win/win bet, and at a lower price point than the big Corsair, it may be the perfect "first try" with a Trumpeter offering. I found this kit to be very inviting and look forward to building it.
Don't be scared of the pin/hinge system, it may have a legendary reputation, but it does work. Trimming of the hinges and a well laid out assembly plan will get you the desired effect.
Build Resources
Massimo Tessitori's fantastic website covers the MiG-3 more extensively than any other web-source I found. Without a doubt it is a must-visit if you intend to build this kit. Great profiles, a full history, and schematic drawings of almost all the MiG's systems are included. Here is a taste of some of Mr. Tessitori's work.



A new after market company out of Poland called Data Decals has started their large scale offerings with a decal sheet for the Trump MiG-3. The sheet offers markings for no less than 5 MiG-3s. A review of that sheet can be found here on LSP.
A build of the MiG by Adam Batkiewicz (owner of Data Decals) using this sheet, is also featured here on LSP.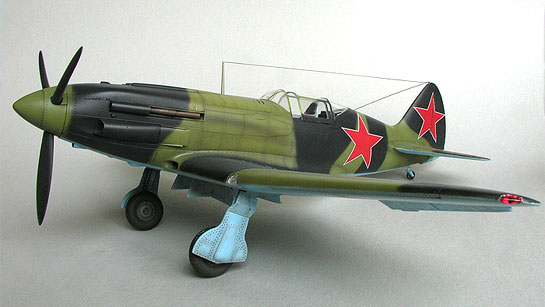 Two other builds of the MiG were shown on the "In the Works" Forum by "Flip" and "jbrundt." I'm sure we'll see a lot more of these two, but here's a peek...(note: these pics shamelessly stolen from the forums)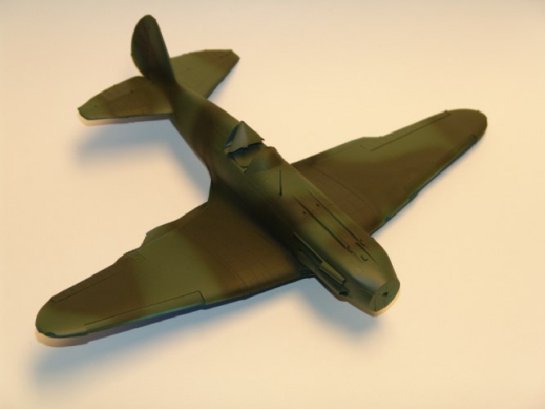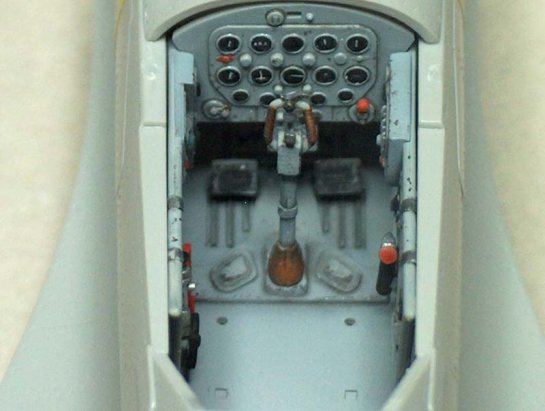 Review sample courtesy of kooky build-trade deal managed by sheer madness.
© Chris Sherland 2004
This review was published on Saturday, July 02 2011; Last modified on Wednesday, May 18 2016