The Saga of the F2G Corsair #74 Air Racer - Part 1: F2G-GAC AKRON
By Rodney Williams
PART ONE – F2G-GAC AKRON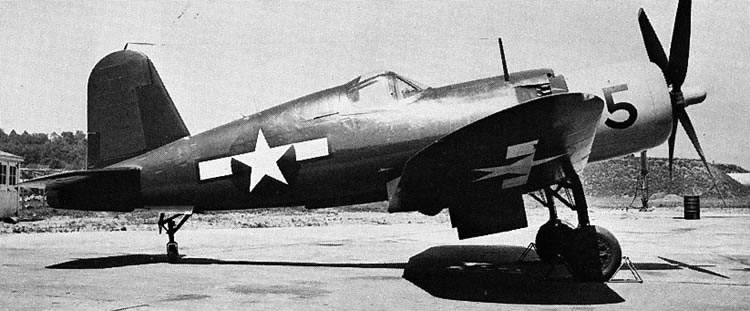 This episode will have several stories with a few dozen photos that I have collected since I began this sojourn in 1942.
The Goodyear Tire & Rubber Company that began its tire "building" operation in Akron, Ohio somehow was awarded a contract to build additional Vought-Corsair fighter planes for the United States Navy shortly after the "Japs" bombed Pearl Harbor, Hawaii on December 7, 1941.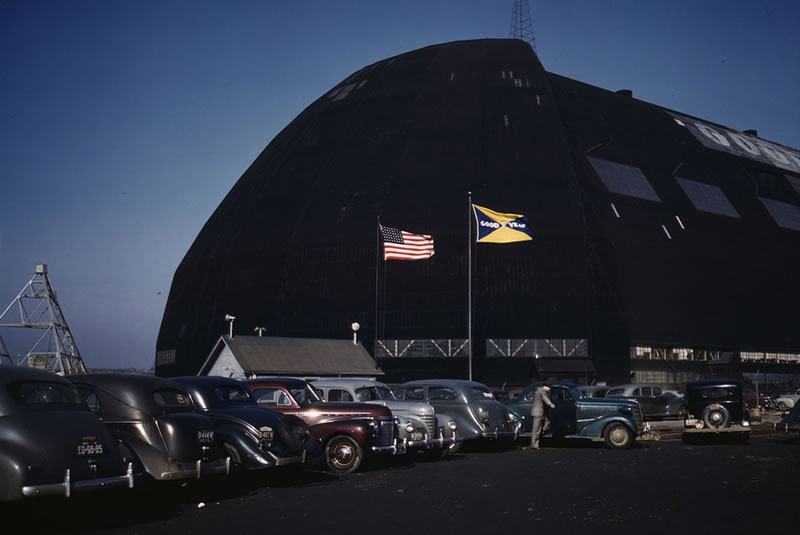 Goodyear had been building big air ships and had a very large hanger that they used at our municipal airport just south of town. There was plenty of extra land so they had several buildings built next to the big black hanger. These new plants were named Plant A, B, C & D. The Corsair assembly line was set up in Plant-D as it was the largest "long" building.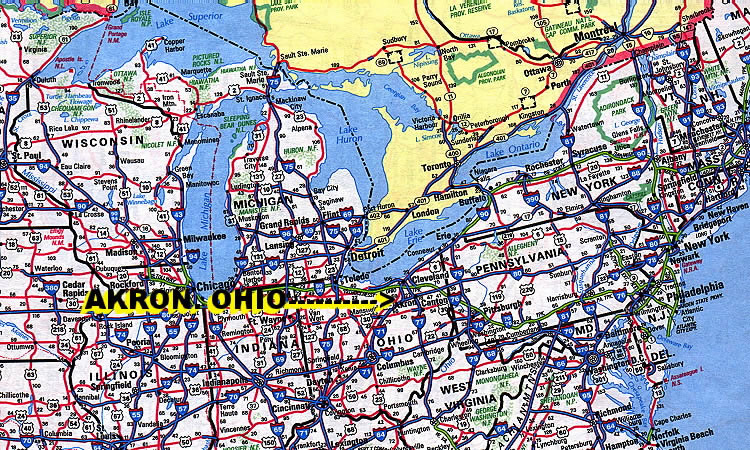 My map shows where Akron, Ohio is located here in the U.S.A. The next photo was downloaded from Google Earth showing all the building including the big "blimp" hanger.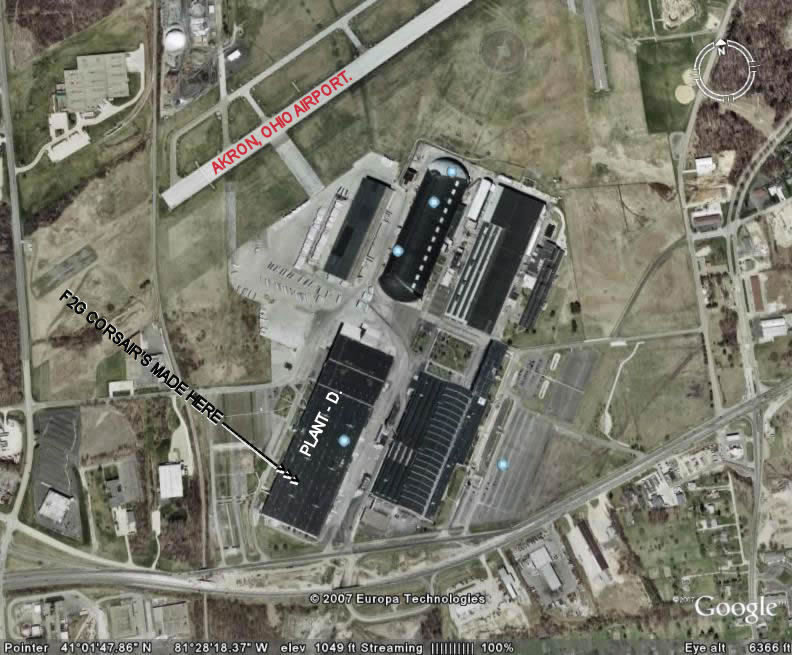 As a ten year old kid in 1941, how did I get interested in the Corsair? The answer is simple: I was building flying stick models prior to the war, including solid wooden models by "Strombecker & Consolidated". Luck played another roll for me as my dad Harry was a mechanical tool & design engineer at the local Firestone Tire & Rubber Co. Sometime in 1942 he left Firestone and started to work on the Corsair assembly line over at the newly formed "Goodyear Aircraft Company", which was usually called "G.A.C.".
Somehow dad got me a "parts" delivery job at the factory. We "kids" delivered parts to different "stations" on the assembly line. We came over after school and on weekends. Wow! Was that fun. On a few occasions most of us got to sit up inside the fighters. A few of us like me got to test fire the machine guns at the gun testing ranges which was about a 100 yards away from the building.
When you look at the side view of the F4U-1A with #5 on the cowling you can see the concrete gun tubes a bit to the right of the lower right prop blade. It looks white!!!
Some of the enclosed factory drawings came from the F2G-Handbook that my late model friend Ron Eminger gave me. Ron lived in the Cleveland, Ohio area. He and Jim Butler got me to join the "Society of Air Race Historians", (SARH) in 1984.
---
Somehow I met Joe Hegedus who was with NATC back in the early 1990s. Joe found the original F2G Corsair drawings on microfilm at the National Archives in Washington, D.C. The drawings were "half scale" so if you wanted a copy of it you could get one but it is 15 feet long, (4+ meters). BIG!!!!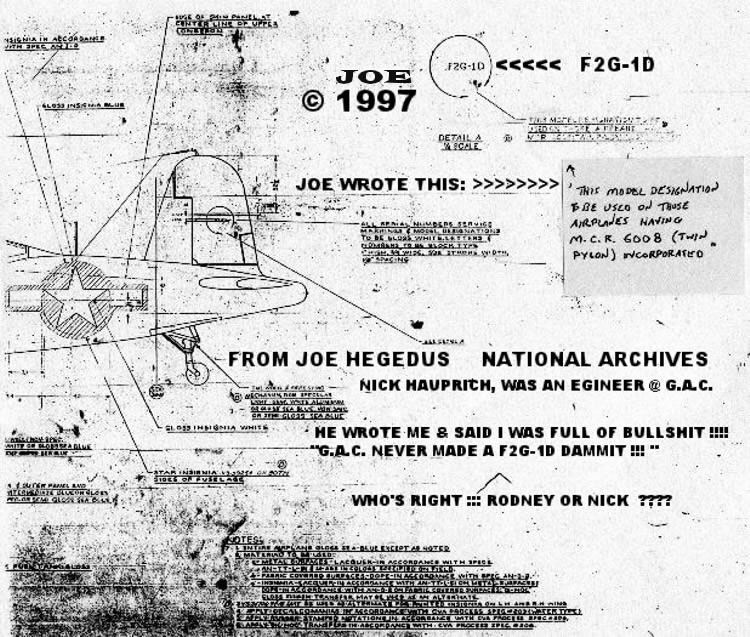 As a qualified residential architectural draftsman, I went to the Travis Air Force Museum in the mid 1990s, which is located near Sacramento, CA and took measurements of the Corsair's R-4360-2 engine. From these drawings I hand crafted a master cylinder in 1:32 scale.
---
The data that I recorded on my spread sheet came form Jim Butler who was a member of "SARH". The hand written spread-sheet came from the late Nick Hauprich who was a aeronautical engineer on the Corsair assembly line at G.A.C.
---
Roland Estrada found me on the net many years ago as he is another "F2G-NUT" like me. I have enclosed some of his F2G data.
---
As I collected written data and F2G photos over the years, I started my own library. I have several hundred items stored on my back-up CDs.
Nick and I had exchanged letters back in the early 1990s and I found out that when the war was over in 1945 G.A.C. dumped everything concerning the Corsair in the trash. Nick somehow retrieved a lot of the stuff. Several years ago, he donated all of it to MAPS Museum, which is located at the Akron-Canton airport.
Nick gave a few dozen negatives to another F2G buff Al Keller who made his own prints then Al sent the negatives to me and I made my copies. I returned said items to Al, who returned them to Nick. Both men lived near Akron, Ohio.
Once I found out that "MAPS" had Nick's F2G stuff, I tried to get it so I could make copies, but they never returned a reply to my request. Letters, emails and phone calls to them got me "zero" results.
---
In closing out this first F2G chapter, please look at the last two photos. We do not know where and when these photos were taken, nor does any of my F2G friends know what the B.U. Numbers are.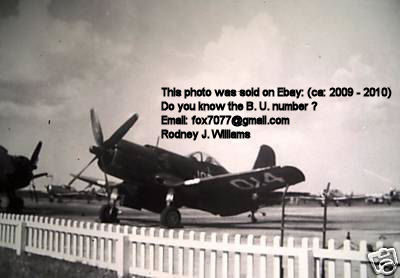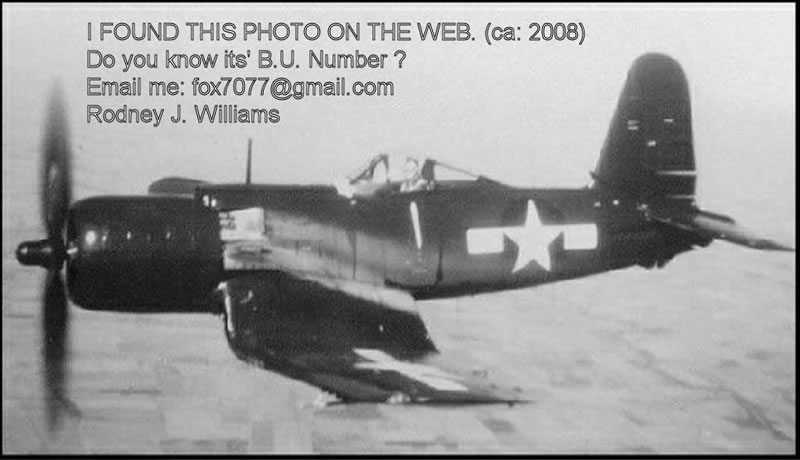 If you can shed some light on these two aircraft, please email me at: Fox7077@gmail.com.
Roland Estrada and I have lost contact as we both have changed email addresses. Roland lived in Texas. If you know him, PLEASE have him email me.
Part two will take us to the Cleveland, Ohio National Air Race show during the years of 1946-1949. Racer #74 will be living color, until then...
Part 1 | Part 2 | Part 3 | Part 4 | Part 5
Enjoy,
Rodney J. Williams
© Rodney Williams 2011
This article was published on Saturday, December 03 2011; Last modified on Saturday, May 14 2016