My First F2G #57 Racing Corsair Model - Part 1: Historical Data
By Rodney Williams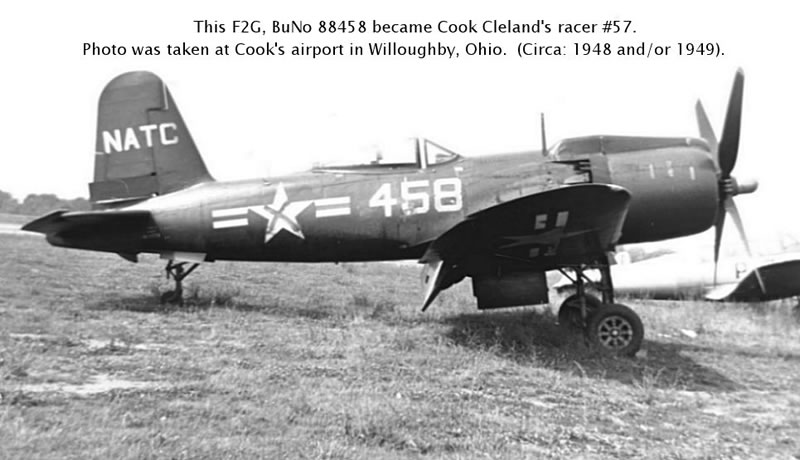 For those of you who are viewing LSP's site for the first time, please go back to December 4, 2011 as I started a segment entitled The Saga of the F2G Corsair #74 Air Racer.
Part one gives you a general view of the historical background on these famous post WWII aircraft.
The other four stories are listed as follows:
Of all F2G versions built, racer #57 has a rather colorful background to match its colorful paint job after the races in 1949.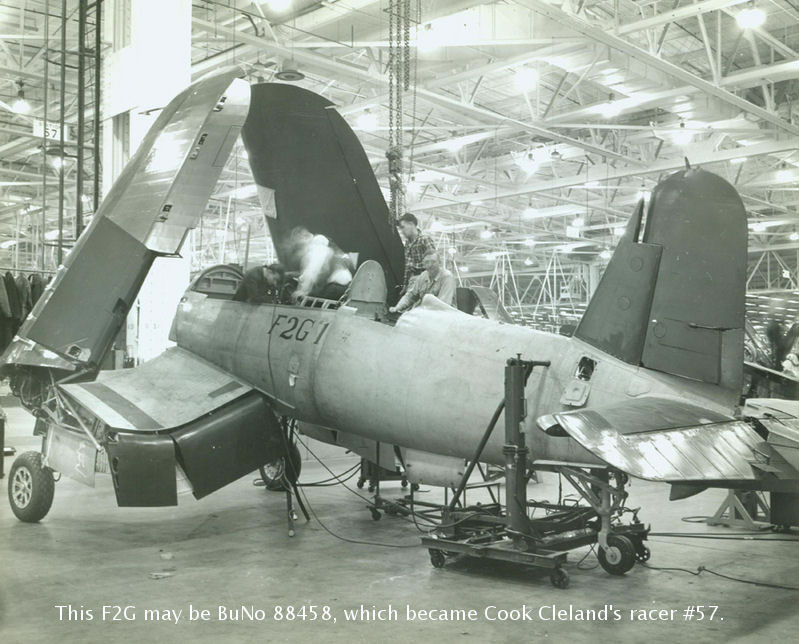 The aircraft was built at the G.A.C. plant sometime during 1944 and/or 1945. Its "production number" was five (5) with a Bu. No. 88458. It had a model classification of "F2G-1". All military aircraft during this time period went through several ground tests including flight evaluations.
Goodyear Aircraft Corporation's test pilot Mr Don Armstrong relates his evaluation of the F2Gs shortly after its first flight in Akron, Ohio/USA. Additional data is in his book titled "I Flew Them First". Beginning with Chapter-11, page 87 "THE HOMESICK ANGLE" from August to October, 1944 Don relates several facts about the F2G Super Corsair. Don flew several F2G aircraft but does not mention flying F2G-88458, which became racer #57.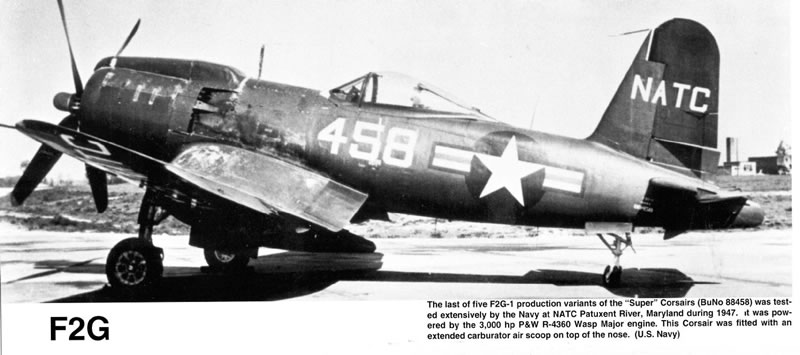 Shortly thereafter some F2Gs were flown to the Naval Test Center-"NATC" which was located in Patuxent River, MD/USA. The new name for the test center became "Pax River" and/or just "PAX". While at Patuxent, they determined that the carburetor air scoop needed to be extended to the very front of the speed ring.
Additional data by Don states that the aircraft had a problem with the new R-4360-4 engine. For example, the aircraft tended to veer to the left when given full power on takeoff, requiring almost full right rudder to maintain a straight course. Don envisioned setting both the vertical fin and rudder on a "pedestal". Don made a couple of preliminary drawings and took them to Dr Arnstein (a highly respected engineer & designer), who in turn had his people design and make the necessary linkage equipment and install it in the F2G. This pedestal in effect was more or less a large "trim tab" which was connected to the tail wheel mechanism and would deflect to the right "only" when the gears were lowered. The fin was offset 2 degrees to the left when viewing the aircraft from its' top. Don called this new item a "PEDESTAL TAIL". It appears to us that the two main landing gears were lowered at the same time that the tail wheel was extracted to its landing position.
Navy records from 1944 to 1949 are a bit sketchy, however we know for a fact that Cook Cleland got with the Admiral of the Navy who classified the F2G-1D, Bu. No. 88458 as "surplus" so Cook bought it. The date and price that Cook paid for said item was not recorded in Nick Hauprich F2G historical "spread sheet", nor was it recorded by the late Jim Butler who was one of the driving forces in this program for the "Society of Air Race Historians". Bu. No. 88458 was classified as a F2G-1D at N.A.T.C.
Additional data stated that Cook was to use the F2G-88458 for spare parts only. Somehow Cook managed to use the paper work from his crashed F2G-#84/88457 and applied it to his newly acquired F2G and entered it in the 1949 Cleveland National Air races under Ben McKillan Jr's name as the legal owner. Ben was one of Cook's employees at his Willoughby, Ohio airport.
After the race Ben tried to legally own #57 but as Cook told me in our recorded telephone conversation on March 29, 1987 Cook had already out-smarted Ben and retained legal title to #57.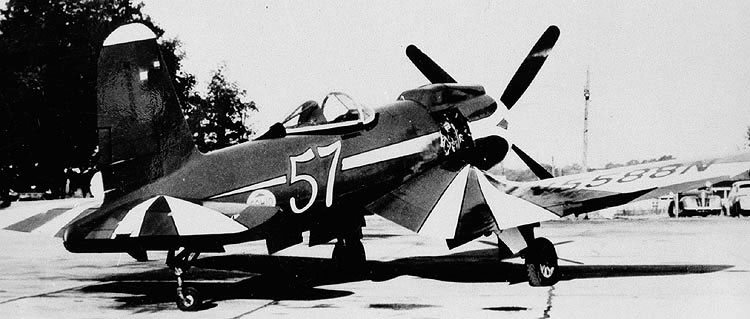 Jim Butler's spreadsheet states the following:
A. F2G Racer #94: Cook paid #2,818.00 on July 15, 1947
B. F2G Racer #74: Cook paid $1,250.00 on February 5, 1947
C. F2G Racer #84: There was no record for what Cook paid on March 5, 1947
D. F2G Racer #18: Ron Puckett paid $1,250.00 on March 19, 1947
E. F2G Racer #57: There was no record for a date of purchase, nor a price
Today this does not seem like a great deal of money to pay for a WWII fighter, but during the war, my dad was being paid a monthly salary of $450.00 @GAC. Eight hours a day times 30 days added up to 240 hours. Wow...$1.87 per hour for labor.
I heard that each one of these fighters that came off the assembly line every 80 minutes cost the U.S. Navy about $65,000.00. I wonder why the Navy sold them so cheap! Ah!!! Don't worry about it, the American tax payers will foot the bill.
Cook lost his F2G #84 racer in 1947 when his employee Tony Janazzo flew the aircraft into the ground on September 1, 1947. Tony lost his life at the same time. I was at the airshow on that day and everyone saw the plane take a nose-dive, then a big cloud of smoke came into view. What a sad day for every one.
The air races can be reviewed on our society's web site. The site contains race data and photos of most all of the racers from as far back as 1909.
Another crash during the 1949 races culminates the following data: Our race site states that the air races were cancelled permanently in Cleveland, Ohio for three reasons.
One was due to Bill Odom crashing the P-51C "Beguine #7 into a home killing a lady and her new born child.
In early 1950 American entered into the Korean War conflict.
Another reason was that the government turned the hanger into a tank plant that was located just behind the grandstand.
In the summer of 1950 Cook Cleland presented an air show at his Euclid Road Airport in Willoughby, Ohio. Cook flew an "aerobatic" demonstration in his beautiful red and white #57 racer. It is stated that this was "most likely" the last time the aircraft flew until late 1999.
From that day forward until sometime in 1954 #57 sat outside at Cook's Euclid Rd airport deteriorating from the weather and "vandals".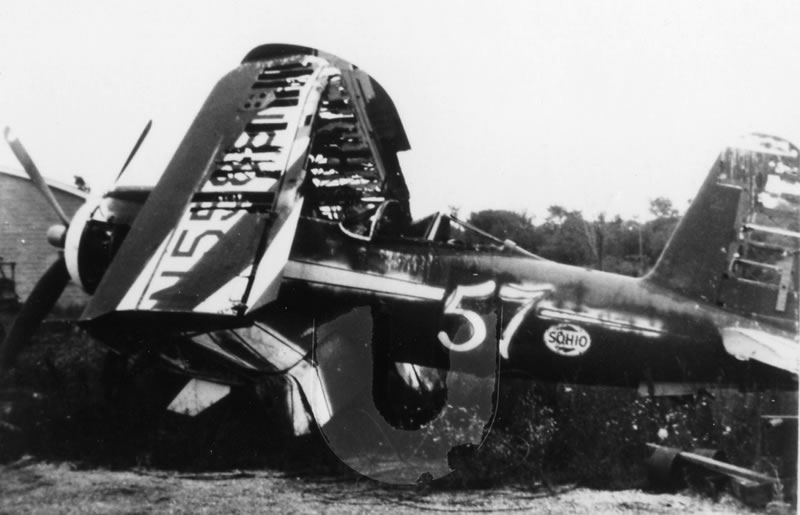 In 1954 #57 was towed to Joe Loecy's machine shop in Chardon, Ohio for storage.
During the summer of 1964 Cook was stationed in Alaska flying for the Navy and wanted to try an attempt to make a world propeller speed record. He found a sponsor in the Martin Decker Corporation of Pottstown, PA. Dick Becker and Chuck Toman disassembled #57and placed it on a railroad car and had it shipped to Pottstown for the rebuild. #57 was stored outside in the elements. Something went amok with the Decker Corporation and they went bankrupt.
(1964 – 1968) John Trainor purchased the remains of #57 and took the airplane to his home in the state of New Hampshire/USA. From the enclosed photos I assumed he took the engine off of the fuselage, including the wings and canopy then took some of it down a ravine and across a creek and stored #57 in the raw elements of mother nature. John never got to rebuild #57 as he got killed in a P-51 Mustang.
(1984) Harry Doan bought #57 from Libby Trainor. I have a recorded telephone conversation with Harry and he related to me that Libby said that her husband hid the plane so that no one would find it when they came to visit John at their home. Harry was unable to restore #57 as he died in a post WWII Douglas AH-1 Skyraider plane crash.
(1990) Harry's wife sold the plane to Don Knapp of Miami, Florida/USA, who sent the aircraft to Texas for rebuild. However, Don followed Harry as he too was killed in his P-51 Mustang at an airshow.
(1994) The aircraft was transferred to the "Lone Star Museum" who started restoration however the museum sold the remains to Greg Morrison of Hugoton, Kansas/USA. I have no data concerning Mr Morrison, nor if he started additional restoration.
I am leaving you hanging out in the middle of "no-man's" land and you are going to ask: "What happened to #57?" You shall see the results in Part Two of this historical aircraft, so check back often.
Due to human error, there may be some data written here that is not 100% accurate as I began collecting said information way back in 1984.
Enjoy this review with "a grain of salt", which is an old American Expression.
Note: Photo credits are given to: Jim Butler, Ron Eminger, Nick Hauprich, and Bill Meixner. Additional photos came from my F2G Corsair Scrapbook, including downloads from a few websites.
---
Part 1 | Part 2 | Part 3 | Part 4
Cheers,

© 2012 Rodney J. Williams
Colorado-USA
This article was published on Wednesday, July 04 2012; Last modified on Saturday, May 14 2016