My First F2G #57 Racing Corsair Model - Part 2: The Rebuild of the Real Aircraft
By Rodney Williams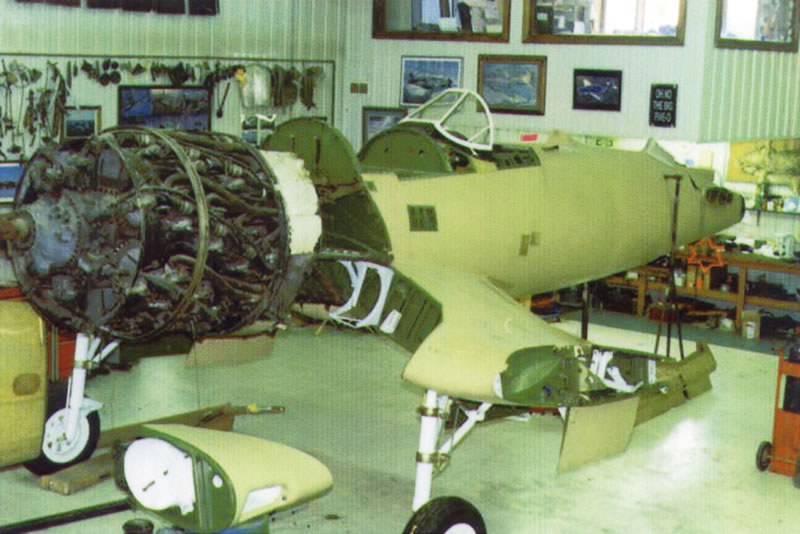 My records indicate that sometime during 1996 Mr Robert Odegaard of Kindred, North Dakota/USA acquired what remained of the F2G-88458, 1949 #57 racer.
I find no records stating that #57 came from Greg Morrison directly to Bob, nor did I find a sales price for it.
We know for a fact that Mr Odegaard and his team restored #57 to flying condition. In fact #57 took to the air almost 50 years to the date that it won "Third Place" in the "Thompson Trophy Race" at the annual 1949 Cleveland National Air Races.
Bob related to me that they added a second seat behind the pilot's seat and that they left off the "extended" large carburetor hood due to the fact that it made it very difficult to see in a forward direction.
Bob took the newly rebuilt F2G to the Reno, Nevada/USA Air Races in September, 1999. Bob was presented with the "Rolls-Royce Trophy" for "Restoration" on #57.
As of this writing dated June 17, 2012, F2G-BuNo 88458 is owned by Mr Ron Pratt and the aircraft is based in the area of Chandler, Arizona/USA. Recently, a photo of #57 was presented to S.A.R.H. by Larry Perkins, chief pilot.
(S.A.R.H. = Society of Air Race Historians).
Author's Notes:
It is a known fact that Cook Cleland used the paper work from his crashed F2G Bu.No. 88457/#84/NX5588N to enter his latest F2G-88458/#57 in the 1949 air races at Cleveland, Ohio/USA. Cook changed the registration to "N5588N" and used a number of "57." With in the last 30 days during May, 2012 I viewed some data on a web site that shows #57 is registered under the old number of 88457 with the F.A.A. and other governmental agencies.
Photo credits are given out to the "Green Man" – Shane, who provided me with some excellent color images of #57 at Odegaard's restoration center.
Other photo credits are given to Bill Meixner and Don Berliner who are affiliated with "SARH" publication of the "Golden Pylons" by-monthly newsletter. My good friend Mike Meek is given credit for his 1999 Reno, Nevada Air Race photos of #57.
Coming soon will be my building experiences with lots of photos on my 1:32 scale F2G #57 racer using the old Revell F4U-1A kit.
Enjoy,

Rodney J. Williams
---
Part 1 | Part 2 | Part 3 | Part 4
© Copyright July 21, 2012 Rodney J. Williams
This article was published on Saturday, July 21 2012; Last modified on Saturday, May 14 2016