Wingnut Wings | #32067: 1/32 Fokker D.VII (Fok) "Early"
Reviewed by Kevin Futter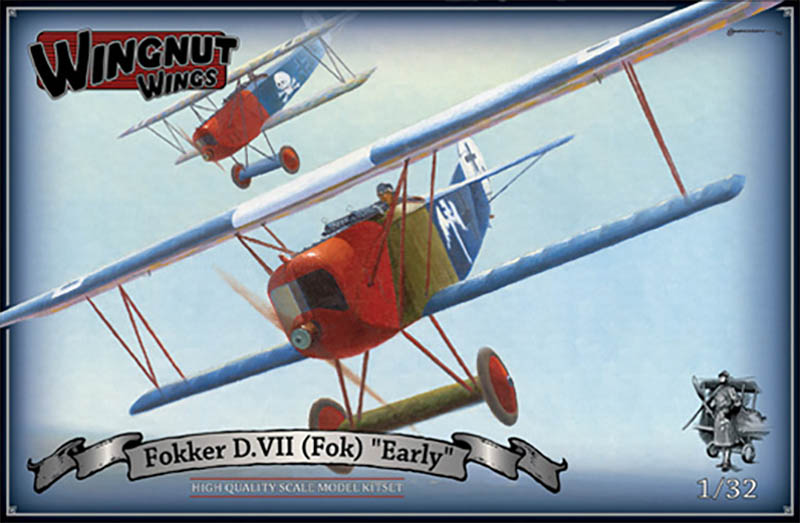 New Zealand firm Wingnut Wings has already released four versions of the iconic Fokker D.VII (#32011: Fokker D.VII (Fok), #32027: Fokker D.VII (Alb), #32030: Fokker D.VII (OAW), #32031: Fokker D.VII F), and this fifth release depicts the early Fokker-built variant.
This new D.VII kit is largely based on the company's earlier D.VII (Fok) release, which we examined in an earlier review. This review should be considered in conjunction with that one.
As you would expect, the parts map on page 2 of the instruction booklet denotes a number of parts as "Not used", and it's this specific selection of parts that results in this kit representing the early version of the aircraft. There appear to be no new sprues or plastic parts. Most of the changes are related to the engine and cowling.
The Plastic Sprues
The sprue photos below are included as a reminder of what you get in the rather crowded box:
---
As you would expect, the parts are crisply moulded, with impressive surface detail:
---
Photo-Etched Fret
The photo-etched fret in this kit features a revised layout and designation, but otherwise contains essentially the same parts as the original: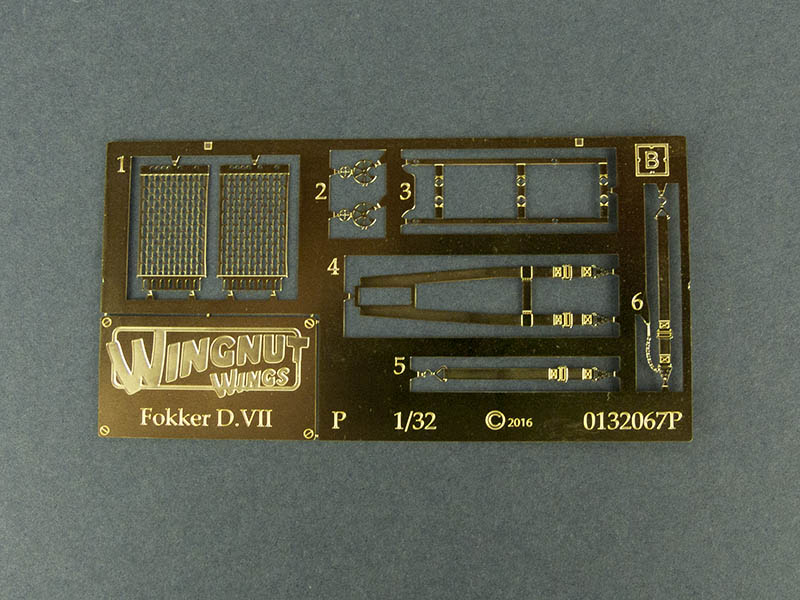 Decals and Markings
Another obvious point of difference with this release is the supplied decals and markings options. The decals are supplied on four large sheets, three of which are very large indeed:
---
In fact, sheet 9132011d (4 Colour Lozenge) and sheet 9132011c (green/brown striping) derive from the earlier boxing, with the individual aircraft markings and 5-colour lozenge sheets being new. All sheets are printed by Cartograf of Italy, and feature perfect registration and excellent colour density.
As is customary for Wingnut Wings releases, markings for five aircraft are included, though option #3 features an additional variation:
Fokker D.VII 262/18, Emil Thuy, Jasta 28w, Mid 1918 (35 victories)
Fokker D.VII, Rudolf Berthold, Jasta 15/JG II, Mid 1918 (44 victories)
Fokker D.VII, Max Kliefoth, Jasta 19, October 1918 (3 victories)

Fokker D.VII, Hugo Schäfer, Jasta 15, October 1918 (11 victories)

Fokker D.VII, Reinhold von Benz, Jasta 78b, August 1918 (1 victory)
Fokker D.VII, Bruno Loerzer, Jasta 26/JG III, November 1918 (44 victories)
---
Instruction Booklet
The instruction booklets supplied in Wingnut Wings kits have become legendary, and with good reason. The production values are equivalent to a glossy magazine, and to refer to them as mere instruction booklets does them a grave disservice.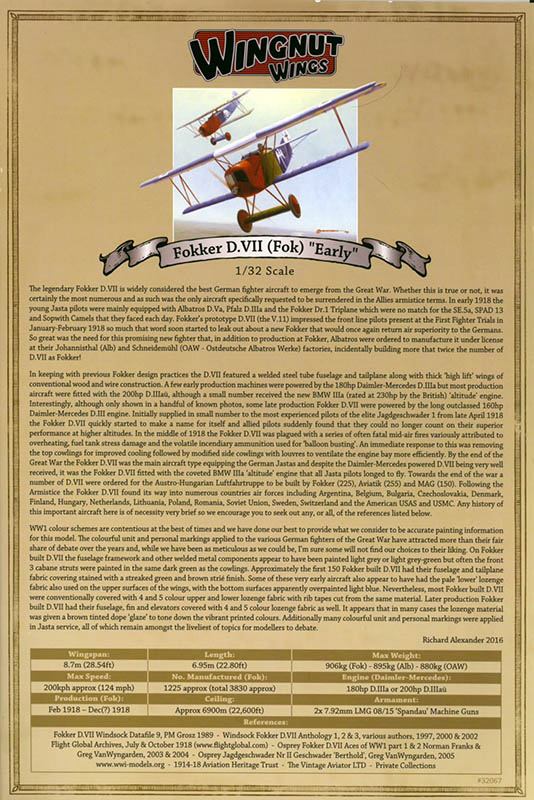 The cover features a potted history of the type, and a specifications table at the bottom. This material is also available on the Wingnut Wings webpage for the kit.
The content features colourful and highly-detailed annotated assembly drawings, complemented by captioned reference photographs and painting instructions.
---
Conclusion
While hardly a new kit per se, this new Fokker D.VII release is still most welcome, especially when considering that all the previous boxings are now sold out. And it is, after all, an excellent kit, and represents everything we've come to expect from Wingnut Wings: exceptional moulding quality, excellent detail, superb decals and industry-leading documentation. What more could you ask for? Highly recommended.
Review sample kindly supplied by Wingnut Wings.
© Kevin Futter 2017
This review was published on Wednesday, May 31 2017; Last modified on Wednesday, May 31 2017