Canfora Publishing | Fallen Stars 1: Crashed, Damaged & Captured Aircraft of the USAAF
Reviewed by Kevin Futter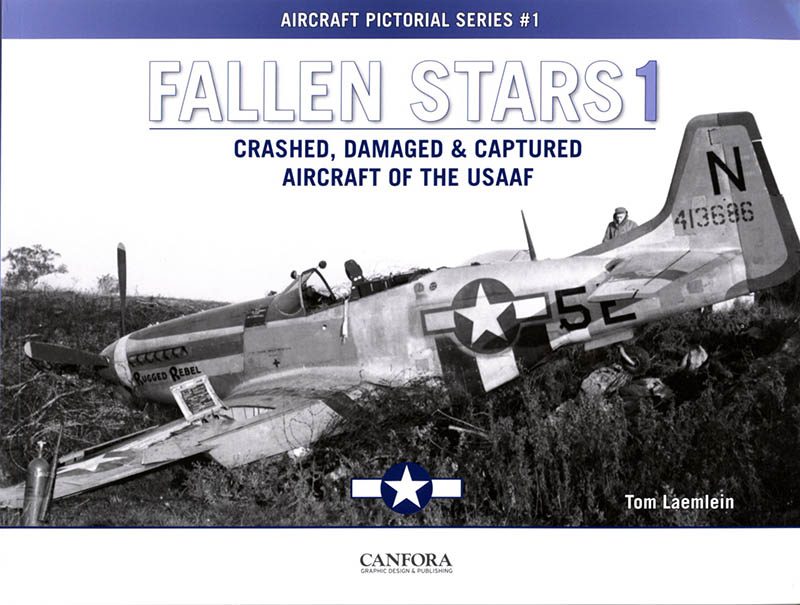 Swedish publisher Canfora Publishing usually specialises in books about armour and armour modelling, so may well be an unfamiliar name to many aircraft modellers. In 2015, the company branched out into covering aircraft modelling, with the release of Wingspan Vol. 1. Late 2016 saw the release of Vol. 2 in the series. Now the company has branched out yet again, introducing a new series entitled Fallen Stars. Here we examine volume 1, Crashed, Damaged & Captured Aircraft of the USAAF, written by Tom Laemlein.
The book is lavishly produced in soft-cover landscape format, and consists of 128 glossy pages. It's similar in intent to the old Broken Eagles series produced in the 1980s by Fighter Pictorials, in that it presents photos of USAAF types in various states of disrepair—mainly due to crash-landings.
The list of types covered is as below:
Lockheed P-38 Lightning
Bell P-39 Airacobra
Curtiss P-40 Warhawk (P-40B/C & E)
Republic P-47 Thunderbolt (Bubbletop & Razorback)
North American P-51 Mustang (P-51B/C & D)
Northrop P-61 Black Widow
Douglas A-20 Havoc
Boeing B-17 Flying Fortress
Consolidated B-24 Liberator
North American B-25 Mitchell
Martin B-26 Marauder
Boeing B-29 Superfortress
---
Conclusion
The value of a book like this to the modeller is that it offers glimpses of airframe details you rarely get to see, and this book certainly does that. The photos are large, excellently-reproduced, and as good as the original source material allows them to be. They are also fascinating, and if you happen to be building any of the subjects covered, you'll find plenty to pore over and examine here.
Future volumes will cover German, Japanese, British, Soviet, and French aircraft.
Thanks to Canfora Publishing for the review sample.
© Kevin Futter 2018
This review was published on Saturday, July 14 2018; Last modified on Saturday, July 14 2018