Dalrymple and Verdun Publishing | Attacker: The Royal Navy's First Operational Jet Fighter
Reviewed by Iain Ogilvie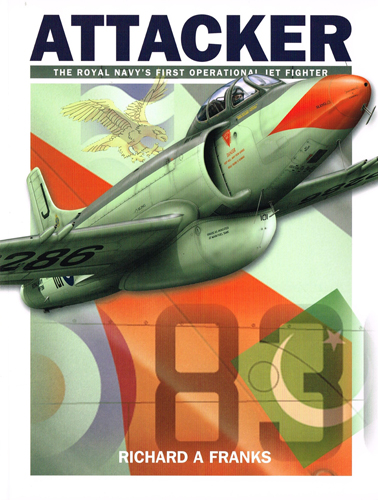 Paperback: 80 pages
Publisher: Dalrymple and Verdun Publishing (1 Mar. 2007)
Attacker: The Royal Navy's First Operational Jet Fighter
Another older book, published back in 2007, this book is currently out of print. However, with the release of the new Iconicair Attacker kit it's worth tracking a copy down as it will provide some useful material for any build. Copies are still about if you look - worth searching on eBay, or Amazon, if you want a copy.
This book makes a good companion to the 'Attacker - From the Cockpit' book we've reviewed separately and covers things from more of a modelling perspective, including, as it does, a number of detail illustrations from the aircraft Technical Documents (APs). These drawings include surface details diagram, cockpit, cockpit canopy, armament, engine, tail hook and undercarriage.
Content
The book is broken down into the following topics:
Forword
The Attacker in Context
From Piston to Jet
Birth of the Attacker
Into Service
RNVR, Second-line and Foreign Service
Technical Description and Armament
Technical Data
Attacker Squadrons
Colours and Markings
Attacker Production
Bibliography and Glossary
The Colours and Markings section 8 pages of colour illustrations and a set of scale drawings.
---
Conclusion
If you've got the new Iconicair Attacker kit then this book is another one well worth tracking down. Although some of the photos are also published in the 'From the Cockpit' book, many are not and the inclusion of the technical drawings is very useful for the modeller.
A good companion to the Ad Hoc Publications 'From the Cockpit No 9 - Attacker' reviewed elsewhere on LSP.
Review copy courtesy of my wallet.
© Iain Ogilvie 2018
This review was published on Tuesday, December 11 2018; Last modified on Wednesday, December 12 2018