Canfora Publishing | Wingspan 3
Reviewed by Kevin Futter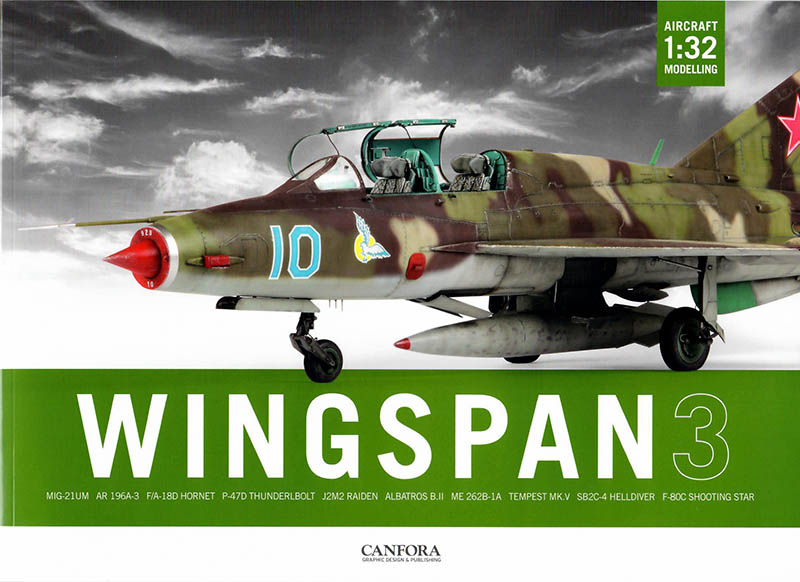 Swedish publisher Canfora Publishing usually specialises in books about armour and armour modelling, so may well be an unfamiliar name to many aircraft modellers. In 2015, the company branched out into covering aircraft modelling, with the release of Wingspan Vol. 1. Late 2016 saw the release of Vol. 2 in the series, and this has now been followed by Vol. 3. Like its predecessors, it focusses exclusively on 1/32 scale aircraft models.
The book is lavishly produced in soft-cover landscape format, with some excellent model photography reproduced on 128 glossy pages. It's structured around ten magazine-style build articles:
Mitsubishi J2M2 Raiden

Hasegawa - Ralph Riese

Arado Ar 196A-3

Revell - Mikael Terfors

MiG-21UM Mongol B

Trumpeter - Henrik Redin

Curtiss SB2C-4 Helldiver

HpH Models - Zdenek Sebesta

Messerschmitt Me 262B-1a

Trumpeter - Jan Abrahamsson

Albatros B.II

Wingnut Wings - Dirk Polchow

McDonnell Douglas F/A-18 Hornet

Academy - Henrik Redin

Hawker Tempest Mk V

Special Hobby - Anders Isaksson

Lockheed P-80C Shooting Star

Czech Model - Brian Criner

Republic P-47D Thunderbolt

Trumpeter - Toni Canfora
The build articles themselves are not designed to be extensive how-to instructional pieces, though there are still plenty of hints, tips and ideas on offer. A significant portion of the value of this book lies in the sheer inspiration contained within its pages, as each build is world-class. This is amply reinforced by the luxurious production values used throughout, making it feel like a coffee table art book.
The layout of each build is reminiscent of a high-end modelling magazine, with pages of descriptive text and finished model photos alternated with pages that feature captioned build photos laid out in sequence. Below is a selection of example pages from the book:
---
The text is generally clear, and the captions are concise and descriptive. There are a few minor errors and typos, but nothing that would impair the understanding or enjoyment of the material.
The range of subjects presented could be a little broader, as the six of the ten builds still feature WW2 props. Several of the builds are by LSP members, which is always nice to see!
Conclusion
There's really not a lot to say about this book. It's simple in concept and flawless in execution. It's designed as an inspirational showcase, rather than a didactic teaching tool, and in this regard is utterly successful. And that's not to say that the content is not instructional, merely that this is not its primary focus.
This is the third book in a planned series, with Volume 4 already underway. Fans of more modern or WWI aircraft may be disappointed with the selection of featured builds, but the sheer artistry on show is hard to ignore. Perhaps volume 4 will continue to improve this balance. On the strength of this showing, it will be worth waiting for regardless!
Thanks to Canfora Publishing for the review sample.
© Kevin Futter 2019
This review was published on Sunday, November 10 2019; Last modified on Sunday, November 10 2019