Waldron | Lockheed P-38 Cockpit Details in 1/32nd
Reviewed by Rato Marczak
This review covers another Waldron Model Accessories item, this time the P-38 cockpit placards and details set. In the same vein of the P-47 set, Spitfire and others from this famous accessory manufacturer. As usual, most data plates of the cockpit are printed in black and red in high detail on a light aluminum sheet. Also included is the instrument dials on a transparent film (this stuff seems to be included only on later Waldron releases), resin boxes and photoetched details.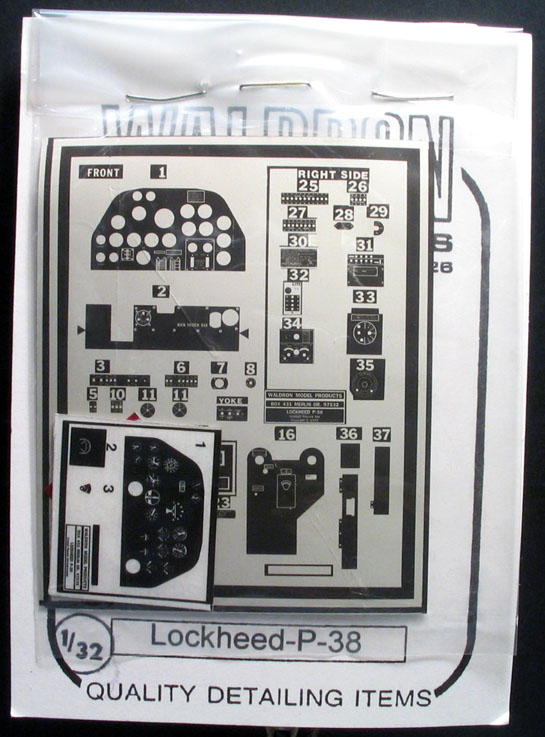 This cockpit detail set consists of much more parts than most single engine fighters, and most instruments are dual (one for each engine). This is reflected in the instructions, consisting of 20 (!) pages showing how to install every item and scratchbuilt the parts not supplied. The instructions are almost a technical manual... Of course there is an intensive reference to Waldron´s Punch & Die Set. As long as I was able to check, this set is correct for P-38J-15 and on, but I think only a few modifications are necessary to represent reasonably most versions of the P-38, is you desire so, of course.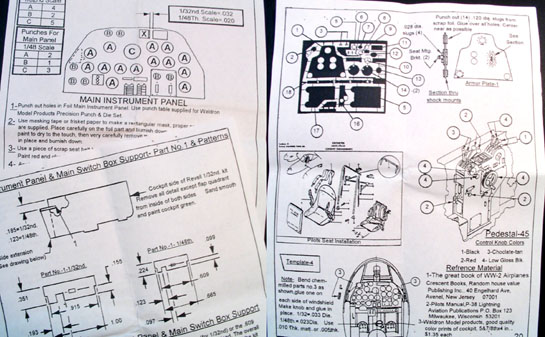 The black printed placards are very sharply done, and it is possible to read every single item using a magnifying glass. As usual with Waldron accessories, you have to cut very carefully each item and glue it to the correct position. There´s no spares, so take your time here...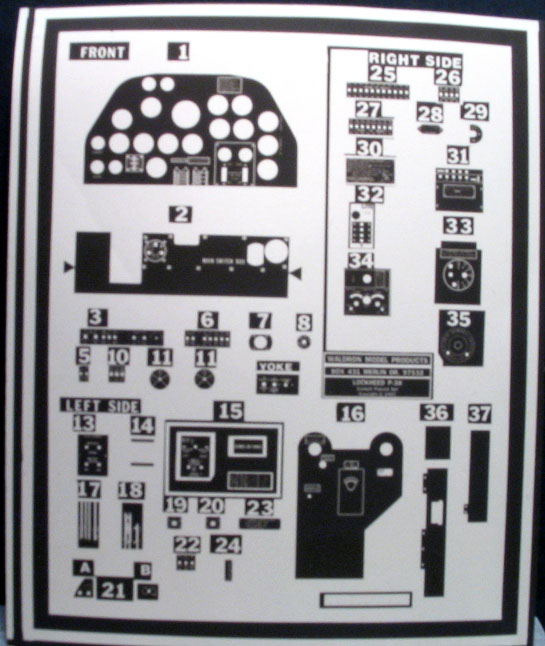 The set also brings some red printed consoles and a couple of dry transfer stencils. The later is printed by Archer Fine Transfers, and will surely add a lot to the finished cockpit.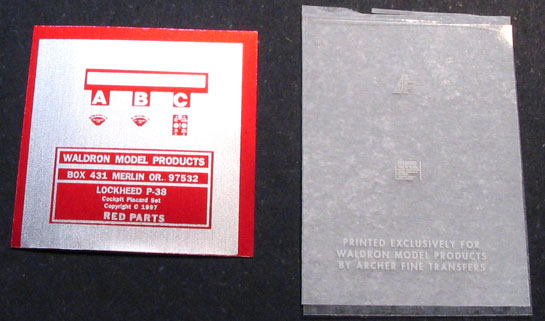 The instruments dials are printed in the same way Waldron´s Japanese instrument dials. They are perfectly readable and will give a formidable touch to the finished panel. However, you must do a very accurate job when punching out the openings of the black printed template in order to match both.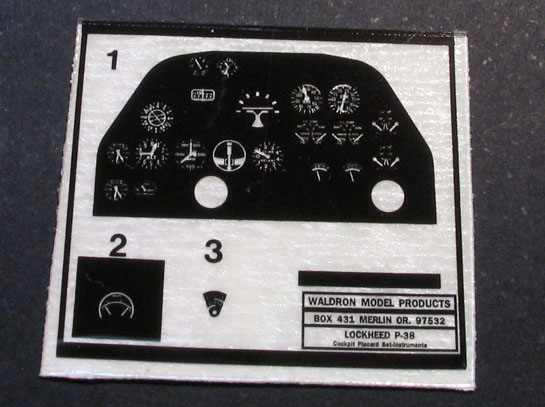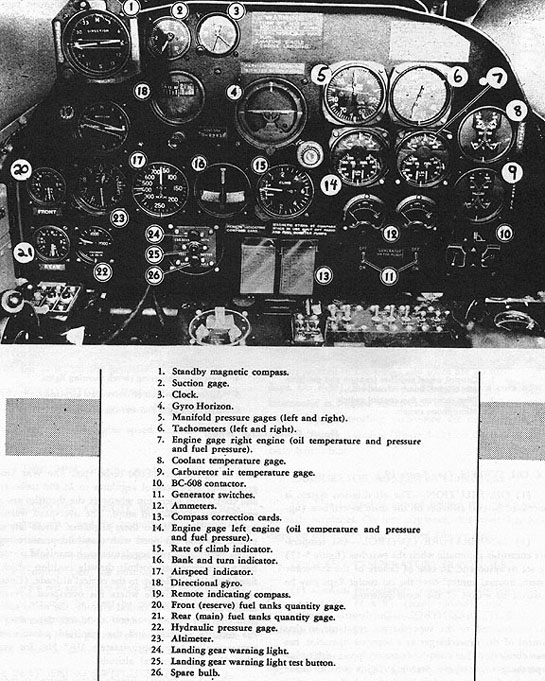 The P-38J-25 control panel (from the E&M manual).
Radio boxes, switch boxes and other tridimensional parts are supplied as resin items. They will save a lot of scratchbuilding time (if you have already attempted to make perfectly squared, rounded corner boxes you know what I mean). Read carefully the instructions, as each one of these boxes has its own placard to be glued on.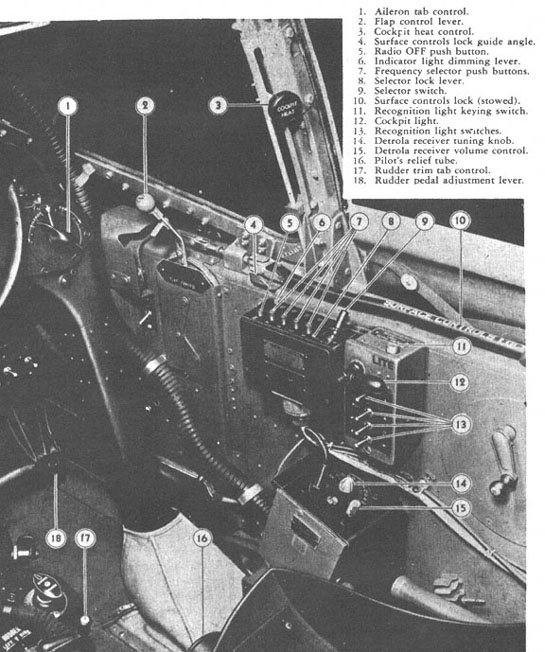 The photoetch parts are addressed mainly for the armor plate and the pedestal on which the engine
controls are mounted. It is a large piece, so don´t think in it as a ´simple´ throttle quadrant. The fret also brings many other smaller items (including the elevator tab control pulley), but no harness stuff.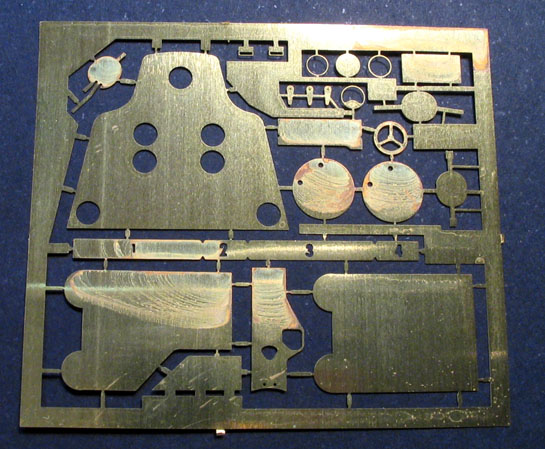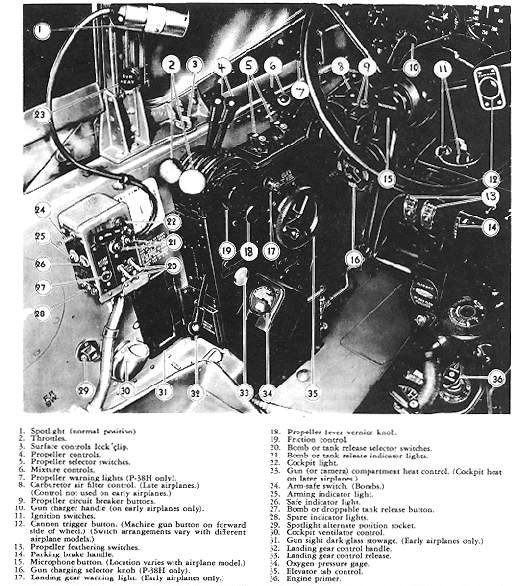 I wouldn't recommend this detail set to anyone with limited experience. It is not an easy thing to use and, as I mentioned before, there are no spares. When correctly used, Waldron accessories are, in a word, spectacular.
I would prefer a photoetched panel with the instrument holes in their correct positions, but still there´s no manufacturer rivaling these sets as for now. No matter you are going to use the old Revell or the new Trumpeter P-38, this set will really add interest to their cockpits.
Ordering Waldron products is through mail or phone only, and no credit cards are accepted at the time of this review. While that may lack convenience for the Internet buyer the quality of the set is worth the extra effort.
Highly recommended for anyone planning a 1/32 P-38.
© Rato Marczak 2004
This review was published on Saturday, July 02 2011; Last modified on Wednesday, May 18 2016