MDC | CV32006: Messerschmitt Bf 109 G-10/G-14 Cockpit Set
Reviewed by Mark Proulx
Shortly after Hasegawa released their Bf 109G-14 in 1/32nd scale, MDC added a new resin cockpit set for it to their line of products. This set has proven to be extremely valuable to modelers as it offers superior detailing to that found in the kit, as well as providing parts to correct some of the kit's omissions.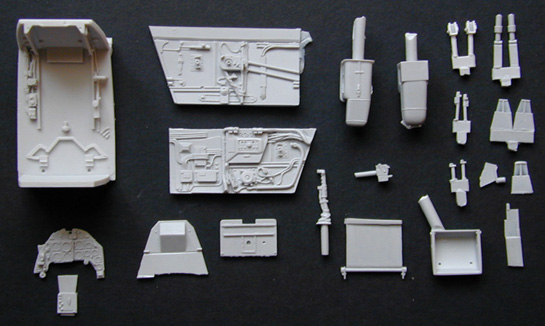 The MDC resin cockpit set consists of 26 grey and 1 clear resin piece. A photoetch fret and a large set of instructions make up the rest of the cockpit detail set. The set is wrapped up in a small plastic bag and was shipped in a sturdy cardboard box with no parts being broken. Overall, there appears to be very little flash, so clean up should be easy. Casting blocks will need to be removed with care, as some of the parts appear to be very fragile.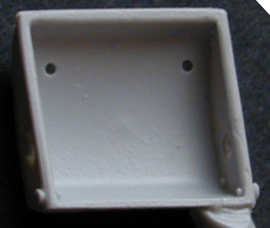 The major components of this and other Bf 109 cockpit sets from MDC, is centered around three large resin pieces. It consists of left and right sidewalls, as well as a cockpit floor. The level of detail found on each of these items is outstanding and among the best in the marketplace today. Items such as a throttle quadrant, oxygen system and circuit breaker panels are easily identified. Details are crisply cast with no air bubbles apparent. Other resin and photoetch items, such as a seat, joystick and foot plate, are added to these large pieces to add a further level of detail. The instructions state that optional styles of foot plates are included, however, that was not the case in the two that I have seen. I will elaborate upon this later in this review.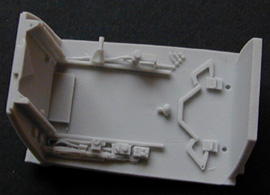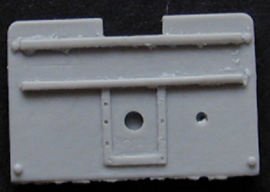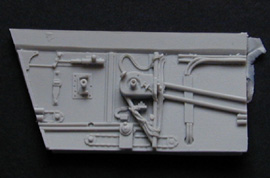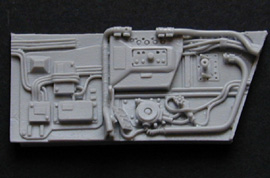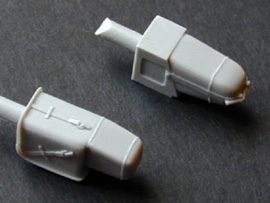 The modeler is supplied with a choice of cannon covers to install in their cockpits. The covers are superbly detailed with weld seams and straps clearly visible. The instructions state that the 30mm cover was present on almost every Bf 109G-10 and often on late Bf 109G-14s, so check your references carefully.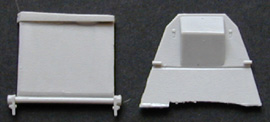 Hasegawa did not include the battery fairing and Erla retaining mechanism mounted just aft of the seat on their 1/32nd scale kit. This was a common feature found on all Bf 109G-14s. MDC have corrected this omission by adding these vital components to this set.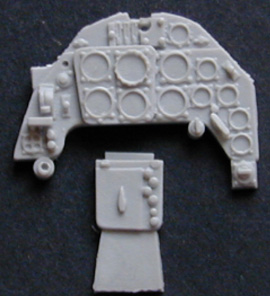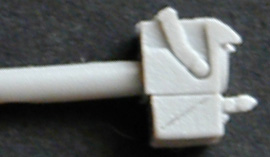 A replacement instrument panel completes the major resin pieces. This is finished with a new gunsight, which is to be detailed with a reflector made from scrap acetate. Modelers should take note of the set of errata instructions clarifying how the gunsight is correctly mounted. The instrument faces will have to be acquired from some other source, as no detail is evident in the gauges. As the instructions are silent on this issue, I would suggest using the instruments found on the Hasegawa decal sheet as MDC states in their Bf 109 G-4 cockpit set.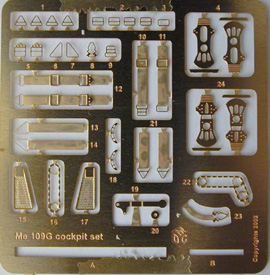 Seat belts are supplied as photo etched items. This fret is common to all of MDC's cockpit detail sets for the 1/32nd scale Bf 109 G. The modeler is given the choice of making the entire harness from photo etch or only using the buckles and creating their own harness from paper or foil. MDC supplies templates on the photo etch fret to ensure the correct harness size for those wishing to perform that task.
It would appear that the instructions that MDC supply are simply renamed from the Bf 109G-6 sets. The errata and addendum sheets are included to reflect the changes associated with the resin set for the Bf 109G-14. This could explain the optional foot plates mentioned in the instructions, as this was a feature in the Bf 109 G-6 set. Large diagrams, showing proper location of all addition items, are included on front and back sides of the instructions. Unfortunately, the photocopy of the photoetch fret on page one is blurred and virtually useless. Page two of the instructions includes text and additional sketches showing the proper placement of the seat harness. Color notes, web references and points of contact complete this comprehensive set of instructions.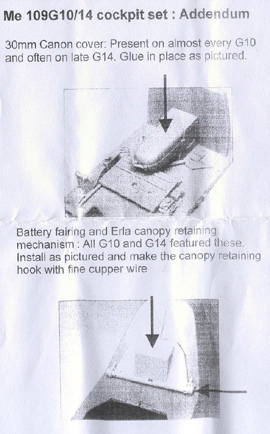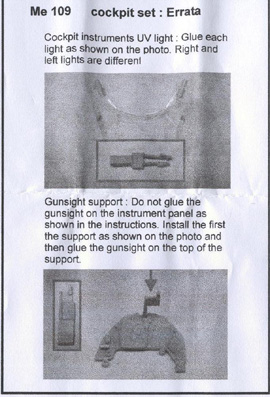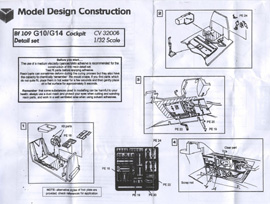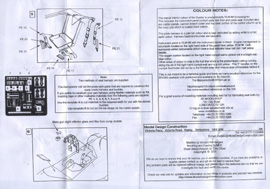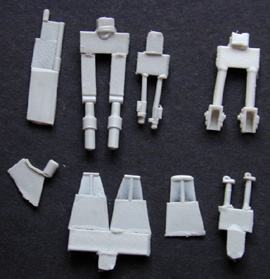 In my opinion, MDC makes the very best 1/32nd scale Bf 109G cockpit sets to date. They address many of the subtle differences found between variants. The addition of optional or corrected resin pieces suggests that modelers should consider giving MDC products a try. I am sure you will not be disappointed.
© Mark Proulx 2002
This product is available from the following LSP sponsors

This review was published on Saturday, July 02 2011; Last modified on Wednesday, May 18 2016